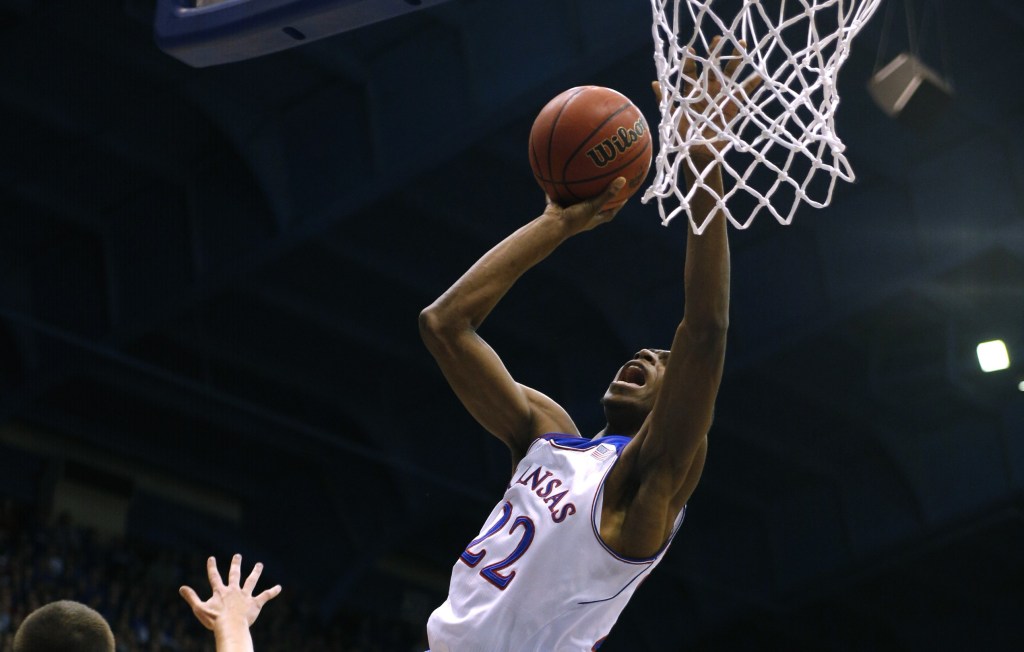 We've all heard of blind resumes, right?
They pop up around NCAA tournament time and are a pretty effective way of evaluating who has had a better season while eliminating the bias that comes with the name associated with the teams involved.
We're going to take a look at some blind stat-lines today:
Player A is the leading scorer and third-leading rebounder on a power conference team that is the overwhelming favorite to win their league. Player B is the second-leading scorer and the leading rebounder for another power conference team that is the overwhelming favorite to win their league. Both teams are in line to earn themselves No. 1 seeds come Selection Sunday. Both players are noted for their ability on the defensive end of the floor, but neither of them are considered the best player on their team as of today.
Have you figured it out yet?
Player A is Andrew Wiggins.
Player B is Aaron Gordon.
Once you factor in that Gordon spends more time playing the four than Wiggins and Wiggins plays in a more uptempo offense than Gordon, I think I can safely say that the impact that Wiggins and Gordon have had on their team has been quite comparable.
In other words, these guys are both having really good years.
So why is Wiggins constantly critiqued, criticized for finding and embracing a role on his team, while Gordon is celebrated for it?
It's simple, really: hype and expectations.
Gordon has met every expectation that was set forth for him, and frankly, he's probably benefitted from the presence of Wiggins, Jabari Parker, Julius Randle and now Joel Embiid more than anyone. He wasn't part of the Big Three entering the season. He didn't play in the Champions Classic. He was the answer to every 'Name Another Good Freshman' question I got during the preseason, which is perfect for him. At this point in his career, Gordon is more of an athlete that plays basketball than a basketball player that's athletic. His skill set will develop with time, but right now his ability allows him to play a role similar to that of Kawhi Leonard on the Spurs. Defend, rebound, hustle. He's excelling.
With Wiggins, we heard all the scouts salivating over his potential and mention names like Kevin Durant and LeBron James and immediately expected him to be the dominant force in college basketball. I fell victim to it as well, but the issue — the one that we ignored while tossing around unfair comparisons throughout the preseason — was that Wiggins is so much more like Gordon than he is like Parker and Randle.
Parker and Randle are polished, skilled and physically mature offensive weapons that could have a major impact in the NBA right now. Wiggins? Well, he's got a long way to go to get there, but there are times that he makes plays that just leave you scratching your head in bewilderment at what he just did. His athleticism is off the charts and there's a fluidity to his movement that makes some of his most ridiculous plays look almost nonchalant. 
You don't need to be an NBA scout to see his potential. All you need is two eyeballs. But after seeing Wiggins get dragged through the mud after back-to-back unimpressive performances over the long weekend, I was curious: Why can't he consistently dominate at this level? 
So I went back and watched every second that Wiggins was on the floor of every Big 12 game he has played, and this is what I came away with: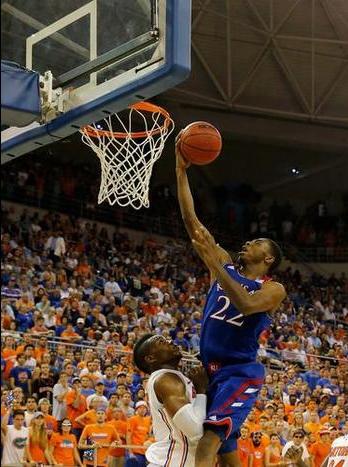 1. He can't penetrate against a set defense: Wiggins is just unstoppable in transition. His strides are so long that when you let him get a full head of steam going towards the rim, you just don't have a chance. His height and jumping ability allow him to finish over anyone. There was one play in the first half against Iowa State that Wiggins caught the ball at half court and needed just two dribbles to lay the ball in. It's incredible. 
But in the half court, Wiggins really struggles beating his man off the dribble. In half court sets, he's basically turned into a spot-up shooter, which is where 24.3% of his possessions are used. According to Synergy, 58.5% of Wiggins' shots are jump-shots. By comparison, 21.9% of Aaron Gordon's shots were jump shots. Last season, 66.5% of Ben McLemore's shots were jumpers.
Part of this is that defenses are conscious of his ability, meaning helpside rotations get there a step quicker than when, say, Naadir Tharpe decides to try to put the ball on the floor. But it's still alarming how uncommon it is to see someone as explosive as Wiggins square a defender up, beat him to the rim and score. There are three things at play here:
It doesn't seem like Wiggins has all that powerful of a first step. The long strides that allow him to roast defenders in transition get choppy in the half court.
Wiggins is not a great ball-handler, and he seems to be aware of this. Everything time he penetrates it's a straight-line drive at the rim, and he has an awkward habit of picking the ball up after one dribble. It doesn't help that he doesn't really have a feel for being able to drive-and-kick when help defenders show up. 
Wiggins lacks upper body strength, which brings me to my next point …
2. Wiggins needs to get in the weight room: One of the major criticisms I've read of Wiggins is that he's soft. I don't necessarily think that's the right way to term it. He's weak. His upper body is slender. He gets knocked off balance too often. When he gets a defender on his hip, he can't get all the way by him. When he's going to the rim, he can't use his front shoulder to absorb contact; he just bounces off. 
This is part of the reason that he's not finishing above the rim. For a guy as athletic as Wiggins is, we almost never see him on Sportscenter Top Ten. He hasn't posterized anyone yet this season. He's all about the floaters and the finger-rolls. His is a finesse game around the basket, not a power game.
3. He's a streaky jump-shooter: Wiggins has a pretty nice release. When he sees one jumper go down, he can reel off three or four in a row. But when they aren't going in, he's got a tendency of to throw up some bricks. When he's on balance and he's got his legs underneath, Wiggins isn't a bad rhythm shooter. He just seems to rush some of the looks that he gets.
4. He coasts: It's not just offensively, either. Wiggins is an excellent rebounder. He's got the length and the athleticism, and he seems to have a feel for where a rebound is going to come off, but he's not always crashing the glass. He's got the tools to be a terrific defender — in fact, I was pleasantly surprised at just how effective he has been chasing people around screens — but he can also be slow on a close-out or get beat off the dribble. The reason that he was benched in the second half against Oklahoma State wasn't simply because he was struggling offensively, it was because Markel Brown was lighting him up on the other end of the floor.
5. Confidence: This is my biggest takeaway. I just don't think that Wiggins believes that he's as good as he is. I think that he's cognizant of what his limitations are as a basketball player, and more than anything, this is what prevents him from taking over games. He's not aggressive in the biggest moments of the biggest games. 
Wiggins isn't the superstar that we all expected him to be this season. He's got a long way to go to fulfill the expectations he had coming out of high school, and he's got plenty of time to get there. 
None of that changes the fact that he's been a very good player for Kansas this season.
So while we can lament that the 'Next Big Thing' won't live up to his potential as a collegian, we should at least recognize that fact.