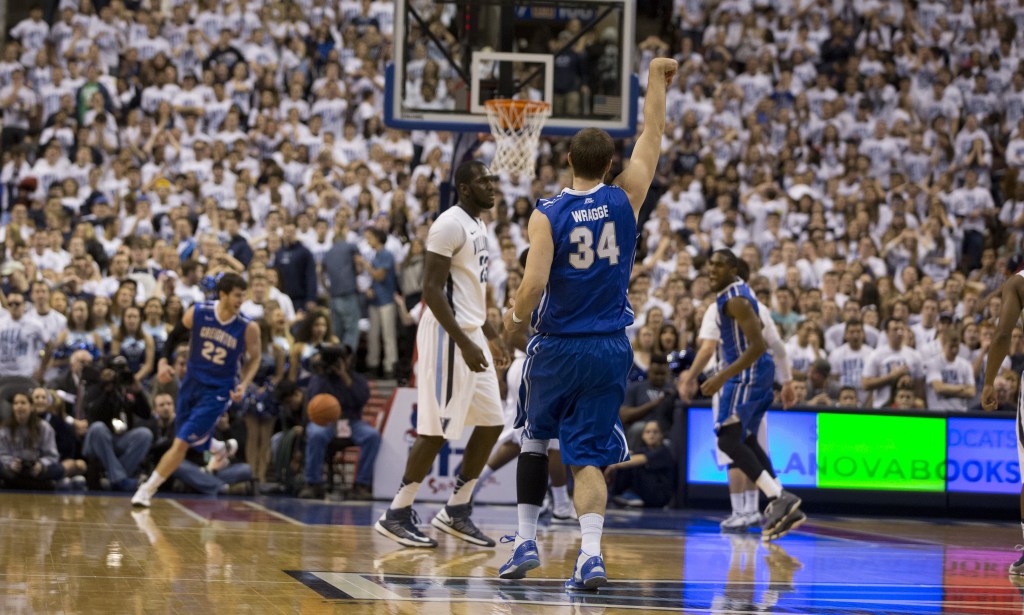 PHILADELPHIA — Ethan Wragge is the best shooter in college basketball.
Yeah, I know, that's about as subjective a statement as a writer can make, one that can be debated and argued and nitpicked until no one actually cares who the best shooter in the country is anymore.
But as of tonight, it's not a discussion. As of Monday, January 20th, no one can touch Ethan Wragge, because no one else single-handedly buried the No. 4 team in the country, on the road, in all of 6:03 of game-time that took a little more than ten minutes of real time.
Seven straight threes.
By the time Villanova realized what had happened to them, Wragge had hit seven straight threes and Creighton had jumped out to a 27-8 lead at the Wells Fargo Center. That lead would grow as large as 27 in the first half and 40 in the second half, with the Wildcats failing to get closer than 13 after Wragge's fourth three of the first four minutes put Creighton up 18-5. The Bluejays coasted for the final 12 minutes, eventually winning 96-68.
He finished with 27 points, which simple long-division will tell you is nine three-pointers. What it doesn't tell you, and what those of you unfamiliar with Creighton might not know, is that the nation's top marksman is Creighton's 6-foot-7 center.
That's only part of what makes Wragge the most unique player in the country.
Because he's not simply taking threes. Known as WraggeBombs, the native Minnesotan unabashedly fires away from a distance that would make Stephen Curry blush, the irony being that Creighton's center is much more effective shooting from 30 feet than he is from three feet. In a career that's spanned five years — he played nine games as a sophomore but was given a medical redshirt for the season — Wragge has taken a grand total of 53 two-point field goals. Of the 154 shots that he's taken this year, 148 have come from three-point range.
He's shooting 50% from three.
And he didn't shoot his first three until 10th grade.
Wragge gets it from his mother.
Kari Wragge, who was Kari Kramme back then, spent four years in the '80s lighting up NAIA opponents for Midland Lutheran in Nebraska. A two-time second-team all-american, she finished here career scoring 1,779 points while developing a reputation for having as pure of a stroke as you'll find at any level of the game.
"One of my regrets is that I didn't make a teaching video of her shooting the basketball," her former coach, Joanne Bracker, once told the Omaha World-Herald.
Ethan, the oldest of three brothers, didn't need a shooting video. He was getting all the coaching he could handle for mom and dad, who was the quarterback at Midland Lutheran when Kari was lighting up scoreboards. They were sticklers about form. Elbow under the ball, use your legs, follow through, backspin. "The biggest thing they taught me is don't shoot too far out," Wragge said while plowing through a slice of pepperoni pizza in the bowels of the Wells Fargo Center. "My dad would always say, 'the range will come when you're ready for it.'"
Where most kids that age would be stepping behind the three-point line, using every ounce of strength in their body to try to get the basketball up to the rim, Wragge settled into the 15-foot range. He was lethal, using his height as a weapon to allow him to get his shot off. It wasn't until his sophomore year in high school that he started stepping out beyond the three-point line.
It wasn't too long before it became obvious that the slow-footed, burly big man had a skill that very few people in basketball have. He was the biggest guy on his high school team, but still managed to earn all-area, all-conference and all-state accolades while setting school records for three-pointers — most made in a game, most consecutive threes made, career three-pointers. He was a specialist, and while a couple of impressive performances on the AAU circuit prior to his senior season drew interest from the likes of Marquette, Michigan and Minnesota, Wragge settled on Creighton, following in the footsteps of another large sharpshooter, Kyle Korver.
As a freshman, Wragge eventually worked his way into the starting lineup by the end of the season, but he would lose that spot to Doug McDermott the following season, a year he ended up receiving a medical redshirt as he battled through plantar fasciitis. The next two seasons, Wragge won awards for his play coming off the bench, but he wasn't much more than a role player giving McDermott's legs some rest of providing opponents with a different look while spelling Gregory Echenique.
It wasn't until this season that he moved back into the starting lineup, and his presence has turned the Bluejays into arguably the most difficult team in the country to matchup with.
Wragge is Creighton's five-man. That means that teams in the Big East are forced to guard him with a center.
"It's hard for them to adjust," Wragge said. Can you blame them? Daniel Ochefu, Villanova's 6-foot-11 center, was the guy that was victimized by Wragge's first three threes on Monday night. How many times has he had to guard someone that had that quick of a release from 25 feet out? How many times has a center has to locate his man in transition at half court just to make sure he doesn't step into an open three from five feet beyond the NBA line?
The answer's never.
I don't mean to pick on Ochefu, either. He's not alone. He's just the latest victim.
"They'll be close, but I know how close they need to be to effect it," Wragge said. "Sometimes it might look like a bad shot, but I have confidence in it."
"Some of our guys still have a tough time with it in practice," senior guard Grant Gibbs said with a laugh, which is less an indictment of his teammates than it is a measure of just how unique Wragge's skill set is.
Think about it.
Wragge has been in the Creighton program for five seasons. In those five years, he's played 133 games and scored over 1,000 points. He's shot the ball from inside the arc just 53 times. The scouting report is out there. Everyone, especially his teammates, knows why he's on the court, yet those teammates still can have issues preventing him from getting open looks.
If they can't slow him down, how can you expect Big East opponents playing Wragge for the first time to be able to?