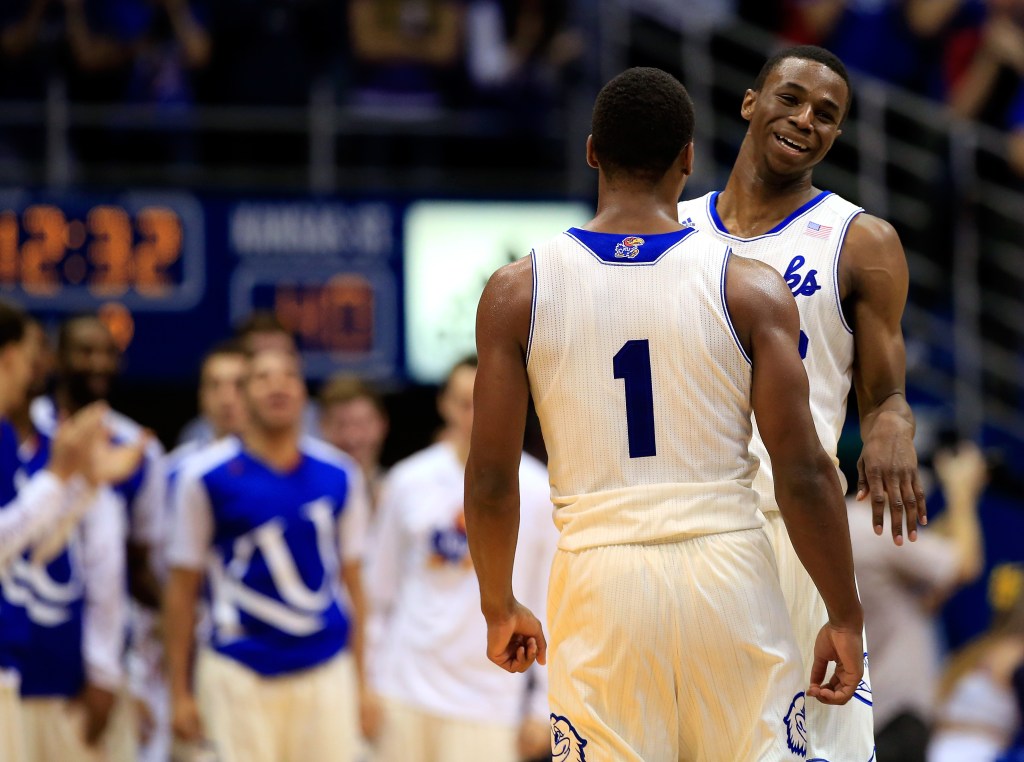 Since losing to San Diego State, the Kansas Jayhawks have put together a five-game surge that includes victories over its biggest competitors in the Big 12 conference – Oklahoma, Kansas State, Oklahoma State, Iowa State, and Baylor.  Two of those (Oklahoma, Iowa State) were on the road.  Add in victories over Duke and New Mexico in non-conference play, and KU has notched eight Top 50 RPI victories.  That's two more than Syracuse, four more than Arizona, and three more than Michigan State – the other members of today's No. 1 seed club.  It's also worth noting that Kansas has played the nation's toughest schedule and currently sits atop the RPI.   That's a pretty strong profile (despite four losses – all to Top 25 RPI Teams), and the primary reason why the Jayhawks received the No. 4 slot on this week's seed list (s-curve).  When evaluating KU's overall body of work, it's pretty strong.
We still have two months to go and several other teams could reach the No. 1 seed line by March.  Teams like Florida and Wichita State are building strong resumes, as is San Diego State.  And it's too early to count out Iowa, Michigan, or Wisconsin from the Big Ten title chase.  The final contenders will be much more clear by mid-February.
On the flip side, January hasn't been a good month for teams like Ohio State, Baylor, and North Carolina – or Georgetown for that matter; as the Hoyas are among the First Five OUT today.  Through the first third of conference play, the Buckeyes, Bears, and Tar Heels own a combined 4-12 record (in league play).  Some of that is due to scheduling and some of it has been inconsistent play.  Either way, it would be a good time for those squads to reverse course.  By the time we reach mid-February, a seriously sub-par conference record will not be endearing to the Selection Committee.
One of the best things about college basketball is that we never know what will happen.  Enjoy the hoops.
UPDATED: January 21, 2014
Teams in CAPS represent the projected AUTOMATIC bid based on current standings with RPI as a tiebreaker for teams with the same number of losses. Exceptions are made for teams that use an abbreviation (UCLA, BYU, etc).
Several new bracketing principles were introduced after last year's tournament.  You can read them for yourself at http://www.ncaa.com.   For example: teams from the same conference may now meet before a Regional final, even if fewer than eight teams are selected.  The goal is to keep as many teams as possible on their actual seed line.
FIRST FOUR PAIRINGS – Dayton (First Round)
BYU vs. Arkansas | Midwest Region
VCU vs. Providence | South Region
SAVANNAH ST vs. UNC-ASHEVILLE | East Region
SOUTHERN vs. CHATTANOOGA | South Region
BRACKET PROJECTION …
WEST – 

Anaheim                           

EAST – New York                   
San Diego
Buffalo
1) ARIZONA
1) SYRACUSE
16) SOUTH DAKOTA
16) SAVANNAH ST / NC-ASHEVILLE
8) Baylor
8) Xavier
9) GONZAGA
9) UCLA
San Diego
Raleigh
5) Duke
5) Oklahoma
12) GREEN BAY
12) HARVARD
4) Kentucky
4) Michigan
13) S.F. AUSTIN
13) MANHATTAN
Spokane
Spokane
6) Kansas State
6) Memphis
11) Stanford
11) Dayton
3) SAN DIEGO STATE
3) Iowa State
14) UC-IRVINE
14) GEORGIA STATE
Milwaukee
Buffalo
7) Connecticut
7) Ohio State
10) Missouri
10) Florida State
2) Wisconsin
2) Villanova
15) UTAH VALLEY
15) BOSTON UNIVERSITY
SOUTH – Memphis
MIDWEST – Indianapolis
St. Louis
Milwaukee
1) KANSAS
1) MICHIGAN STATE
16) SOUTHERN / CHATTANOOGA
16) ROBERT MORRIS
8) Oregon
8) Colorado
9) Minnesota
9) New Mexico
Raleigh
Orlando
5) Pittsburgh
5) CREIGHTON
12) SOUTHERN MISS
12) BYU / Arkansas
4) MASSACHUSETTS
4) CINCINNATI
13) TOLEDO
13) MERCER
San Antonio
San Antonio
6) Louisville
6) Saint Louis
11) VCU / Providence
11) North Carolina
3) Iowa
3) Oklahoma State
14) DELAWARE
14) BELMONT
Orlando
St. Louis
7) Virginia
7) California
10) Texas
10) George Washington
2) FLORIDA
2) WICHITA STATE
15) STONY BROOK
15) NO COLORADO
NOTES on the BRACKET: Arizona is the overall No. 1 seed followed by Syracuse, Michigan State, and Kansas.
Last Five teams in (at large): Dayton, VCU, Providence, Arkansas, BYU
First Five teams out (at large): SMU, Tennessee, Clemson, Boise State, Georgetown
Next five teams out (at large): Purdue, LSU, Saint Mary's, Ole Miss, Illinois
Breakdown by Conference …
Big 12 (7): Kansas, Oklahoma State, Baylor, Iowa State, Kansas State, Oklahoma, Texas
Big Ten (6): Michigan State, Michigan, Ohio State, Iowa, Wisconsin, Minnesota
Pac 12 (6): Arizona, Oregon, Colorado, UCLA, California, Stanford
ACC (6): Duke, Syracuse, North Carolina, Florida State, Pittsburgh, Virginia
Atlantic 10 (5): Massachusetts, VCU, Saint Louis, Dayton, Geo Washington
SEC (4): Kentucky, Florida, Missouri, Arkansas
American (4): Louisville, Memphis, Connecticut, Cincinnati
Big East (4): Creighton, Villanova, Xavier, Providence
Mountain West (2): New Mexico, San Diego State
West Coast (2): Gonzaga, BYU
Missouri Valley (1): Wichita State
Conference Automatic Qualifiers … Southern Miss (C-USA), Belmont (Ohio Valley), Georgia State (Sun Belt), Boston University (Patriot), South Dakota (Summit), Green Bay (Horizon), Chattanooga (Southern), Utah Valley (WAC), Manhattan (MAAC), Stephen F. Austin (Southland), Toledo (MAC), Mercer (A-Sun), Harvard (IVY), UC-Irvine (Big West), Delaware (Colonial), Stony Brook (American East), Northern Colorado (Big Sky), Savannah State (MEAC), UNC-Asheville (Big South), Robert Morris (NEC), Southern (SWAC)