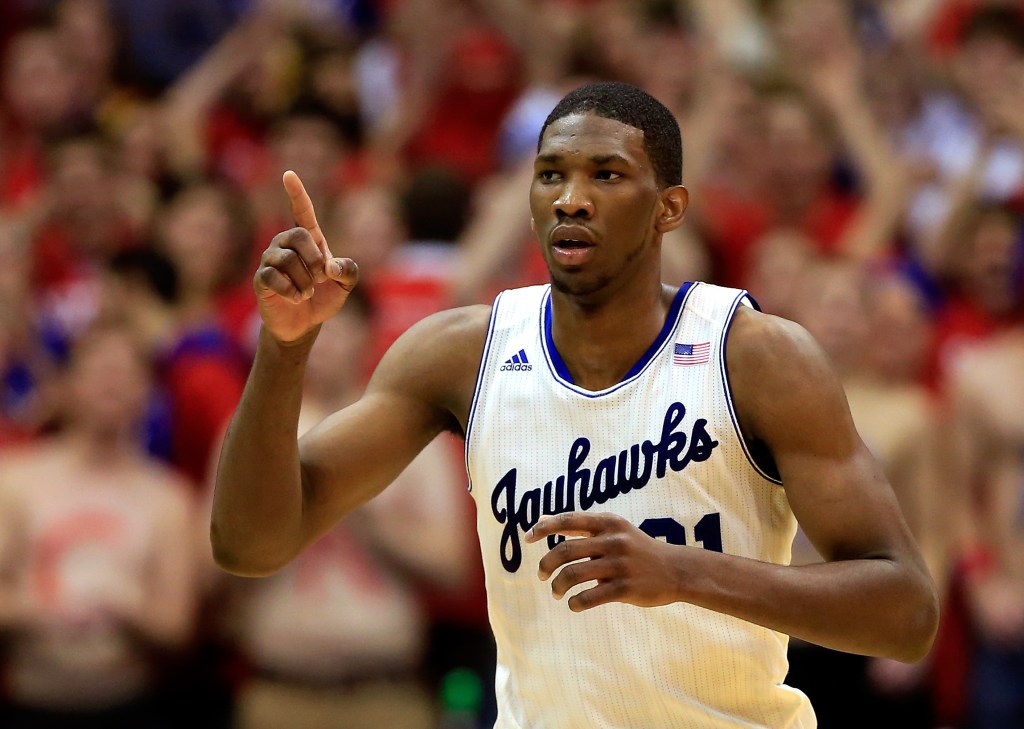 PLAYER OF THE WEEK: Joel Embiid, Kansas
Joel Embiid is doing his best to mimic the growth of Anthony Davis back in 2012. Davis was a no-name on the AAU circuit heading into the summer after his junior season, but he shot up the rankings, becoming the top player in the class. And as he began to develop and dominate defensively, with Kentucky's team growing around him, the Wildcats went on to become national champions.
Could the same be happening to Embiid? It sure looks like it. In two games last week, Bill Self's seven-footer averaged 14.5 points, 10.0 boards and 6.5 blocks while shooting 12-for-14 from the floor. He absolutely controlled the paint in wins over Iowa State and Oklahoma State, helping Kansas reach 4-0 in the Big 12, good enough for sole possession of first place. It will be interesting to see how he develops the rest of the season, but the way that he is playing right now, he's the most dominant interior presence in college basketball.
They were good, too:
Rasheed Sulaimon, Duke: The Blue Devils bounced back from an ugly start to ACC play by knocking off Virginia and N.C. State this week. Sulaimon was the hero in a game Duke struggled against UVA, finishing with 21 points (and the game-winning three). He chipped in with 13 points and six assists in the blowout of the Wolfpack.
Jonathan Holmes and Cameron Ridley, Texas: Holmes and Ridley combined for 39 points, 18 boards and seven blocks in a huge win over Iowa State on Saturday. That came after they went for 21 points and 24 boards in a win at West Virginia.
Delon Wright, Utah: Is there a better player in the country that no one is talking about than Wright? In wins over USC and UCLA this week, he averaged 17.0 points, 7.0 boards, 5.5 assists, 4.5 steals and 2.0 blocks. He's a 6-foot-5 guard.
Nik Stauskas, Michigan: The Wolverines went into Wisconsin on Saturday and knocked off the Badgers. Stauskas had 23 points, including the last 11. He's become the centerpiece of John Beilein's offense.
Kevin Larsen, George Washington: Larsen averaged 18.5 points and 7.5 boards this week in wins over VCU at home and at St. Bonaventure.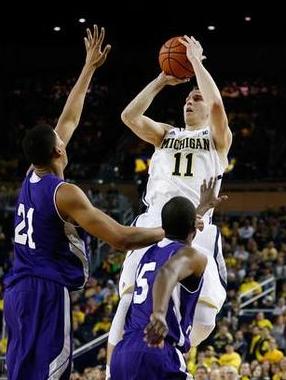 TEAM OF THE WEEK: Michigan Wolverines
The Wolverines were written off when Mitch McGary put his season on hold to get his ailing back surgically repaired. Not by me, mind you. It would be silly to write off a team that still had Nik Stauskas, Glenn Robinson III and Caris LeVert as the centerpieces of a team with a point guard that's only going to get better and a pair of big men that, at worst, are serviceable top-of-the-rotation Big Ten bigs.
Michigan proved that on Saturday. The Wolverines won their seventh straight game, starting off Big Ten play 5-0, and they did it with a statement win over Wisconsin in Madison. And once again, it was Stauskas making all the big plays down the stretch of a close game. If Robinson stays aggressive, Stauskas and LeVert continue to manufacture open looks for their teammates and Derrick Walton can avoid turning the ball over, this can be a top three team in the Big Ten.
They were good, too:
Kansas: It's hard to argue with wins over Oklahoma State and at Iowa State in the same week, especially when Naadir Tharpe shoots 14-for-17 from the floor and hands out ten assists. But here's my concern: Kansas had 43 turnovers in the two games. Tharpe committed ten of them. Joel Embiid had 11.
Kansas State: It was a big week for the Wildcats, as they not only notched a win over Oklahoma at home, they went into West Virginia and just pounded the Mountaineers. Believe it or not, the Wildcats are in sole possession of second place in the Big 12.
Syracuse: The Orange can now claim sole possession of first place in the ACC after beating Pitt this week at the Carrier Dome.
Texas Tech: All of a sudden, it may be time to pay a bit of mind to the Red Raiders. After knocking off Baylor at home this week, Jaye Crockett and company went into TCU and beat the Horned Frogs.
Providence: Ed Cooley's club has not had an easy go of it this season, but they picked up a pair of huge wins this week, going into NYC and knocking off St. John's before they blew out Creighton at home.