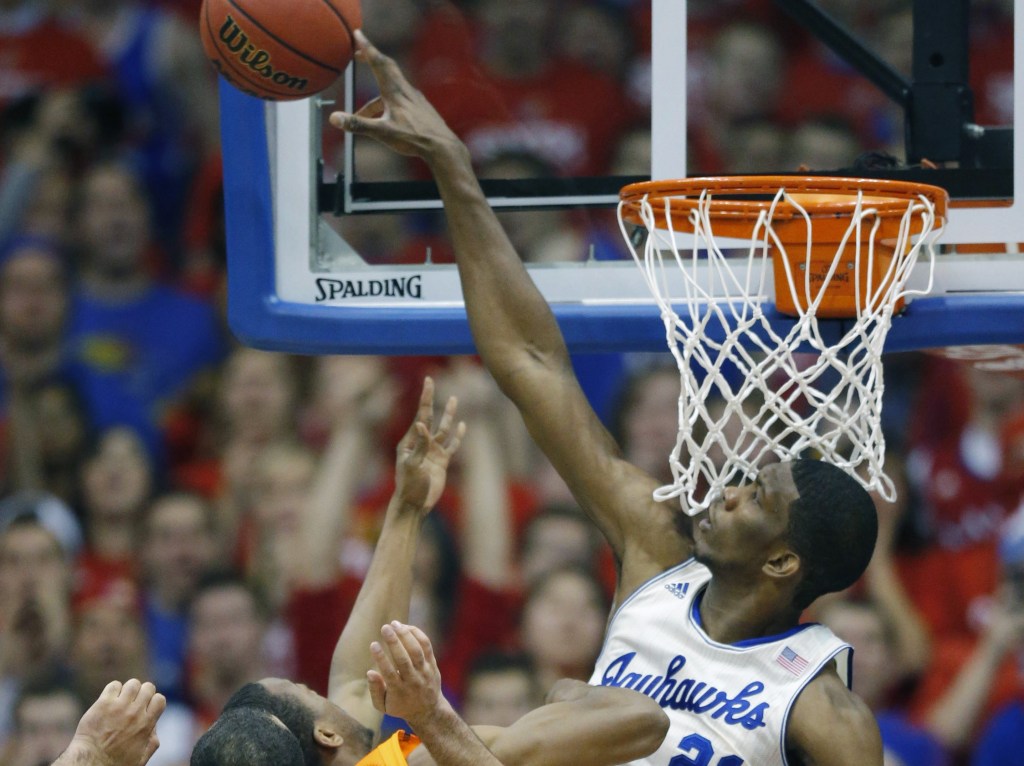 In a game that has been billed for months — literally — as a battle between Andrew Wiggins and Marcus Smart, the two favorites for National Player of the Year back in November were fairly forgettable.
Smart was 3-for-14 from the floor, but as he tends to do, he put together an impressive all-around performance, finishing with 10 boards, eight assists and four steals while sparking an Oklahoma State comeback from a 47-30 halftime deficit.
Wiggins?
Well, he finished 1-for-5 from the floor. He had three points, two boards and an assist. He took one shot after the 9:26 mark … of the first half! The most physically gifted wing in the country, one of the nation's top prospects and a future top three pick in the NBA Draft, was a complete non-factor for the No. 15 Jayhawks.
And it didn't matter.
They jumped out to a huge first half lead and hung on down the stretch, knocking off the No. 9 Cowboys, 80-78.
Think about that for a second. Wiggins was thought to be the savior for the Jayhawks because he gave them a go-to guy, an offensive weapon that would be able to get them 20 points on a nightly basis and give them an option at the end of a clock. He was going to be the guy that Bill Self would build an offense around, the load-bearing shoulders that would carry a young and unproven Kansas team to yet another Big 12 title.
The Jayhawks are now 4-0 in the Big 12, having beaten their four biggest challengers in Big 12 play already — at Oklahoma, Kansas State, at Iowa State and Oklahoma State. Kansas State is the only team that currently sits within one game of the Jayhawks in the Big 12 standings. This is arguably the most talented team in the country, and they are peaking at the right time.
And they are doing it despite the fact that their Sports Illustrated cover boy has yet to be anything more than a piece to the puzzle.
That's scary for two reasons.
First of all, the rest of the Jayhawks have found their groove. Embiid, who finished with 13 points, 11 boards and eight blocks, has turned into arguably the most dominant post presence in college basketball. Wayne Selden caught fire last week, sparking Kansas against Oklahoma and Kansas State. Naadir Tharpe is (finally) fully embracing the point guard role Kansas has been waiting for him to fill for two years. He had 21 points and six assists on 7-for-8 shooting on Saturday, which included three huge jump shots in the second half, the last of which gave Kansas a 79-73 lead with 35 seconds left.
But what happens if Wiggins is the next guy to come full circle? What happens if it finally comes together for him? Kansas already has full control of the toughest conference in the country. They already look like a national title contender. And they can still get so much better.