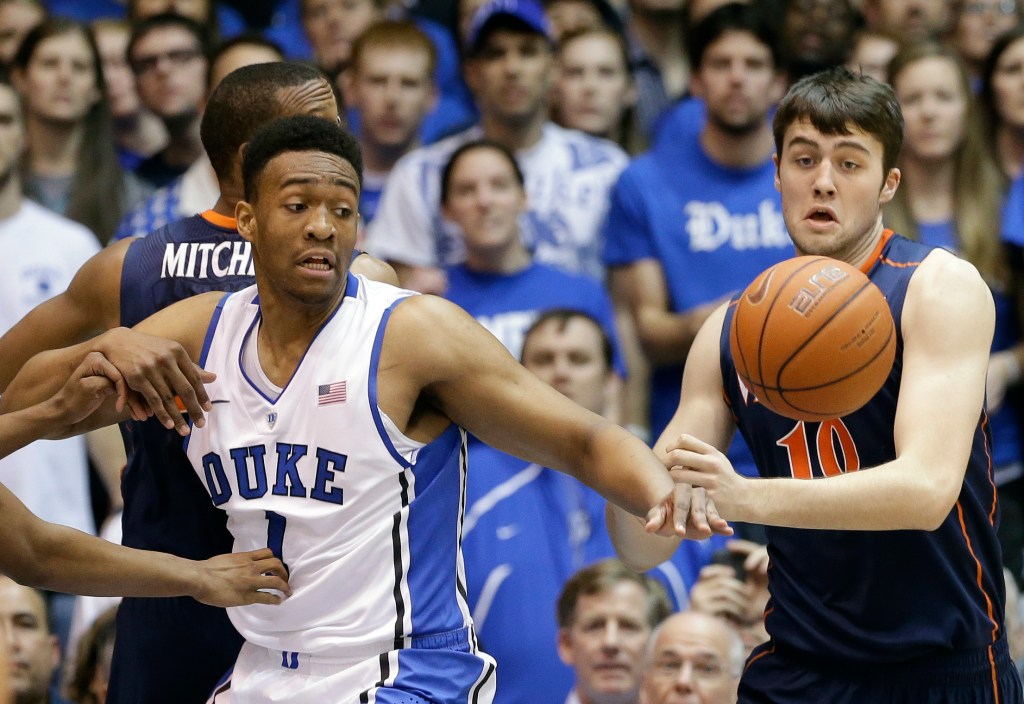 What in the world has happened to Jabari Parker?
Three weeks ago, he was being hailed as the best offensive weapon in the history of college basketball. Ok, that may be overstating it just a bit, but there really wasn't much that Parker wasn't doing on the offensive end of the floor. Put a smaller defender on him and he would abuse them in the post. Put a bigger defender on him and he'd show off his highly-developed perimeter repertoire. He finished alley-oops a possession after grabbing a defensive rebound and going coast-to-coast for a dunk.
He was special, and Duke looked like a legitimate title contender.
But Jabari hasn't been the same player since the calendar turn, and that no doubt plays a major role in why Duke has suddenly looked like a borderline top 25 team.
Check out these numbers:

It's pretty clear that his numbers have gone way down.
But why?
The obvious answer is the 'Freshman Wall', and there is certainly some merit to that. There is plenty of film to study on Parker at this point in the season, which means that coaches in the ACC are going to know what he's done well and what he's struggled with. Opponents will be game-planning around slowing him down. This is the first time in his career that he's been scouted this thoroughly and he's going to have to learn to adjust to what defenses are taking away. When you are as good as Parker is on the offensive end of the floor, defenses are going to be designed to slow you down. That's just how it works.
And it's also fair to assume that, eventually, Parker was going to regress to the mean. He shot lights-out for the first month of the season, especially from beyond the arc. No one can possibly keep up that rate, and while Parker was always a threat from the perimeter, he was never really known as an elite three-point marksman.
There's more to it than that, however. I went through Synergy and watched about three hours worth of film on Parker and this is what I came away with:
1) Parker is settling for jumpers
The guy that was the nation's most versatile offensive weapon has become a one-trick pony in recent games. He's not posting up as often anymore. The majority of the looks that he is getting are coming off of spot-up jumpers and isolations where Parker settles for contested, step-back jumpers. To get an idea of his aggressiveness, Parker shot 43 threes and 70 free throws in the first 12 games. In the last five, he's shot 21 threes and just 14 free throws.
There are two reasons for this:
Opponents are defending him with bigger, more athletic opponents. Virginia used Akil Mitchell on him. Notre Dame used Zach Auguste and Austin Burgett. Georgia Tech put Kammeon Holsey on him. His best game in ACC play came when he was guarded by 6-foot-7, 215 lb freshman Jaron Blossomgame at Clemson. As a result, when Parker does get his post touches, they come farther away from the rim and he has a tendency to simply face-up and shoot over the defender. On the perimeter, since he's not getting all the way to the rim as easily as before, they are able to challenge those perimeter jumpers more easily thanks to their size and length.
For a guy that is as talented and well-rounded offensively as Parker is, Duke certainly doesn't run a lot of sets for him. When they do, he's not running off of down screens or getting a chance to curl to the rim, he's getting set up for a chance to square his man up and go one-on-one. I did a breakdown here of how Creighton uses Doug McDermott off the ball, running him off screen after screen after screen in the half court. Far too often, Parker simply spends a possession standing in the corner. Granted, Duke has more weapons offensively that Creighton does, but it's still striking how often he's essentially a decoy used to pull a big man away from the rim.
2) Is Parker out of shape?
Parker's legs look like they're dead. He's not getting as much lift on his jumpshot as he was early in the season. When players are feeling good, they miss long. When they're tired, they miss short because their shot is flat, or to the right or left, losing some accuracy as they try to get a little bit of extra 'oomph' on their jumper. This problem gets magnified by the fact that Parker is becoming so much more reliant on that jumper.
Parker was never going to be confused with Patric Young in terms of his physique, but early on in the season, he looked svelte, like he had lost a few pounds since his high school days. I saw the Blue Devils in person five times in the first month of the season, so maybe it's TV playing tricks on me, but it looks like he's added a bit of weight as well. A heavier frame certainly won't help dead legs.
3) Is his defense affecting his offense?
Watching film on Duke, it was striking seeing just how poor of a defender Parker is. Part of it is that he's being forced to play out of position. Often times, he's guarding an opponent's best interior player, and that can take a lot out of a player's legs. But there's more to it than that. He loses track of his man defensively. He's late rotating from helpside. He routinely forgets to box his man out.
That's part of the reason that Parker was benched for the final 3:35 in the loss against Notre Dame, which makes you wonder how much of this recent slump is simply Parker losing some of his confidence on the offensive end of the floor.
Whatever the case may be, the bottom line is that Jabari Parker is not playing well right now.
Duke will not be a legitimate threat to win anything until he is.