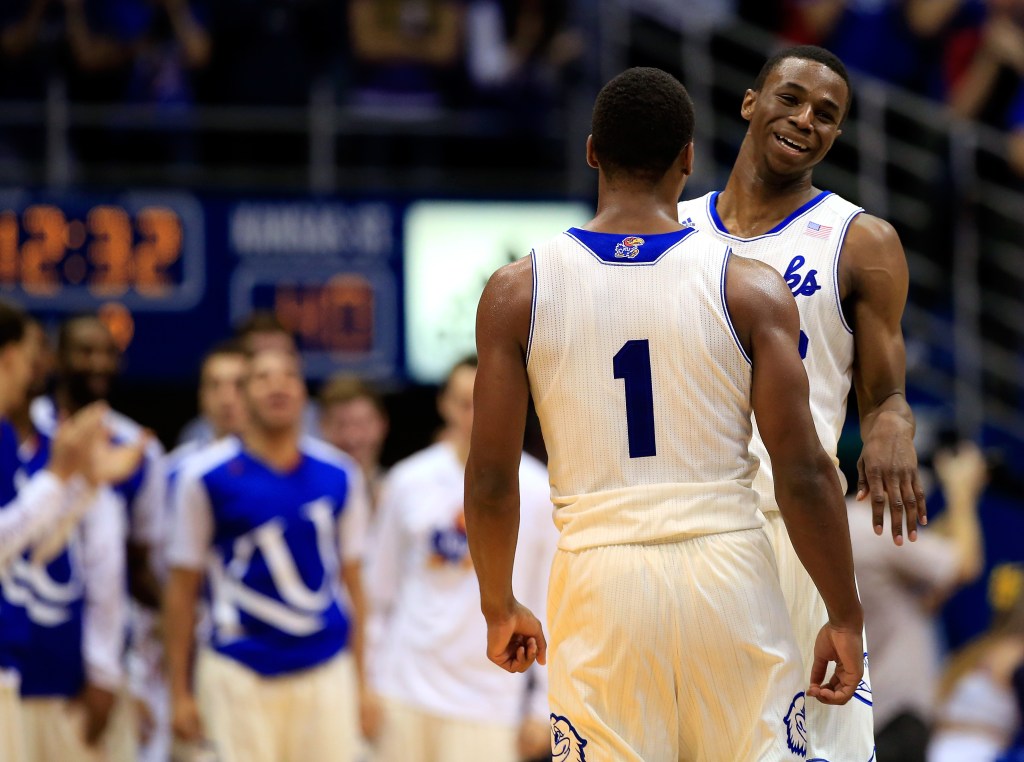 Kansas is among the top movers in this week's bracket projection.  The reasons are pretty clear: two quality road wins and an overall schedule ranked No. 1 in the nation. Those types of statistics always play well on Selection Sunday.
In the span of a week, the Jayhawks won road games at Oklahoma and Iowa State – sandwiched with a lopsided home victory over improved Kansas State.  It's mid-January and KU already has seven wins against Top 50 teams (RPI – through Monday, January 13).  Thus, Kansas finds itself as a No. 2 seed in today's update.  Also worth noting: the Jayhawks' four losses are by a combined 17 points and only one of those – San Diego State – occurred in the past month.
Which brings us to SDSU – another of the recent seed climbers.  San Diego State followed up its monumental victory at KU by handling Boise State at home and Air Force on the road.  The Aztecs are 5-0 away home.  None bigger than the one in Lawrence.
Iowa vaulted up the seed list after an impressive win at Ohio State.  The somewhat undervalued Hawkeyes are 12 points from a perfect season – having lost only on a neutral court to Villanova, at Iowa State, and at Wisconsin.  If there is a knock on the Hawkeyes' resume, it's an overall weakish non-conference schedule.  How that affects Iowa's final seeding remains to be seen.  Continuing to win league road games will erase much of the concern.
Let's also mention Cincinnati.  The Bearcats have won eight straight.  The most impressive victory in that streak was a 16-point road win at Memphis.  UC has moved from a potential bubble team to No. 19 on the current s-curve.
Other than rising Virginia – and to some extent Oklahoma after its home win over Iowa State – there hasn't been a lot of movement around the bubble.  If you check last week's bracket, the names appear much the same – perhaps in a slightly different order.  Arkansas is the first team out in today's update.  The Razorbacks continue to struggle on the road – a problem that has plagued them in recent years.
It's still a little early to be overly concerned with conference standings but there are some potential pitfalls ahead.  Take, for example, North Carolina.  The Tar Heels are 0-3 in ACC play after their loss at Syracuse.  This week's game with Boston College is huge – which is followed by a trip to Virginia and a home date with Clemson.  It's time for UNC to make a u-turn or risk falling out of the Field.  Despite three quality wins, a 1-5 league mark would put UNC on an uphill climb toward tourney selection.
UPDATED: January 14, 2014
Teams in CAPS represent the projected AUTOMATIC bid based on current standings with RPI as a tiebreaker for teams with the same number of losses. Exceptions are made for teams that use an abbreviation (UCLA, BYU, etc).
Several new bracketing principles were introduced after last year's tournament. You can read them for yourself at http://www.ncaa.com. For example: teams from the same conference may now meet before a Regional final, even if fewer than eight teams are selected. The goal is to keep as many teams as possible on their actual seed line.
FIRST FOUR PAIRINGS – Dayton (First Round)
Stanford vs. Texas | Midwest Region
George Washington vs. Tennessee | South Region
WAGNER vs. UNC-ASHEVILLE | East Region
SOUTHERN vs. HAMPTON | West Region
BRACKET PROJECTION …
WEST –

Anaheim

EAST – New York                              
San Diego
Buffalo
1) ARIZONA
1) SYRACUSE
16) HAMPTON / SOUTHERN
16) WAGNER / NC-ASHEVILLE
8) Virginia
8) California
9) Dayton
9) Kansas State
Spokane
Raleigh
5) Michigan
5) MASSACHUSETTS
12) GREEN BAY
12) HARVARD
4) SAN DIEGO ST
4) Ohio State
13) BELMONT
13) AKRON
Orlando
San Antonio
6) Pittsburgh
6) New Mexico
11) VCU
11) Illinois
3) Iowa
3) Baylor
14) DELAWARE
14) NO COLORADO
St. Louis
Buffalo
7) Creighton
7) Missouri
10) GONZAGA
10) Connecticut
2) KANSAS
2) VILLANOVA
15) IPFW
15) MERCER
SOUTH – Memphis
MIDWEST – Indianapolis
Milwaukee
Milwaukee
1) MICHIGAN STATE
1) WISCONSIN
16) DAVIDSON
16) STONY BROOK
8) Florida State
8) Xavier
9) UCLA
9) North Carolina
San Diego
Raleigh
5) CINCINNATI
5) Memphis
12) LOUISIANA TECH
12) Stanford / Texas
4) Colorado
4) Kentucky
13) NEW MEXICO ST
13) MANHATTAN
Spokane
San Antonio
6) Oregon
6) Duke
11) Tennessee / Geo Washington
11) Georgetown
3) Iowa State
3) WICHITA STATE
14) S.F. AUSTIN
14) UC-IRVINE
Orlando
St. Louis
7) Saint Louis
7) Louisville
10) Oklahoma
10) Minnesota
2) FLORIDA
2) Oklahoma State
15) BOSTON UNIV
15) GEORGIA STATE
NOTES on the BRACKET: Arizona is the overall No. 1 seed followed by Syracuse, Wisconsin, and Michigan State.
Last Five teams in (at large): Georgetown, Tennessee, Geo Washington, Stanford, Texas
First Five teams out (at large): Arkansas, SMU, NC State, Arizona State, Wake Forest
Next five teams out (at large): LSU, Indiana State, Notre Dame, Indiana, Providence
Breakdown by Conference …
Big Ten (7): Michigan State, Michigan, Ohio State, Iowa, Wisconsin, Illinois, Minnesota
Big 12 (7): Kansas, Oklahoma State, Baylor, Iowa State, Kansas State, Oklahoma, Texas
Pac 12 (6): Arizona, Oregon, Colorado, UCLA, California, Stanford
ACC (6): Duke, Syracuse, North Carolina, Florida State, Pittsburgh, Virginia
SEC (5): Kentucky, Florida, Missouri, Tennessee
Atlantic 10 (5): Massachusetts, VCU, Saint Louis, Dayton, Geo Washington
American (4): Louisville, Memphis, Connecticut, Cincinnati
Big East (4): Creighton, Georgetown, Villanova, Xavier
Mountain West (2): New Mexico, San Diego State
Missouri Valley (1): Wichita State
West Coast (1): Gonzaga
Conference Automatic Qualifiers … Louisiana Tech (C-USA), Belmont (Ohio Valley), Georgia State (Sun Belt), Boston University (Patriot), IPFW (Summit), Green Bay (Horizon), Davidson (Southern), New Mexico State (WAC), Manhattan (MAAC), Stephen F. Austin (Southland), Akron (MAC), Mercer (A-Sun), Harvard (IVY), UC-Irvine (Big West), Delaware (Colonial), Stony Brook (American East), Northern Colorado (Big Sky), Hampton (MEAC), UNC-Asheville (Big South), Wagner (NEC), Southern (SWAC)