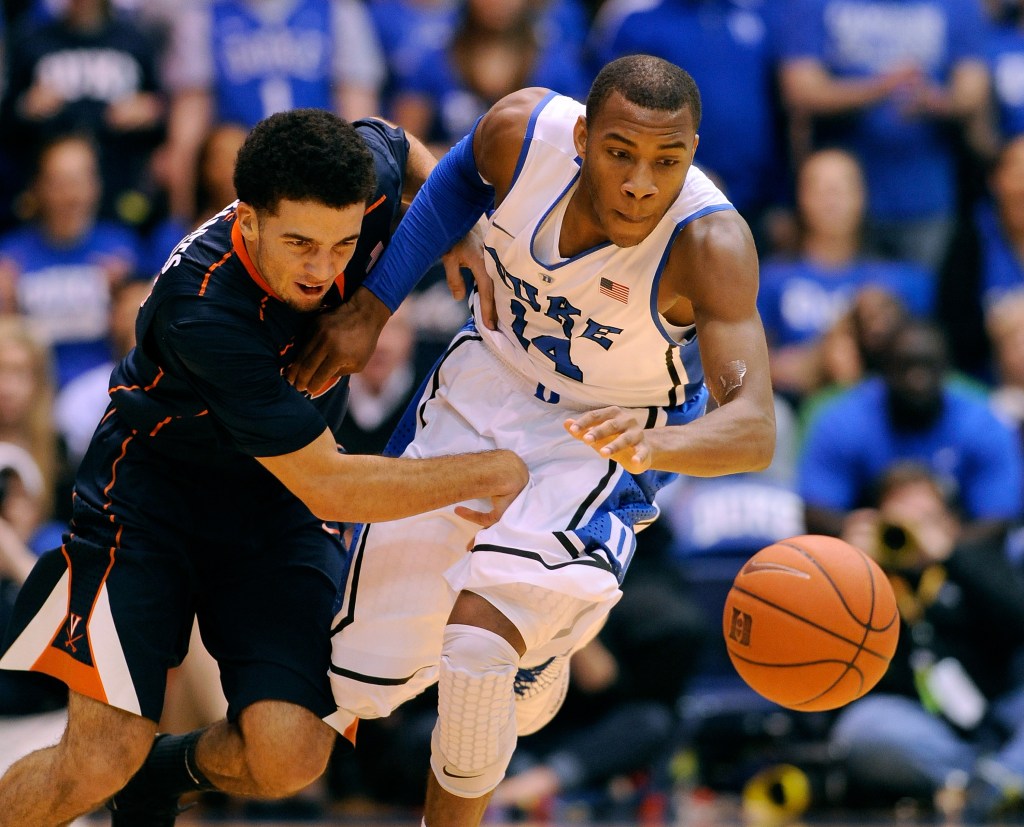 If you're No. 23 Duke or you're Mike Krzyzewski, it doesn't really matter how ugly it was.
At this point, coming off of road losses to Clemson and Notre Dame in the span of a week, winning ugly means, quite frankly, that you won, and at this point, that's something the Blue Devils are going to take. For them, the 69-65 win over Virginia is just as effective as a 100-0 win.
Coach K pulled out all the tricks in his playbook. shuffling the starting lineup (Matt Jones started at the off-guard spot) and rolling through five-man line changes for the first ten minutes or so of each half. In total, 11 guys got minutes for the Blue Devils, including seldom-used reserves Semi Ojeleye and Marshall Plumlee.
And on a night where Coach K is trying to wake up his team, it would only make sense that the heroes were, in one case, a season-long conundrum and, in the other, of the unsung variety.
Rasheed Sulaimon has spent the entire season working his way in and out of Coach K's doghouse. He took the dreaded DNP-CD against Michigan (I wrote about it here) before finally seeming to break back into the rotation against Arizona in the Garden (I wrote about that here). But it wasn't until tonight that we really saw Sulaimon look like the guy that many had pegged as a potential lottery pick entering the season.
He scored 21 points off the bench, providing a massive first half spark to snap Duke out of an offensive funk while hitting a fluky game-winner — his corner three bounced high off of the back of the rim and in — in the final minute. He was active defensively and aggressive offensively, something we haven't seen Sulaimon do much of this season.
The other hero was Amile Jefferson, Duke's blue-collar, undersized junkyard dog inside. Jefferson finished with 10 points, 15 boards, two assists, a block and two steals, one of which came when he picked off a cross court pass when Virginia had the ball down just two points with 10 seconds left. He proceeded to get fouled and, as a 41% free throw shooter, step to the line and ice the game.
But as good as those two were, Duke's issues were still quite evident.
Virginia isn't the kind of team that has explosive penetrating guards, but the were able to get penetration into the paint way too easily. They struggled finishing around the rim, which is why Duke was able to maintain a double-digit advantage for much of the game. Offensively, the Blue Devils still don't look quite right. They rely far too much on isolations in the half court and have simply looked out of sync in recent games. Jabari Parker is slumping. Rodney Hood struggled at times Monday night. Quinn Cook, as a result, has tried to force things offensively to try to make up for that lacking scoring punch.
The good news? The body language tonight was better. The Blue Devils had more energy. They may have blown a lead down the stretch playing "prevent offense", but they still beat a good Virginia team that's been peaking of late.
And they have Coach K.
If anyone can figure out a way to cure what ails Duke, it's the man that has the most wins of any college basketball coach.
He better get started on it.