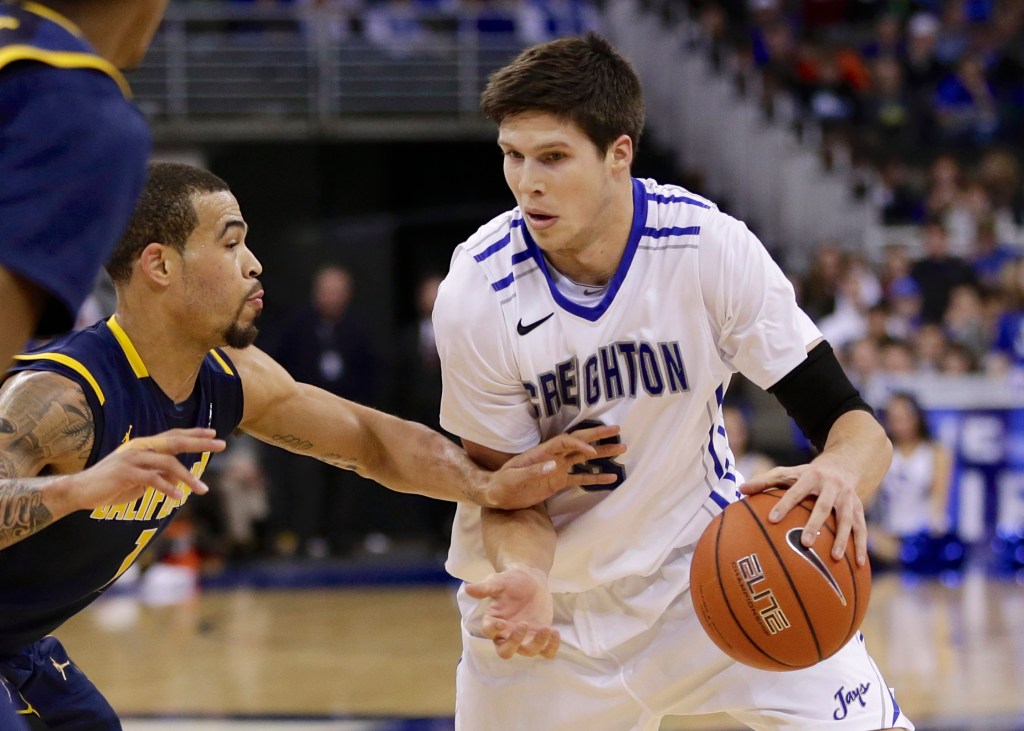 This week was the first full week on conference play, which means that today's roundtable is the perfect chance for us to argue our way through midseason awards. Here are the picks:
ROB DAUSTER:
Player of the Year: I know that he's struggled in his last couple of games, and I know that there are issues on the defensive side of the ball, but I'm still riding with Jabari Parker as the National Player of the Year. That said, Dougie McBuckets is nipping at his heels. How cool would it be to see McDermott win a National Player of the Year award?
Coach of the Year: Another nip-and-tuck battle between a pair of worthy candidates: as far as I'm concerned, Steve Fisher is the National Coach of the Year, but I think I could be convinced that Fred Hoiberg deserves the award over him. Is there actually a wrong answer here?
First Team All-America: There are four obvious picks, in my opinion:
Deandre Kane, Iowa State
Jabari Parker, Duke
Doug McDermott, Creighton
Julius Randle, Kentucky
The fifth spot? That could go to Shabazz Napier or Marcus Smart or Keith Appling or Tyler Ennis or C.J. Fair. The list goes on and on. I think I would lean Napier at this point.
Tell me why I'm wrong.
SCOTT PHILLIPS:
Player of the Year: I love Jabari Parker's game as much as anyone — I covered him for four years as a Chicago Sun-Times preps basketball writer — but to not give this award to Doug McDermott would be a travesty. Doug McDermott isn't getting benched in losses for defensive lapses and he doesn't go into shooting slumps. There's been one game all season in which McDermott scored under 19 points; Parker's been 12 and under his last three games. It's a close race, sure, but it isn't as if McDermott is playing in the MVC this season and he's averaging a full 4.5 points per game more than Parker right now. Parker is off to a tremendous start — especially for a freshman — but let's not cloud our judgement of an award because it is cool to see a freshman get it. McDermott deserves it over Parker all day.
Coach of the Year: I'll go with Villanova's Jay Wright for this one. There's obviously a number of worthy candidates — and, as Rob said, there's probably not a wrong answer — but we had Villanova as the sixth best team in the Big East our preseason picks — and I supported that — and the Wildcats are back to playing really good Jay Wright ball. They've beaten Kansas and Iowa on neutral courts and are clearly the class of the Big East at this point in the season.
All-Americans: I'm cool with the first four picks, but for my fifth spot I'll go with Shabazz Napier. You could make the argument for Gary Harris over Keith Appling, Marcus Smart had an odd stretch where his scoring was limited — somewhat by choice in some cases — and C.J. Fair and Tyler Ennis have both been tremendous for Syracuse, but where would UConn be without Napier?
I'm not just talking the buzzer-beater, but Napier is clearly UConn's most important player and the Huskies crumble when he doesn't play well. Appling has played hurt and Michigan State can still win; Smart has had quiet stretches and the Cowboys have won because the sum of their parts; and Ennis and Fair still have Jerami Grant and a great supporting cast. Napier doesn't have that much support on a nightly basis. UConn would be completely lost without him and that's why he merits my fifth and final spot.
RAPHIELLE JOHNSON:
Player of the Year: Yeah, I'm with the McDermott pick and defense really doesn't have much to do with it. Neither is the second coming of famed "Jordan stopper" (haha) Gerald Wilkins, so while that end of the floor does matter very rarely does an elite defender win POY unless he's a player like a Ralph Sampson on Patrick Ewing. That being said, have you guys looked at McDermott's percentages? 48.4% from the field, 42.9% from three and 90.6% from the foul line. Not to be biased here given our "Chase for 180" series, but that's pretty doggone good. I like what Parker's done overall this season, and he's a clear-cut first team All-American (this current two-game stretch isn't the norm for him), but for Player of the Year I'll take McDermott.
Coach of the Year: While I'm certainly big on both Fisher and Hoiberg here's another name to consider: Jim Boeheim. I know many will go with the "well look how good his team is, no kidding they're undefeated" retort, but yeah let's look at his team. Specifically a backcourt that really needed to step up given their heavy personnel losses on the perimeter, and thus far Tyler Ennis and Trevor Cooney have done just that. We all knew Syracuse would be good, maybe with a loss or two by this point in the season. But I'm not in favor of using that against a coach when discussing these honors.
First Team All-America: And for Rob's fifth guy on his All-America team, might it be necessary to consider UCLA's Kyle Anderson? He may not score at the rate of the other possibilities, and given the other options that really isn't his job. But to be averaging 14.5 points, 8.7 rebounds and 6.7 assists per game underlines just how versatile the sophomore playmaker is. And his percentages: 51.6% from the field, 54.5% from three and a respectable (albeit, not elite) 75.4% from the foul line. I wouldn't be mad with any of the possibilities listed, and would likely lean in favor of Napier given how important he is to UConn, but Kyle's name should be in the discussion.
TERRENCE PAYNE:
Player of the Year: Doug McDermott. Ironic, right? In a season that's all about freshmen, a senior is going walk away with the player of the year honors. But McDermott's earned it. And it's not like this is a shocking pick by any means.
Coach of the Year: There are so many candidates halfway through the season and all of them have really good cases. I'll go with Bo Ryan of Wisconsin. The Badgers are currently undefeated and are one of the top teams in the nation's best conference. Is he going to remain undefeated? No. But he's exceed expectations this so far, and he has done a great job with this group of players. Did you know Wisconsin has won games by scoring 103 points and 48 points?
First Team All-America: Again, lot of candidates with valid arguments, but I see Marcus Smart rounding out the first team. Like Napier he's so important to his team. He had one of the season's best single-game performances in a win over Memphis. His numbers were a bit down following the rematch against Memphis, but he bounced back for 24 points and 11 rebounds in the Cowboys last win.
KEVIN DOYLE:
Player of the Year: It's hard to disagree with McDermott. He is the best offensive player of the country, bar none — no one can score in the variety of ways he can. However, I am going to take the contrarian route, to an extent, and side with DeAndre Kane. It's clear, based on his play through the non-conference, that he was the most significant transfer over the summer months. Kane is the primary reason Iowa State is undefeated and has surged into the Top 10. A 6-foot-4 point guard who does it all on the floor and stuffs the stat sheet each night to the tune of 16.1 ppg, 7.1 rpg, 6.3 apg, and 1.5 spg. He's hardly a proficient jump-shooter, but has a knack for getting to the rim in the Cyclones' high octane offense. More importantly, however, he manages the Iowa State — ranked 10th in efficiency, per KenPom.com — exceptionally well.
Coach of the Year: Wisconsin graduated two of their three leading scorers from a season ago, but Bo Ryan has the Bagers back to where they seemingly always are every year — and then some. What is so impressive about this Wisconsin team is their ability to win in a multitude of ways. Whether it's grinding a game out and playing at a snail's pace against Virginia, or throwing up 95 points against Illinois, Ryan has Wisconsin looking as good as the 2007-08 squad that won 31 games. He's doing all of this with players that are unique to the offensive system he has built, and would not be nearly as effective elsewhere. Truly, one of the best coaches in the business.
First Team All-America: How about Florida's Casey Prather? Prather was nothing more than a mere role player for his first three seasons at Florida, but has developed into the Gators' best offensive player as a senior. Florida's roster has been in flux for much of the season with Scottie Wilbekin, Kasey Hill, and Dorian Finney-Smith all being in and out of the lineup, but Prather has been the one constant. Averaging 17 points, 5.5 rebounds and shooting 62.4% FG, Prather is the primary reason why I am so high on Florida.