Kansas put together one of their worst offensive performances in recent memory on Sunday evening in Phog Allen Fieldhouse.
They shot a whopping 29.8% from the floor, hitting just 4-of-16 from beyond the arc while needing a late flurry just to make it look that respectable.
In recent games, Kansas has become a team that is more and more focused on running their offense through their talented front court duo of Perry Ellis and Joel Embiid. When you have two players capable of scoring the way that those two can score with their back-to-the-basket — and when your team has talented-but-enigmatic perimeter players that have been, to date, unable to dominate — you give those big fellas the ball.
According to Synergy's logs, 13.8% of Jayhawk possessions are post-ups, which ranks 20th nationally and fifth — behind only LSU, North Carolina, Marquette and Stanford — among power conference teams. As a team, they're scoring 0.993 points-per-possession (PPP) on post-ups, which is top 40 nationally even after dropping as a result of their struggles against the Aztecs.
I went through and charted every Kansas post touch in their 61-57 loss, and here's what I found:
All told, the Jayhawks got 28 post touches: Embiid had 16 and Ellis had seven while Tarik Black (2), Jamari Traylor (2) and Andrew Wiggins (1) combined for the other five. Post touches aren't the same as post possessions-used, as a number of times an SDSU double-team forced Kansas to simply throw the ball back out to the perimeter and run a different set, or the ball got knocked out of bounds forcing an out-of-bounds play, etc.
Those post touches led directly — meaning either through a basket, a foul shot, an assist or a "hockey" assist — to just 16 points. Their bigs only drew three fouls on SDSU big men in post-up situations while committing four turnovers.
There were only three field goals that were scored by Kansas bigs in post-up situations. Two came after Embiid passed out of a double-team to create a driving lane, with one layup coming off of an assist from Naadir Tharpe and the other coming off of an offensive rebound. The third came when Embiid found Ellis under the basket for a layup after dribbling out of a double-team. In other words, neither Embiid nor Ellis scored a basket on a post move.
So what did SDSU do to slow down the Jayhawk big men?
It was a simple big-to-big post-double. As soon as a Jayhawk big man caught a ball in a post-up situation, SDSU ran their second big man at them to double-team.
Here's an example: As Wayne Selden is making his post-entry to Embiid, you can see where San Diego State's J.J. O'Brien (circled in red) and Josh Davis (circled in green) are positioned: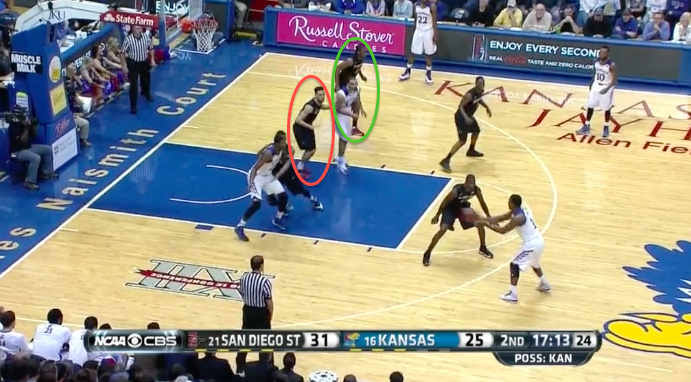 As you can see, even before Embiid controls the ball on the block, O'Brien has left his man to double Embiid while Davis has left his man to guard against a pass from Embiid to Ellis:
This limits Embiid's options. The help is coming from the middle, so he can try to spin baseline, where helpside defense is waiting if he's able to beat his man. Or he can dribble out of the double-team and look to pass to one of the guys left open around the perimeter. He chooses the latter in this case (click on the image to see the GIF):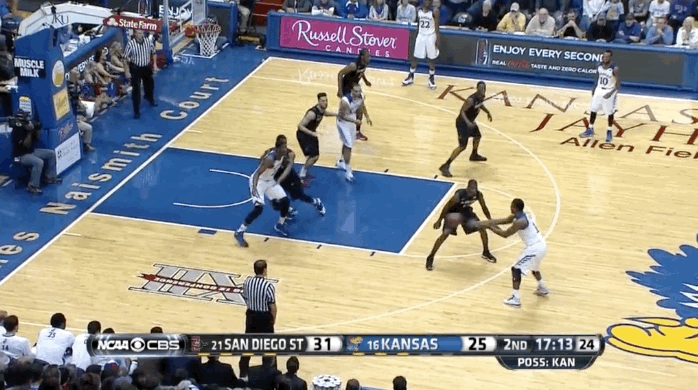 There are ways to beat this defense. It requires quick ball movement and weak-side cutters, allowing the offense to attack close-outs on the opposite side of the floor. For example, on this possession, you'll see Andrew Wiggins and Ellis cut hard to the ball side, drawing in SDSU's defense and leaving Tharpe wide-open on the other side of the floor (click on the image to see the GIF):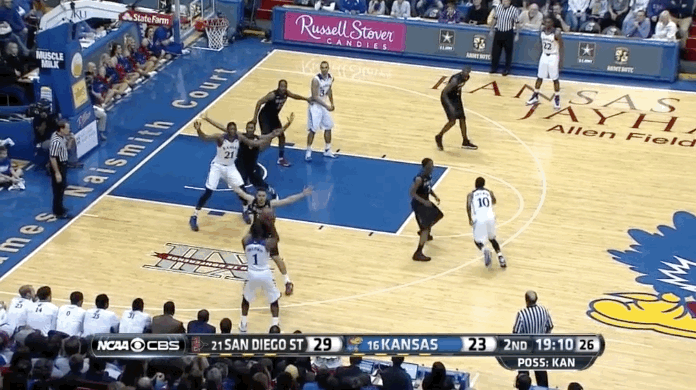 That creates a driving lane, and Embiid ends up finishing at the rim off of a nice assist from Tharpe.
The problem was that Kansas got far too little movement like on the offensive end until SDSU had already built their lead, and by then it was too late.
(all images and GIFs courtesy of CBS Sports broadcast)