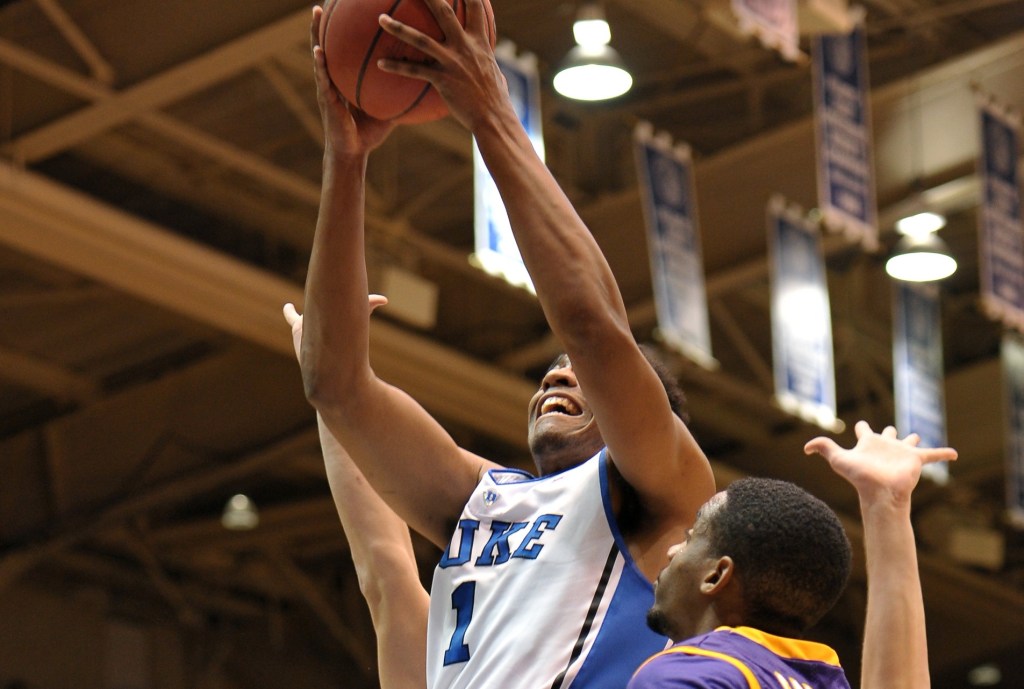 The 2013-2014 season is sure to be a thrilling Player of the Year race, so to keep track of it, we will be posting weekly Player of the Year Power Rankings for your reading goodness.
Who'd we miss? Who's ranked too high? We love to overlook your team's best player and overrate your rival's superstar.
1. Jabari Parker, Duke: On Saturday, Parker scored seven points on 2-for-10 shooting and got himself benched for the final 3:35 in a loss to Notre Dame in South Bend that dropped the Blue Devils from the top 10 to No. 16 in the AP poll. So what? If we were doing a college hoops draft, Parker is still the first pick. There's only one guy in the country that would be in the conversation with him …
2. Doug McDermott, Creighton: … and that's Dougie McBuckets. I hope everyone that gets a chance to watching Doug play this season truly appreciates what they're watching. He's unquestionably one of the best college basketball players that we've seen at any time in recent memory. You wanna know how good he is? The kid put of 30 points, 10 boards and five assists in a road win at Seton Hall and you heard nothing about it on Saturday. Not a peep. That's because a night like that is not uncommon for McDermott, who is on the verge of becoming the first three-time first-team all-american since Patrick Ewing and Wayman Tisdale.
Here is a stat, sent out by Creighton's SID, for you to chew on before I move on: McDermott is averaging 24.7 points and 7.5 boards and shooting 42.7% from three. Since 1998, the only other college player to post those numbers? Kevin Durant. Enjoy it while it lasts.
3. Deandre Kane, Iowa State: I'm not sure there is a more under-appreciated player in the country that Deandre Kane, who transferred to Iowa State after getting dismissed from the team at Marshall. He's been the biggest reason the Cyclones are still undefeated.
Here's a breakdown of Kane's numbers compared to the other four point guards on this list:

4. Julius Randle, Kentucky: Randle's numbers — 18.1 points and 10.6 boards — could look even more impressive if he didn't bow out of the game against Louisville with cramps. You saw what he did, right? 17 points on 7-for-8 shooting in the first half.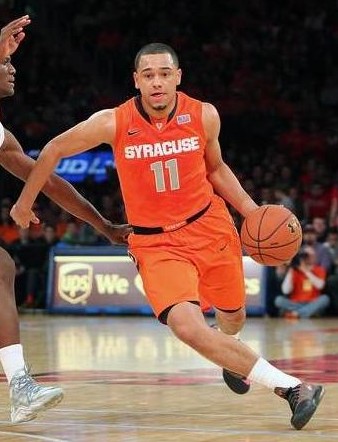 5. Tyler Ennis, Syracuse: A lot of people would pick C.J. Fair as the best player on Syracuse, but I think Ennis is easily the most valuable player and the biggest reason the Orange entered ACC play undefeated. He's the only point guard on the roster, he's a freshman, he doesn't turn the ball over and he's got a tremendous sense of timing. He seems to remain deferential until the exact moment the Orange need him to take over.
6. Marcus Smart, Oklahoma State: If you include the loss to Memphis, Marcus Smart has been rather human in the last seven games. His numbers: 12.3 points, 4.4 assists, 4.3 boards, 2.9 t/o's and shooting numbers of 43.9/22.6/72.4.
7. Shabazz Napier, UConn: UConn had an awful, o-2 swing through Texas last week and outside of a 25-point second half against Houston, Napier was 2-for-14 from the floor with just 14 points. Not good enough.
8. Casey Prather, Florida: Prather's last two games have been rather quiet, averaging just 11.0 points in wins over Richmond and Savannah State, but that doesn't change the fact that he's been the best player on Florida this season.
9. Nick Johnson, Arizona: The best perimeter defender, the best perimeter shoot and the leading scorer on the best team in the country deserves a spot on this list.
10. Keith Appling, Michigan State: It's hard to pick just one guy off of the Michigan State team, but for my money, Appling's play down the stretch in close games early in the season and the fact that he's been the facilitator for this loaded offense sets him apart.
Others: Jordan Adams, Kyle Anderson, Ron Baker, Cameron Bairstow, Jahii Carson, Jordan Clarkson, Aaron Craft, Joel Embiid, C.J. Fair, Aaron Gordon, Rodney Hood, Marcus Paige, Lamar Patterson, Adreian Payne, Elfrid Payton, Russ Smith, T.J. Warren, Andrew Wiggins, Chaz Williams, Joseph Young