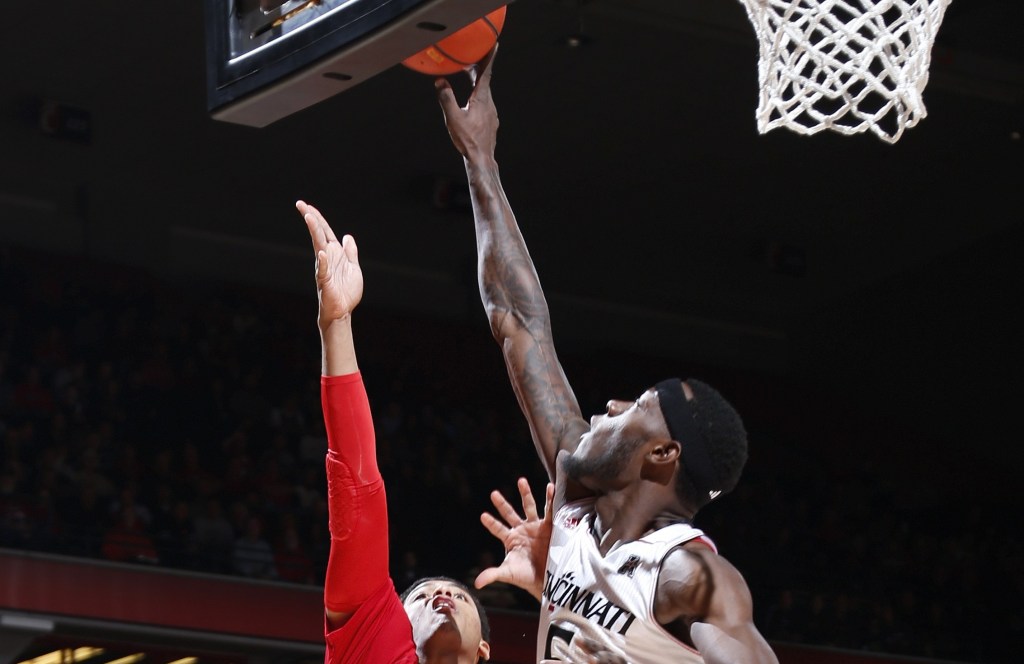 PLAYER OF THE WEEK: Justin Jackson, Cincinnati
The Bearcats could not have asked for a better stop to league play in the inaugural season of the American. After knocking off SMU in Cincinnati on New Year's Day, Mick Cronin's club went down to Memphis where they laid the wood on the Tigers, whipping then-No. 18 Memphis by 16 points on their home floor. Do the math, and that would be two wins over top five teams in the conference in the span of four days.
The star of the show for Cincinnati was Justin Jackson, who has developed into as much of a centerpiece as there is on this roster. Nothing that the Bearcats do this season is going to be pretty. They are the nation's second-most efficient defense, according to Kenpom, and the third-best offensive rebounding team. They win by attacking the glass and swarming defensively. It's ugly, but it's effective, which is what makes Jackson the perfect fit.
In the two wins, Jackson averaged 15.0 points, 7.0 boards, 6.0 blocks and 3.0 steals while shooting 11-for-19 from the floor. Cincinnati has now won six straight games, a stretch where Jackson is averaging 15.3 points, 9.7 boards, 4.3 blocks and 2.2 steals.
They were good, too:
Eric Atkins, Notre Dame: Jerian who? After going for 30 points and seven assists in an overtime win over Canisius, Atkins made sure that Notre Dame's first foray into the ACC was a successful one. He had 19 points and 11 assists as the Irish beat Duke 79-77 in South Bend.
Askia Booker, Colorado: Colorado picked up a huge win against Oregon on Sunday evening which was spurred on by 27 points and four assists from 'Ski. He also had 13 points and four steals in a win over Oregon State.
Devin Oliver, Dayton: Oliver had 26 points, seven boards and five assists and banked in a game-winning three in overtime to beat Ole Miss in Oxford.
Nik Stauskas, Michigan: I've said it for a while: if Michigan is going to win, they need Stauskas to do more to key the offense. In two wins this week, he averaged 16.0 points and 5.5 assists with just four turnovers. Those numbers are Burke-ian.
Fred VanVleet, Wichita State: VanVleet had a career-high 22 points in a win over Northern Iowa and averaged 19.5 points and 4.0 assists on the week. He hasn't committed a turnover since the 11:47 mark of the second half of a game on Dec. 22nd, a stretch where he's played roughly 107 minutes of basketball.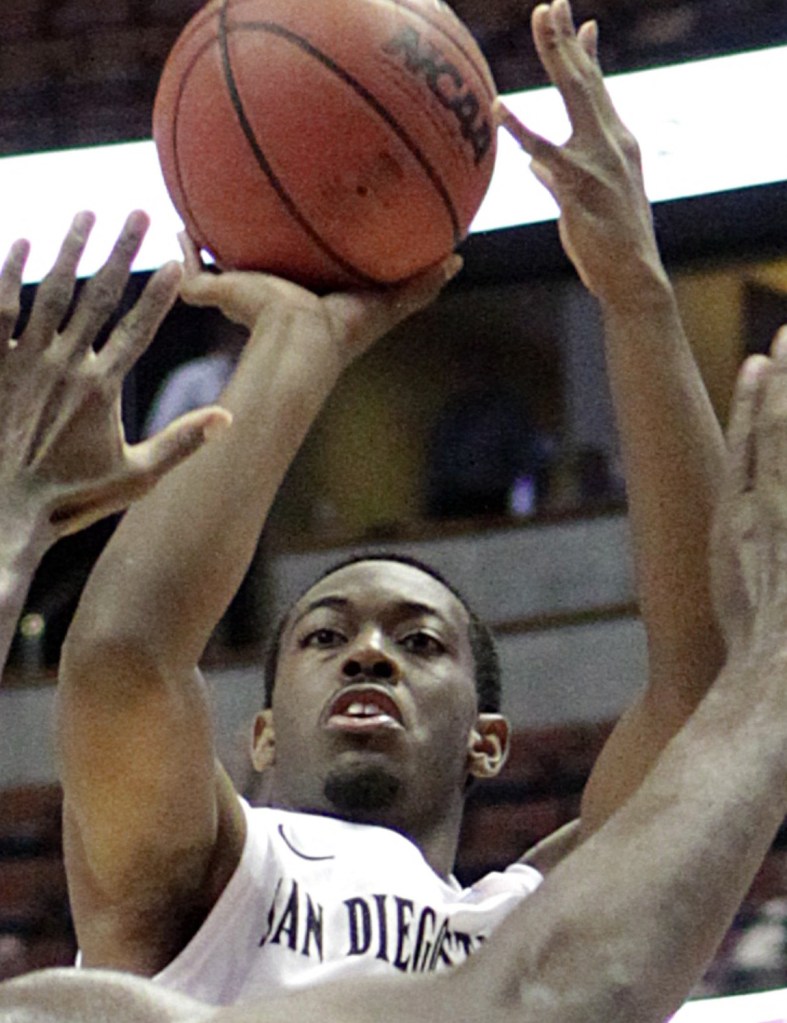 TEAM OF THE WEEK: San Diego State Aztecs
The Aztecs were supposed to be in a rebuilding mode this year, but if that was the case, they have rebuilt pretty quickly. We knew that the Aztecs were good heading into this week, but they made a statement in the last five days by going into two of the nation's toughest road environments and leaving with wins. On New Year's Day, they won their Mountain West opener in Moby Arena, knocking off Colorado State, 71-61. Then on Sunday, SDSU rode their powerful interior to a win at Phog Allen Fieldhouse, beating then-No. 16 Kansas, 61-57.
What makes SDSU tough is the length and athleticism they have up and down their roster. Their front line can match up, physically and athletically, with anyone in the country, and they have enough length on their perimeter to cause trouble for any and all wing scorers. The key, however, is going to end up being the play of Winston Shepard and Xavier Thames in the back court. SDSU isn't exactly a great offensive team, and those two guys are by far the best scorers they have.
Now consider this: in the second half of the win over Kansas, Shepard and Thames combined to go 3-for-16 from the floor. SDSU is legit.
They were good, too:
Air Force: Are the Falcons a sleeper in the Mountain West? After one week of league play, AFA is sitting pretty at 2-0 with wins over Utah State and at UNLV.
Creighton: The Bluejays won their first two games in Big East play, whipping up on Marquette in their opener on New Year's Eve and following that up with a win over Seton Hall on Saturday afternoon.
Kansas State: There aren't many teams around the country that have gotten as much better during the first two months of the season as Kansas State has. The team that lost to North Colorado back in November now has won nine straight games. This week alone, they beat George Washington and Oklahoma State.
Pitt: The Panthers kicked off their tenure in the ACC in promising fashion, but going into Raleigh and smacking around N.C. State despite the fact that they dug themselves a 17-2 hole to begin the game.
Rhode Island: The Rams were one of the more promising teams in the Atlantic 10 heading into the season, but they struggled a bit early on in the season. Was this week the turnaround? URI won at Brown and followed that up with an impressive win at LSU.