It's been a long year, and what seems like a longer email thread. But CBT has come up with its top moments in college basketball in 2013. From those I formed a list of the top 10, from the most newsworthy to controversial calls to moments that made us laugh.
Personally, I want to ring in the New Year with your thoughts, so if I missed something you thought was a top moment in 2013 let me know via Twitter: @terrence_payne. OK, let's get going:
1. Louisville reacts and responds to Kevin Ware's leg injury, during the Cardinals run to the national championship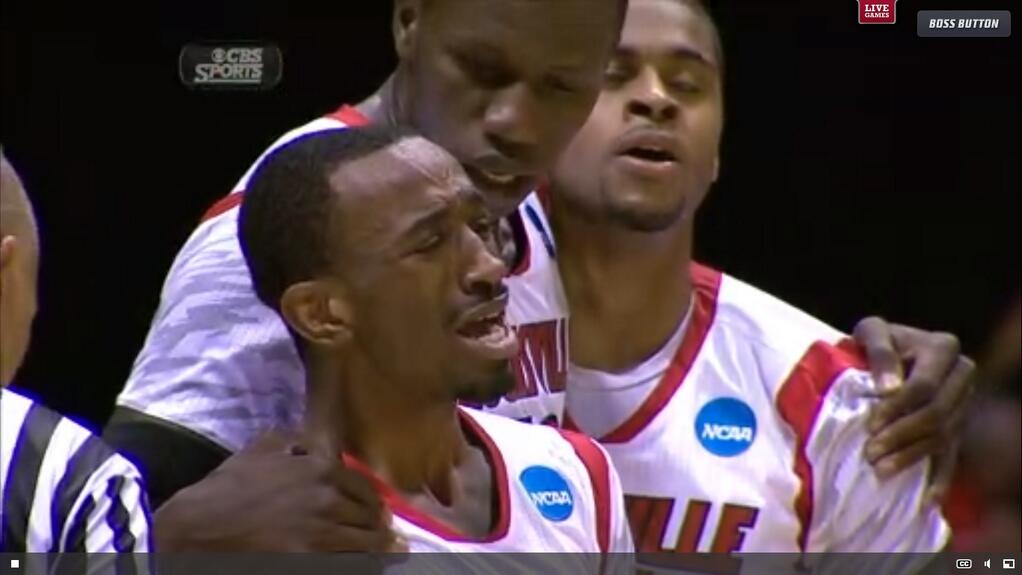 In the Cardinals' Elite Eight game against Duke, Kevin Ware challenged Tyler Thornton's shot, but landed awkward on his leg, suffering a gruesome compound fracture. It occurred right in front of the Louisville bench, causing an emotional reaction from Rick Pitino, Russ Smith and the rest of the Louisville team while tweets poured in from across the country. Ware left on a stretcher and underwent surgery on his leg, in what doctors called a freak accident. Louisville went on to win the national championship over Michigan, with Ware serving as an inspiration. Ware was even able to cut down the nets following the Cards' victory.
2. Florida Gulf Coast is forever known as Dunk City following run to the Sweet Sixteen
Florida Gulf Coast became the first No. 15 seed team to make the Sweet Sixteen, led by current-USC head coach Andy Enfield. FGCU upset No. 2 Georgetown, then San Diego State before having its magical run come to an end at the hands of Florida. But FGCU will forever been known as Dunk City, thanks to our site's own Twitter account and the brilliance of Troy Machir:
Apparently FGCU is located in Dunk City, Florida

— CollegeBasketbllTalk (@CBTonNBC) March 23, 2013
3. Wichita State beats top-ranked Gonzaga en route to the Final Four
The Shockers did just that, they shocked No. 1 Gonzaga on their way to the Final Four. Wichita State hit 14 3-pointers on the night, led by Cleanthony Early and Ron Baker, who each scored 16 points. Those two are currently leading the undefeated Shockers this season. In one of the best games of the year, Wichita State came close to extending its run into the national title game. But Luke Hancock was on another level in the Final Four.
4. Mike Rice fired by Rutgers after video surfaces of verbal, physical abuse in practice
The coaching carousel turned controversial when Mike Rice was fired after video surfaced of him verbally and physically abusing members of his Rutgers' basketball team. Despite getting the Scarlet Knights into the Big Ten, athletic director Tim Pernetti resigned two days after Rice was fired.
5. This Marshall Henderson GIF vs. Auburn
Gold. Pure gold.
Marshall Henderson's 2013 easily has its own top 10 of unforgettable moments, but this GIF was by far his best.
6. Spike Albrecht ask Kate Upton out through a tweet
@KateUpton hey saw you at the game last night, thanks for coming out! Hope to see you again 😉

— spike albrecht (@SpikeAlbrecht) April 9, 2013
Hey, you're not going to score 17 points in the first half of a national championship game every day. So when you do you need to go big or go home. Good for you, Spike.
7. Trey Burke's shot against Kansas
Kansas led by 11 with less than four minutes to play. Michigan sophomore guard and National Player of the Year, Trey Burke scored 23 points in the second half, including a 30-footer with seconds to go to tie the game, and force overtime, where the Wolverines would prevail 87-85.
8. Sabatino's game-winner 3-pointer waved off, as Arizona beats Colorado
This was the best buzzer-beater that never was in 2013. Colorado should have left Tuscon with an 83-80 win over Arizona, but the officials ruled it didn't count. The Wildcats went into overtime and pulled off a 92-83 win.
Ask my man Grant Traylor of the Herald-Dispatch if this was a big deal. He only gained thousands upon thousands of followers as he sat in a press conference waiting for Andrew Wiggins to announce his college commitment.
Wiggins has been the headlining star of this talented freshman class. While his game has been analyzed and scrutinized, his recruitment was one of the most interesting storylines of 2013.
10. Syracuse and Georgetown end Big East rivalry with a bang
This is one of the best rivalries in all of college basketball. When the Big East began to fall apart when Cuse and Pitt decided to head to the ACC and the Catholic 7 decided to start their own conference, losing these games were tough to deal with. Thank you Orange and Hoyas for ending this on a high note.
The end of the rivalry began with Otto Porter's career day — 33 points, eight rebounds –– inside the Carrier Dome. Two week later, Porter went off on the Orange again, but Cuse won a 58-55 overtime thriller.
Syracuse got the final laugh in the Big East tournament and while Georgetown exited in the second round by Dunk City, the Orange reached the Final Four.