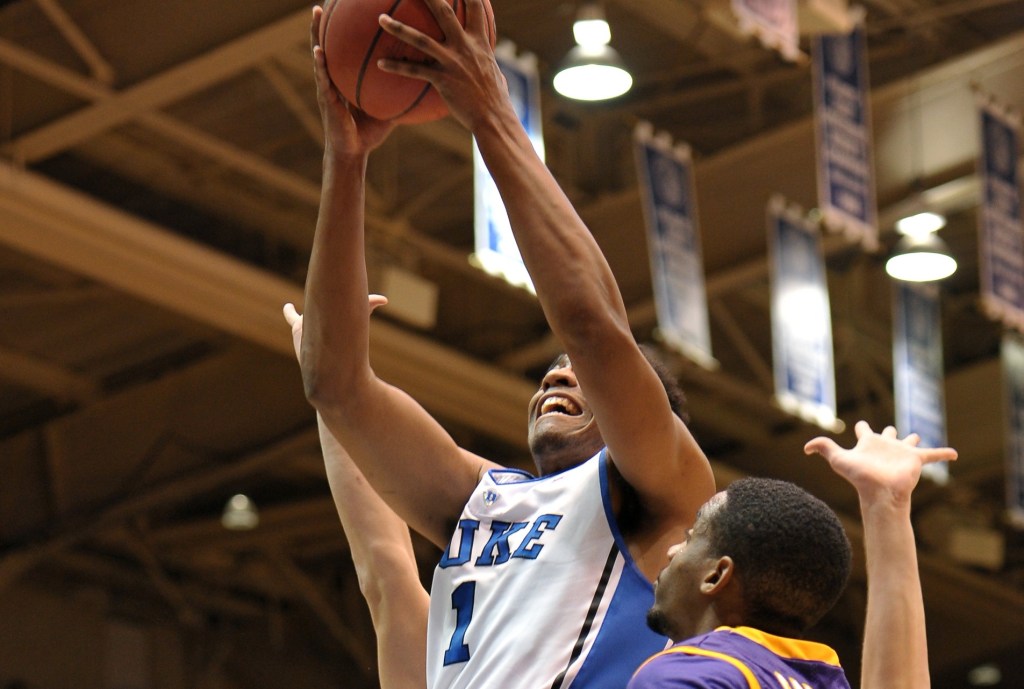 The 2013-2014 season is sure to be a thrilling Player of the Year race, so to keep track of it, we will be posting weekly Player of the Year Power Rankings for your reading goodness.
Who'd we miss? Who's ranked too high? We love to overlook your team's best player and overrate your rival's superstar.
1. Jabari Parker, Duke: Duke knocked off Eastern Michigan last week and Parker was terrific as always, finishing with 23 points and eight boards. The Blue Devils kick off ACC player on January 4th against Notre Dame.
2. Shabazz Napier, UConn: 15.4 ppg, 6.3 rpg, 5.9 apg, 2.8 t/o's, 51.4% 3's
There are six point guards on this list if you count Russ Smith as a point guard (Why not? He needs to be if he's going to play in the NBA) so for those six players, we're going to take a look at the numbers that Synergy has compiled for possessions they use vs. their efficiency when you factor in their assists.
A quick explanation of the numbers you're looking at: PPP means points-per-possession, which is essentially a measure of how efficiency a player is offensively. Points-per-assists is a measure for how many threes those assists create; 2.500 PPA would mean that half of the player's assists lead to three-pointers. %Rank tells you where that player ranks nationally in that stat.
PPP + assists is the key number here. It combines the points that player scores and creates off of assists, giving you a number for how much scoring a point guard creates: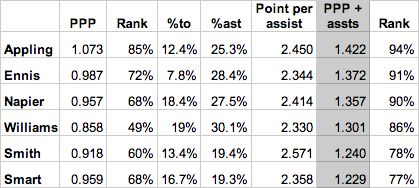 3. Marcus Smart, Oklahoma State: 17.2 ppg, 4.3 rpg, 4.1 apg, 2.9 t/o's, 32.8% 3's
4. Doug McDermott, Creighton: McDermott continues to roll along, scoring 24 points and chipping in six boards in Creighton's win over Chicago State. The Bluejays kick off Big East play on New Year's Eve with a 10 p.m. tip against Marquette.
5. Julius Randle, Kentucky: Randle put together one of his best performances of the season in the first half against Louisville, going for 17 points on 7-for-8 shooting and completely dominating the Louisville front line. In the second half, he was saddled on the bench with cramping issues.
6. Tyler Ennis, Syracuse: 12.8 ppg, 5.1 apg, 1.1 t/o's, 40.0% 3's
7. Chaz Williams, UMass: 15.3 ppg, 7.7 apg, 3.3 t/o's, 41.8% 3's
8. Casey Prather, Florida: Prather had just 10 points and five turnovers in Florida's only game last week, but it came in a 76-34 blowout where Florida had given up just 11 points at half time. 
9. Russ Smith, Louisville: 16.9 ppg, 4.9 apg, 2.5 t/o's, 31.2% 3's
10. Keith Appling, Michigan State: 15.9 ppg, 5.0 apg, 1.9 t/o's, 47.7% 3's
Others: Jordan Adams, Kyle Anderson, Ron Baker, Cameron Bairstow, Jahii Carson, Jordan Clarkson, Aaron Craft, Joel Embiid, C.J. Fair, Aaron Gordon, Rodney Hood, Nick Johnson, Marcus Paige, Lamar Patterson, Adreian Payne, Elfrid Payton, T.J. Warren, Andrew Wiggins, Joseph Young