College basketball is now almost two months old. League play will be kicking off in the next week. Let's get you caught up on all you need to know with some of the country's best conferences. 
To read through the rest of our Conference Catchups, click here.
Midseason Player of the Year: Anthony Ireland, Loyola Marymount
Max Good's Lions are of to a 9-4 start, and the play of his senior point guard is a bid reason why. Entering Monday, Ireland ranks second in the WCC in both scoring (18.8 ppg) and assists (5.5 apg) and is fourth in steals (1.7 spg). He's only shooting 28.1% from three thus far, but his impact on a team that's improved (and healthy) after going through a horrendous 2012-13 shouldn't be ignored.
All-WCC First Team:
Kevin Pangos, Gonzaga
Anthony Ireland, Loyola Marymount
Tyler Haws, BYU
Brad Waldow, Saint Mary's
Brendan Lane, Pepperdine
Midseason Coach of the Year: Mark Few, Gonzaga
Yes, Gonzaga's pretty much doing what was expected of them from the start. But keep in mind that they're adjusting to life without the productive front court duo of Elias Harris and Kelly Olynyk. The backcourt has led the way, as expected, and Przemek Karnowski has made some strides in the middle. At 11-2, Few's Bulldogs are off to a good start.
Favorite: Gonzaga Bulldogs
Sam Dower's lower back issue is something to watch, with the senior missing the Bulldogs' win over Santa Clara as a result. But given the amount of firepower in Mark Few's backcourt, Gonzaga is still the favorite to win the WCC. Kevin Pangos, Gary Bell Jr. (Now out with a broken hand) and David Stockton are all experienced pieces, and the addition of Gerard Coleman gives the Bulldogs an athletic wing capable of getting to the rim. And this is a team that leads the WCC in both field goal percentage field goal percentage defense, so it isn't as if they're out there trading baskets either. And as center Przemek Karnowski gains even more experience, look for this group to get better.
And three more contenders:
The trip to Hawaii wasn't a good one for Saint Mary's, as they went 0-3 at the Diamond Head Classic. But with Stephen Holt and Brad Waldow leading a team that has five players averaging at least nine points per game, the Gaels will likely be Gonzaga's biggest threat.
BYU has the scoring firepower to make a run at the WCC title, but do they have the efficiency needed to do so? Four players are scoring in double figures, including Tyler Haws and Matt Carlino, but the Cougars have to do a better job of finding quality looks if they're to contend.
Loyola Marymount's healthy, and as a result they've got a better shot than anticipated to crack the top three. Ireland's a known commodity at this point and by the end of the season the same will be said of freshman guard Evan Payne, who's currently averaging 15.1 points points per game.
Most Surprising Team: Pacific Tigers
In the first season of Ron Verlin's tenure the Tigers have played a solid schedule (109th in strength of schedule), and they currently sit at 9-2 overall prior to their WCC opener against Saint Mary's. Andrew Bock leads four players in double figures with an average of 11.6 ppg, and rebounding has been a key as well. Pacific currently ranks 4th in the WCC in offensive rebounding percentage and 2nd in defensive rebounding percentage. If they can keep that up, the Tigers are capable of finishing in the top half of the WCC.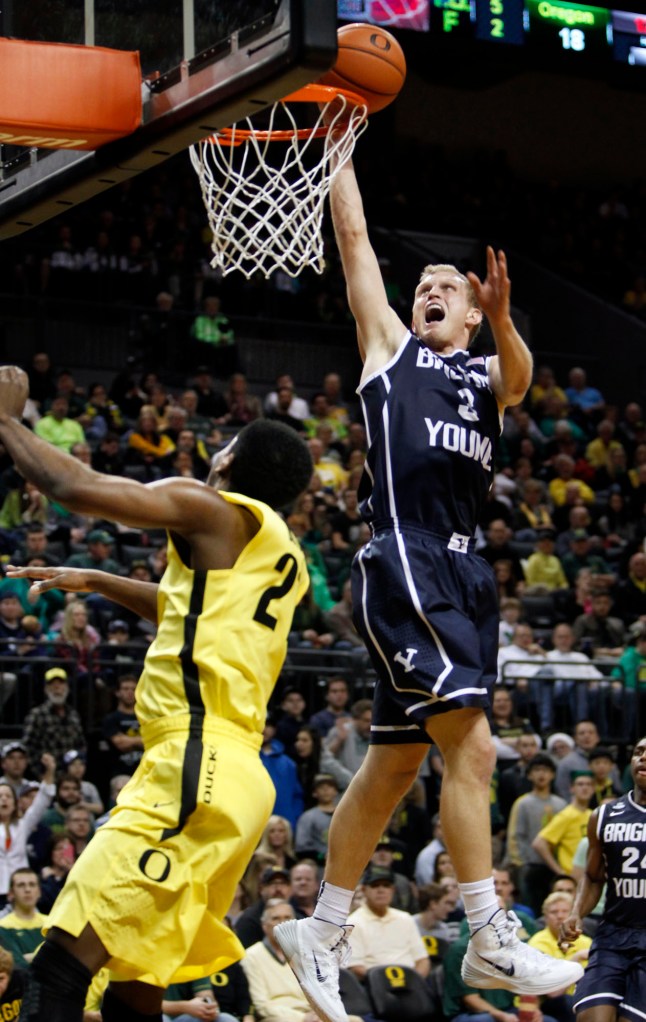 Most Disappointing Team: BYU Cougars
Will their wins over Stanford and Texas carry enough weight come Selection Sunday? That's one question that will linger as the season wears on for BYU, but it won't matter much if Dave Rose's team doesn't snap out of its current three-game skid. BYU can certainly score points, but the way in which they do so (efficiency) will have a major impact on the course of their season in conference play. Which leads us to…
Most Important Player (in league play): Matt Carlino, BYU
Yes, Carlino is the pick and here's why. BYU ranks fourth in the WCC in adjusted offensive efficiency per kenpom.com, and one of the reasons for that lower than expected ranking is Carlino's efficiency. While he's factored into 29.5% of BYU's possessions the guard has an offensive rating of just 94.5. He's going to take shots, that's for sure, and BYU is at its best when both Carlino and Tyler Haws are scoring points. But the caliber of shot that Carlino attempts has to improve if the Cougars are to threaten (or even surpass) Gonzaga.
Who will slide?: Pacific
The Tigers are balanced and they've been good on the glass, but in a league with a number of talented scorers Pacific has to get better defensively. Pacific ranks seventh in the WCC in field goal percentage defense and dead last in free throw rate, with opponents boasting a rate of 47.5%. That's too high, and it could get them in trouble in league play.
Who is the sleeper?: Loyola Marymount
Last season was horrific, with a rash of injuries doing major damage to Max Good's rotation. Now the Lions have health and they have talent, with Ireland, Payne, Gabe Levin and Binghamton transfer Ben Dickinson all being capable scorers. If they can improve defensively (8th in field goal percentage defense), LMU has the ability to sneak into the conversation with the WCC's "big three."
New Power Rankings
1. Gonzaga
2. Saint Mary's
3. Loyola Marymount
4. BYU
5. Pacific
6. San Francisco
7. Pepperdine
8. Portland
9. San Diego
10. Santa Clara