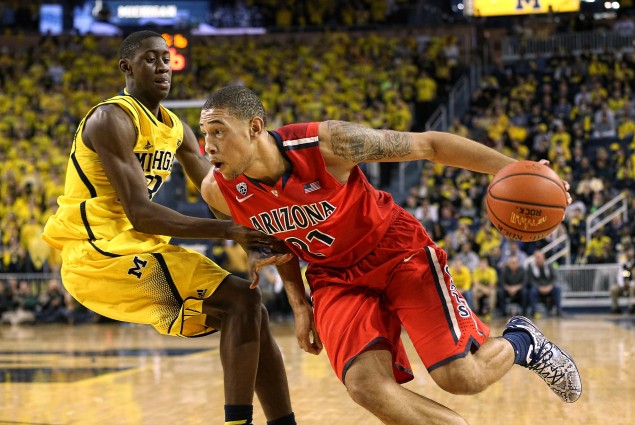 What do we do with Villanova and Louisville this week?
The Wildcats lost on the road to Syracuse, the nation's No. 2 team, by 16 points in a game that was closer during the second half than the final score would indicate. That's a game Villanova is supposed to lose. The same can be said for the Cardinals, who went into Rupp Arena and lost by seven to Kentucky, arguably the nation's best team playing with their backs against the wall.
Again, that's a game Louisville is supposed to lose. How much can you punish teams that lose games they are supposed to lose? How much does the way they lose — Villanova blowing an 18-point lead and getting outscored 71-37 in the final 30 minutes, Louisville getting dominated without Julius Randle on the floor — factor into those rankings?
Here's my line of thinking: I think that Louisville's had a flaw exposed. They don't have enough of a supporting cast for Russ Smith and Chris Jones. Until Luke Hancock and Wayne Blackshear are scoring from the perimeter and Montrezl Harrell and Chane Behanan are effective in the paint, the Cards are going to be completely reliant on Jones and Smith for points when they don't force turnovers.
Villanova, on the other hand, was on the wrong end of a bad matchup. They thrive on their ability to create mismatches with their guard-heavy lineups, but that was nullified by the Syracuse zone.
In other words, the way I see it, Louisville's loss was the result of an issue with their roster makeup. Villanova picked the wrong day to struggle against a team they didn't matchup well with. That's why I dropped Louisville from sixth to 14th while keeping Villanova slotted at 10th.
THE TOP 25
1. Arizona (13-0, LW: No. 1): The Wildcats picked up another blowout, non-conference win last week. They'll kick off Pac-12 play with a visit from the Washington schools next weekend. The biggest concern for Arizona right now? Finding some depth. With Gabe York struggling, this team basically goes six-deep.
2. Syracuse (12-0, LW: No. 2): The Orange made quite a statement on Saturday afternoon, putting a whipping on Villanova despite digging themselves a 25-7 hole. Villanova is a good basketball team, and Syracuse made them look like they didn't belong in the same gym for the last 30 minutes.
3. Wisconsin (13-0, LW: No. 3): The Badgers continued rolling along, smacking around Prairie View A&M to end their non-conference season. Wisconsin kicks off league play next week with a trip to Northwestern.
4. Ohio State (13-0, LW: No. 4): Over the course of his last eight games, LaQuinton Ross is averaging 17.1 points and shooting 48.5% from three. Let's see how that works out in league play.
5. Michigan State (11-1, LW: No. 5): The Spartans won by 53 points on Saturday thanks to a career-high 27 points from Keith Appling. Michigan State look like it's getting healthy.
6. Duke (10-2, LW: No. 7): Rasheed Sulaimon followed up last Thursday's breakout performance against UCLA with 13 points, three assists and two steals in 22 minutes against Eastern Michigan.
7. Florida (10-2, LW: No. 8): The Gators, now at full strength, look more impressive every time out.
8. Oklahoma State (11-1, LW: No. 9): Wins over Colorado and Memphis stand out, but the Cowboys are going to be tested in Big 12 play. There may not be a tougher conference, top-to-bottom, than the Big 12.
9. Kansas (8-3, LW: No. 13): I know Villanova beat Kansas, so please don't remind me. But I also think that Kansas is better than Villanova, and the Jayhawks are only getting better as they learn that their best option this season will be to pound the ball into Joel Embiid and Perry Ellis.
10. Villanova (11-1, LW: No. 10): I still like the Wildcats, loss at Syracuse or not.
11. Wichita State (13-0, LW: No. 11)
12. Oregon (12-0, LW: No. 12)
13. Kentucky (10-3, LW: No. 16)
14. Louisville (10-2, LW: No. 6)
15. Baylor (10-1, LW: No. 14)
16. UConn (11-1, LW: No. 15)
17. Memphis (9-1, LW: No. 17)
18. Iowa State (11-0, LW: No. 18)
19. Iowa (11-2, LW: No. 19)
20. North Carolina (9-3, LW: No. 20)
21. San Diego State (10-1, LW: No. 21)
22. Illinois (11-2, LW: No. 22)
23. Missouri (11-1, LW: No. 23)
24. Colorado (11-2, LW: No. 24)
25. UMass (11-1, LW: No. 25)