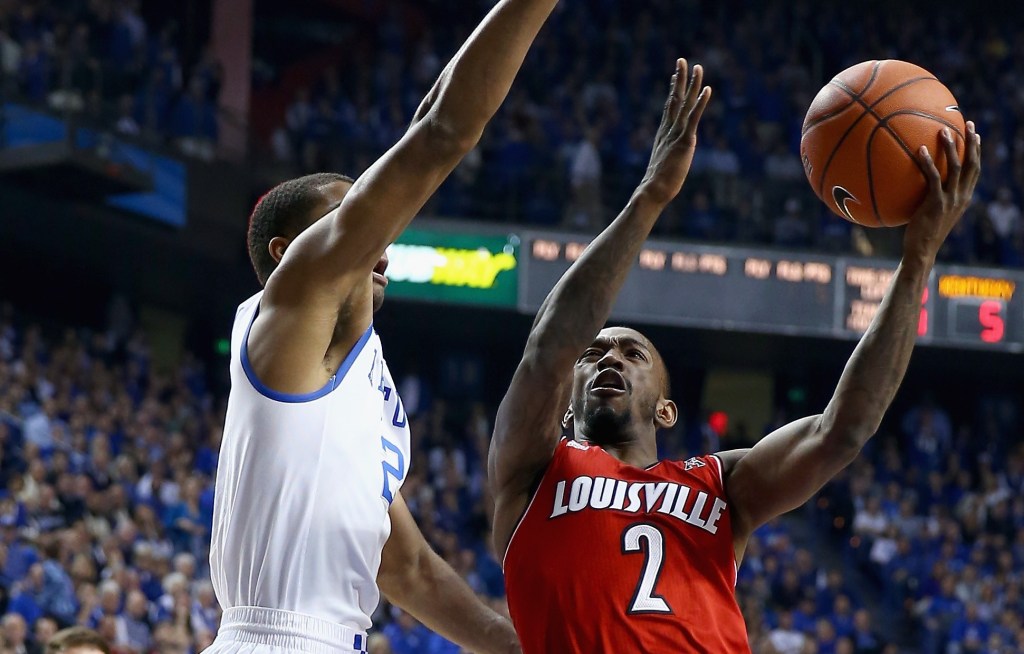 For just the second time this season, No. 6 Louisville squared off with a quality opponent in non-conference play.
And for the second time this season, the Cardinals lost. Last month, it was a 93-84 defeat suffered at the hands of North Carolina at Mohegan Sun in Connecticut. On Saturday, Louisville lost to No. 18 Kentucky in Rupp Arena, 73-66.
On the surface, the problem isn't all that difficult to diagnose. Against the Tar Heels, Louisville's starting back court of Russ Smith and Chris Jones combined to take 42 of Louisville's 67 shots from the floor. On Saturday, they took 33 of Louisville's 58 shots. That doesn't factor in the 19 free throws taken by Russ Smith in those two games, either.
Louisville's offense is too reliant on their two little, shoot-first scoring guards. I think we can all agree on that fact, but the 'what' isn't quite as important as the 'why' in this instance.
Louisville doesn't have a true point guard on their roster this season, so it's easy to pin all of the blame for shot selection on Smith and Jones dominating the ball, looking to 'get their's'. But the bigger issue is that right now, Louisville doesn't have anyone else on the roster capable of providing those two with a supporting cast.
Luke Hancock has shot the ball so poorly this season that the fact that he made two three-pointers in the second half against Kentucky, finishing the day 2-for-8 from three and 3-for-10 from the floor, could be considered breaking out of his slump. Wayne Blackshear has yet to live up to the hype he created with a strong finish to the 2011-2012 season. Louisville has four big men that see minutes — Montrezl Harrell, Chane Behanan, Stephen Van Treese, Mangok Mathiang — and there isn't a post presence among them.
What happens as a result is that Louisville's only way to generate offense is in transition or by hoping that Smith or Jones can break down the defense off the dribble. And since there isn't a shooter to spread the floor or a post presence to keep the defense honest, trying to break down the defense off the dribble eventually devolves into Smith and Jones going 1-on-2 or 1-on-3.
Louisville's defense is always going to be good enough to make them elite. Smith and Jones are always going to be a nightmare for opposing guards to defend. That's not changing.
But until Hancock is fully healthy and out of this shooting funk and until Harrell is more than just an energy guy that fouls a bit too much, the Cardinals are going to struggle with quality opponents.
These are fixable issues that the Cardinals are dealing with, but they are issues nonetheless.
And as a result, Louisville will enter American play with nothing better than a win over Southern Miss on their resume.