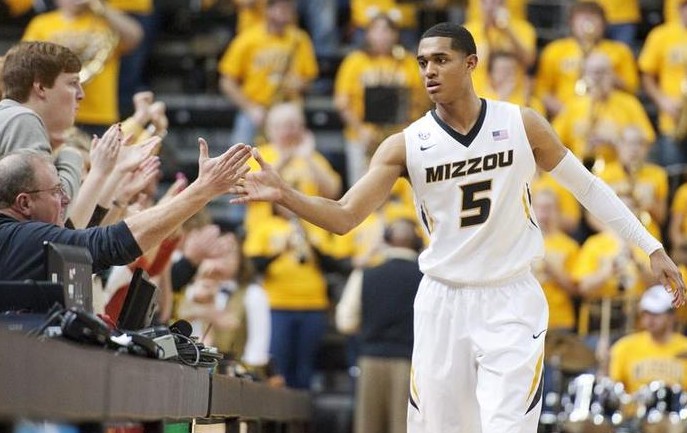 College basketball is now almost two months old. League play will be kicking off in the next week. Let's get you caught up on all you need to know with some of the country's best conferences. 
To read through the rest of our Conference Catchups, click here.
Midseason Player of the Year: Jordan Clarkson, Missouri
Much was expected of the Tulsa transfer and thus far Clarkson has delivered, as he leads the SEC in scoring (19.9 ppg) and ranks second in the conference in assists (4.3 apg). And from an efficiency standpoint Clarkson ranks third in the amongst players with a possession percentage of at least 24% when it comes to offensive rating, according to Ken Pomeroy's numbers. Clarkson's one of the big reasons why the Tigers are 10-1 heading into their game at N.C. State on Saturday.
All-SEC First Team:
Jordan Clarkson, Missouri
Jordan McRae, Tennessee
Jabari Brown, Missouri
Casey Prather, Florida
Julius Randle, Kentucky
Midseason Coach of the Year: Billy Donovan, Florida
Despite a roster in flux due to injuries and disciplinary issues the Gators are 9-2 and ranked 13th nationally. That says quite a bit about the coaching job that Donovan's done to this point in the season, and Florida looks to be rounding into form just ahead of the start of SEC play. And the addition of McDonald's All American forward Chris Walker will help Florida when it comes to their front court depth.
Favorite: Florida Gators
Kentucky was the prohibitive favorite entering the season, and given the amount of talent at John Calipari's disposal it wouldn't be a surprise if the Wildcats ended up being that team come March. But the pick here is Florida, a team that's getting all of its parts in order and is the lone SEC team that ranks in the top 20 nationally in both offensive and defensive efficiency. Point guards Kasey Hill and Scottie Wilbekin are healthy, as is forward Will Yeguete, and in Casey Prather the Gators have one of the most improved players in the country. The addition of Chris Walker will only help matters, and they have enough talent to take things slowly with the freshman.
And three more contenders: 
It wouldn't be wise to rule out Kentucky, with their stable of talented freshmen being supplemented by sophomore center Willie Cauley-Stein. Two keys for the Wildcats moving forward: the emergence of a team leader (or leaders), and the aggression of Alex Poythress. Poythress clearly has skill, but he has to bring the intensity on a consistent basis in order to help this team.
The perimeter tandem of Clarkson and Jabari Brown has led the way for Missouri, and for that reason the Tigers should be considered when discussing the top teams in the SEC. They can use another bench contributor or two, especially in the paint, but this is a group that will be a factor.
LSU may be the dark horse, with Johnny O'Bryant III leading four players scoring in double figures. Freshman Jordan Mickey has been very productive for the Bayou Bengals, and classmate Jarell Martin has the skill needed to have a greater impact when conference play begins.
Most Surprising Team: Arkansas
Mike Anderson's Razorbacks have been more balanced and efficient offensively this season, with four players averaging at least 10.4 points per game and two others averaging at least 7.6 ppg. Alandise Harris and Bobby Portis have been good additions inside, and leading scorer Michael Qualls has raised his scoring average by almost ten points per game (14.1 ppg after averaging 4.6 ppg in 2012-13).
Most Disappointing Team: Kentucky
This one's tough, because young teams need time to mesh and understand roles both on the court and in the locker room. But when you entertain preseason chatter about the possibility of going 40-0, the bar gets raised. The Wildcats have played a difficult schedule to date, so a couple losses were to be expected. The most disappointing thing at this stage in the season is that leaders have yet to emerge. That has to happen if Kentucky is to reach its full potential this season.
Most Important Player (in league play): Andrew Harrison, Kentucky
Kentucky's lack of a definitive leader at this point means that the starting point guard, Harrison, will be their most important player in conference play. Harrison does rank fifth in the SEC in assists (3.5 apg), but that's only one piece of the puzzle when it comes to being a team leader. If he can grab the reins and ensure that everyone's headed in the same (and proper) direction, Kentucky can win the national title.
Who will slide?: Tennessee
The Volunteers' best attribute thus far has their ability to hit the offensive glass, as they rank third in the country in offensive rebounding percentage (43.0%). That has masked their shooting issues, as Tennessee is shooting just 31.4% from beyond the arc on the season. Jeronne Maymon and Jarnell Stokes can be a load inside, but how will they fare against the more athletic front courts of the SEC? That, along with perimeter shooting, could be a concern come January.
Who is the sleeper?: LSU
Johnny Jones has a team more than capable of getting to the NCAA tournament for the first time since 2009, and given the status of the SEC why can't they make a run? LSU has plenty of talent, and their guards (especially Anthony Hickey) can get after teams on the defensive end of the floor. They've been tested in non-conference play as well, with their two losses coming to UMass and Memphis. If there's any team outside of the Florida/Kentucky/Missouri triumvirate capable of surprising people it's LSU.
New Power Rankings
1. Florida
2. Kentucky
3. Missouri
4. LSU
5. Tennessee
6. Arkansas
7. Ole Miss
8. Alabama
9. Vanderbilt
10. Texas A&M
11. Mississippi State
12. South Carolina
13. Georgia
14. Auburn