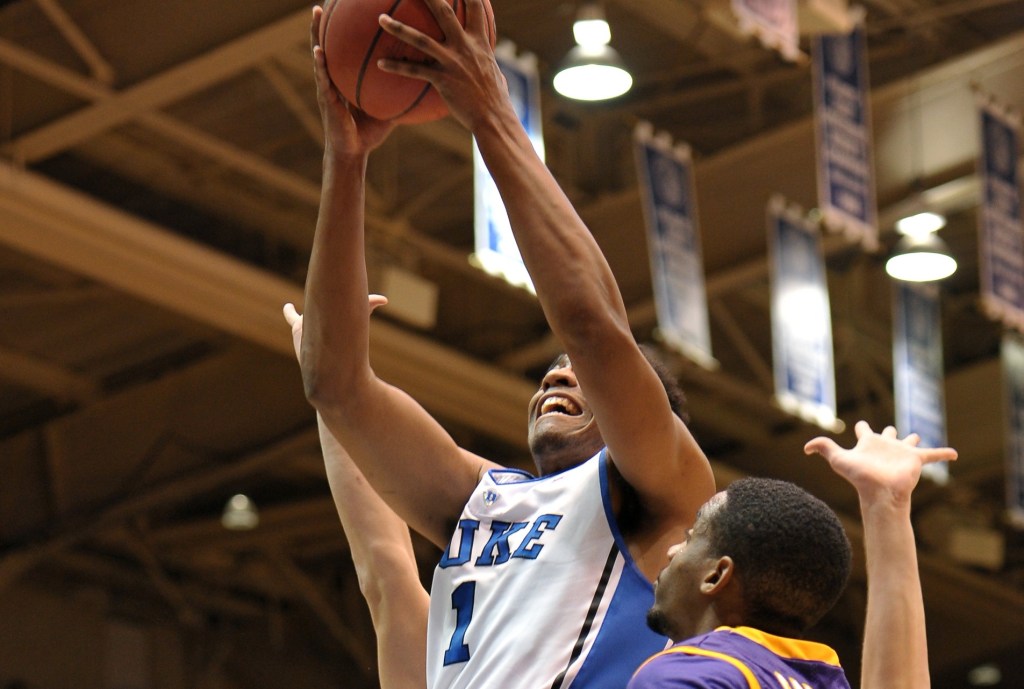 College basketball is now almost two months old. League play will be kicking off in the next week. Let's get you caught up on all you need to know with some of the country's best conferences. 
To read through the rest of our Conference Catchups, click here.
Midseason Player of the Year: Jabari Parker, Duke
At this point in the year, Parker is our National Player of the Year. So it only makes sense to name him the ACC Player of the Year, right? Parker is averaging impressive numbers — 22.1 ppg, 7.5 rpg — and doing so for a top ten team, but he also is simply the best, most versatile player in the country. Right now, that goes a long way.
All-ACC First Team:
Tyler Ennis, Syracuse
Marcus Paige, North Carolina
Rodney Hood, Duke
Jabari Parker, Duke
T.J. Warren, N.C. State
Midseason Coach of the Year: Roy Williams, North Carolina
I don't care who they've lost to, so you can take that argument and head right out the door with it. North Carolina, and Williams in particular, has been through one of the most tumultuous periods of time for a program, and a coach, in recent memory. Read through this story by Jason King and tell me it doesn't sound like the stress that's been weighing on Williams has knocked five years off of his life. P.J. Hairston's career at UNC is over, but Williams has somehow managed to guide this group — who, on paper, look like an NIT team — to wins over Louisville, Michigan State and Kentucky.
Favorite: Syracuse Orange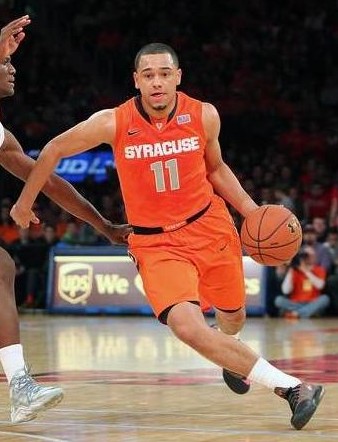 If it wasn't for Jabari Parker's sensational season, I think that Tyler Ennis would be the ACC Player of the Year through the season's first two months. He's just such a perfect fit at the point for what Syracuse needs. He controls the game, he doesn't turn the ball over, he can score when he needs to but he's content to just set the table for his teammates. Those teammates — C.J. Fair, Trevor Cooney, Jerami Grant — happen to be pretty good.
And three more contenders:
Duke is a national title contender if these defensive improvements of the last month hold through league play.
I don't get it, and I'm not sure that I can tell you exactly why, but North Carolina can win this conference. They also could probably finish in eighth. I don't think I'd bat an eye either way, which kind of makes them more fun to follow.
I know Pitt lost to Cincinnati. I know that might be the best team that they've played this season. I don't care. The Panthers are good.
Most Surprising Team: Florida State Seminoles
Leonard Hamilton's club has put together a pretty impressive non-conference resume, knocking off Atlantic 10 powers VCU and UMass without suffering a resume-killing loss. I don't know how many people had Florida State being a potential tournament team back in October, but that's precisely what they are.
Most Disappointing Team: Boston College Eagles
I'm going with B.C. over Maryland because at least with the Terps, I can tell myself that they'll get better when Seth Allen gets back. Steve Donahue has himself one of the best 1-2 punches in the country with Olivier Hanlon and Ryan Anderson, but a lack of toughness and an inability to play any kind of defense has put B.C. in a position where making the NIT this year will end up being an accomplishment.
Most Important Player (in league play): Rasheed Sulaimon, Duke
The Blue Devils don't need Sulaimon in order to be a good basketball team. The trio of Andre Dawkins, Matt Jones and Tyler Thornton can do some things. But Sulaimon is the most talented off-guard on their roster, a guy that can hit threes, drive through a defense and defend on the perimeter. Duke is a national title contender if Sulaimon works his way all the way out of the doghouse.
Who will slide?: N.C. State Wolfpack
I love what T.J. Warren is doing this season, and believe me, seeing the Wolfpack head into the holiday break with a 9-2 record is not something I'm taking lightly. Tennessee isn't all that good this season, but going into Knoxville and pounding them is not an easy thing to do. But I'm still not convinced that this group is going to be able to make this last all season. They get Missouri at home on Saturday. Beat the Tigers and we'll talk.
Who is the sleeper?: Virginia Cavaliers
They were a top 25 preseason team that a lot of people have forgotten about thanks to losses against Wisconsin, VCU and at Green Bay. But there's a reason this group was a preseason top 25 team. They defend, they can control tempo and they have quite a bit of talent on their roster. Joe Harris and Akil Mitchell are too good not to be able to figure out their issues.
New Power Rankings:
1. Syracuse
2. Duke
3. North Carolina
4. Pitt
5. Florida State
6. Virginia
7. N.C. State
8. Notre Dame
9. Maryland
10. Georgia Tech
11. Clemson
12. Wake Forest
13. Miami
14. Boston College
15. Virginia Tech