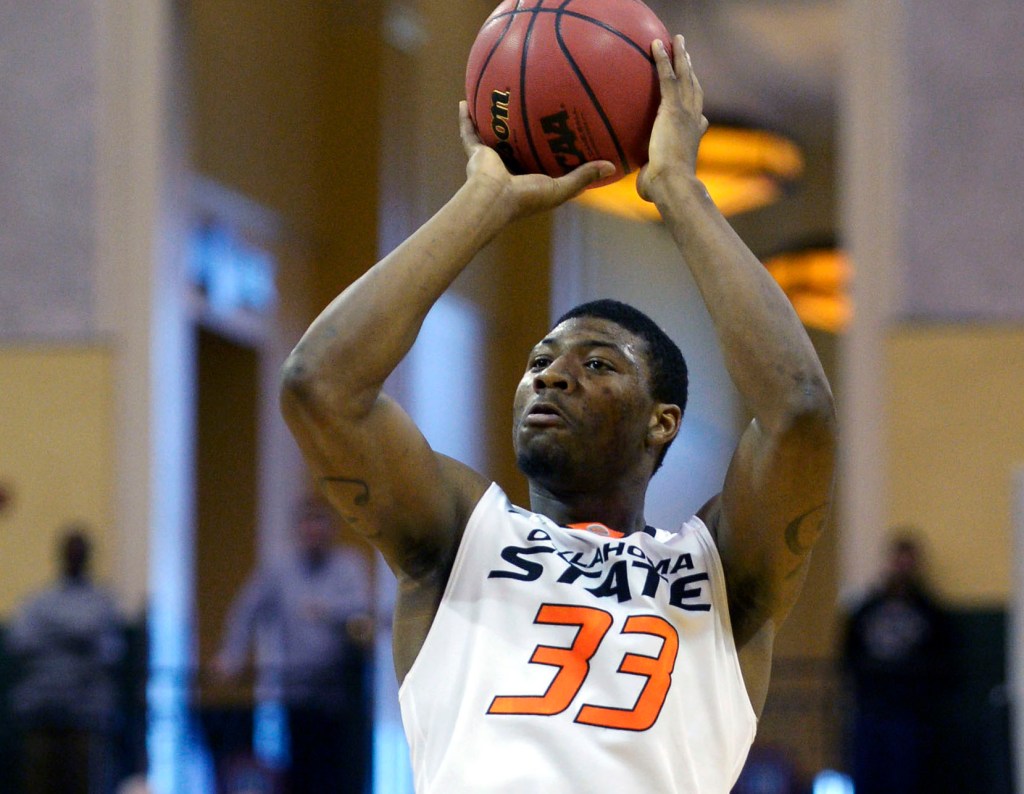 College basketball is now almost two months old. League play will be kicking off in the next week. Let's get you caught up on all you need to know with some of the country's best conferences. 
To read through the rest of our Conference Catchups, click here.
Midseason Player of the Year: Marcus Smart (Oklahoma State)
The preseason pick to win Big 12 Player of the Year, Smart has done little to dispel that notion through 12 games. The sophomore's raised his scoring average from a season ago to 18.0 points per game in 2013-14, and he's shooting a higher percentage from the field (46.3%) as well. The three-point shooting (32.3%) could use a boost, but given all the other things that Smart does it's difficult to argue against him at this point.
All-Big 12 First Team:
Marcus Smart, Oklahoma State
DeAndre Kane, Iowa State
Andrew Wiggins, Kansas
Cameron Clark, Oklahoma
Melvin Ejim, Iowa State
Midseason Coach of the Year: Fred Hoiberg (Iowa State)
Lon Kruger (Oklahoma) would have a good argument as well, but the pick is the head coach of the league's lone remaining undefeated team. Thanks to Hoiberg transfers DeAndre Kane and Dustin Hogue have slid right into the Iowa State rotation, and the presence of veterans Melvin Ejim and Georges Niang has helped matters as well. Can Iowa State win the Big 12? Rebounding will have a lot to do with that, but don't ever underestimate "The Mayor."
Favorite: Kansas Jayhawks
A team that has three losses remains the favorite to win the league? Yes, and there are two reasons why. First, Bill Self's young Jayhawks have been tested more than any team in the country to date, as according to the computers they've faced the toughest schedule in the country. Secondly, as this group dominated by freshmen and sophomores get more comfortable with each other and what Self wants done they're only going to get better (especially Joel Embiid and Andrew Wiggins). Kansas' hands will be full given how tough the Big 12 is, but how can you bet against the program that has won at least a share of the last nine regular season conference titles?
And three more contenders:
That Oklahoma State of Smart, Markel Brown and Le'Bryan Nash is darn good, and in Phil Forte III they've got a very good marksman coming off the bench. But keep an eye on forwards Michael Cobbins and Kamari Murphy. If Oklahoma State's to make a run at the Big 12 title, those two will need to come up big against the league's best interior presences.
Iowa State will be heard from as well, with a couple reasons why stated above. Also of importance for Iowa State will be their perimeter shooting, with underclassmen Naz Long and Matt Thomas being two keys in that regard. And if DeAndre Kane can knock down threes at a consistent rate, opponents won't be so willing to give him five feet of space on the perimeter.
Baylor's right there with Kansas when it comes to picking out who has the deepest/most talented front court in the Big 12, with Cory Jefferson and Isaiah Austin leading the way. And Kenny Chery's done a good job at the point through 11 games. But in order for the Bears to win the Big 12, Austin has to look to dominate.
Most Surprising Team: Texas Longhorns
Let's be honest: a lot of us had Rick Barnes on his way out before practices even began. Well his young Longhorns have proven to be far more formidable than most people expected, with Jonathan Holmes being a tough front court leader and Javan Felix, Demarcus Holland and Cameron Ridley all showing signs of improvement. Not sure how much of a factor Texas can be in the Big 12 title chase, but it's clear that this group isn't going to simply lie down.
Most Disappointing Team: Kansas Jayhawks
This one's tough, especially when considering just how tough of a schedule the Jayhawks have played to this point. But there have been issues, most notably the question mark at point guard. It looks as if Naadir Tharpe's taken the strides needed to lead the way for the Jayhawks in Big 12 play, and if that remains the case the Jayhawks will be better for it. Another key for Kansas moving forward: Tarik Black has to snap out of his three-plus year habit of landing in foul trouble. He avoided that against Georgetown, and his presence on the floor made a big difference.
Most Important Player (in league play): PG Naadir Tharpe (Kansas)
Oklahoma State has Marcus Smart, Iowa State had DeAndre Kane and Baylor has Kenny Chery. Those are three strong point guards to contend with when looking to win the Big 12, which means that Tharpe will need to continue to take steps in the right direction. Over his last three games the junior has 18 assists and eight turnovers, and if he can get that ratio closer to 3-to-1 Kansas will be better for it.
Who will slide?: Texas
The Longhorns are off to a surprising 10-2 start, but it's difficult to see them continuing that pace when league play begins. Texas is shooting just 43.9% from the field this season, and their offensive rebounding (grabbing nearly 38% of their misses) has helped the Longhorns make up for that issue. But will they be able to do so against the bigger teams in the Big 12?
Who is the sleeper?: Oklahoma
The Sooners have been without the services of sophomore guard Je'lon Hornbeak, who's expected back at some point in January after breaking a bone in his foot a couple weeks ago. His return will give Oklahoma another scoring option on the perimeter, and with Clark and Ryan Spangler in the front court they've got two players to rely on inside. If the bigs can hold up in league play, Oklahoma has the potential to be the sleeper team in the Big 12.
New Power Rankings
1. Kansas
2. Oklahoma State
3. Iowa State
4. Baylor
5. Oklahoma
6. Kansas State
7. Texas
8. West Virginia
9. Texas Tech
10. TCU