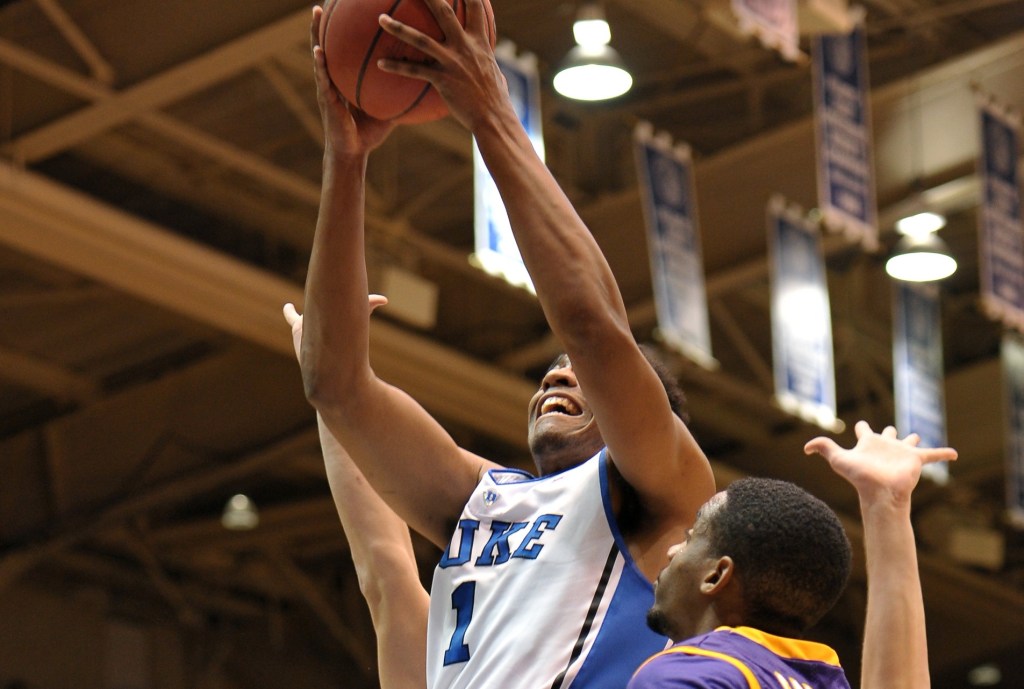 The 2013-2014 season is sure to be a thrilling Player of the Year race, so to keep track of it, we will be posting weekly Player of the Year Power Rankings for your reading goodness.
Who'd we miss? Who's ranked too high? We love to overlook your team's best player and overrate your rival's superstar.
1. Jabari Parker, Duke: You hear all the time about how Jabari Parker is one of the most well-rounded offensive weapons we've seen at the college level in a long time. He scores in the post, he spreads the floor with his ability to shoot, he'll take people off the dribble, he'll go coast-to-coast off of a defensive rebound.
To get an idea for just how effective Parker is offensively, here are Synergy's points-per-possession numbers for post-up, catch-and-shoot, transition and isolation situations:

How do you stop someone that can do that?
2. Shabazz Napier, UConn: For the first time in what feels like Napier's career, he struggled in the final minutes as UConn lost at home to Stanford, 53-51. Napier was 0-for-5 from three in the second half, missed a pull-up jumper that would have tied the game with 30 seconds left and gave the ball up to Omar Calhoun on the game's final possession. That's enough to get him dropped out of the Player of the Year top spot. Harsh, I know. He did bounce back with 20 points in a win at Washington on Sunday.
3. Marcus Smart, Oklahoma State: Smart continued his terrific season on Saturday, bouncing back from an off-night against Delaware State to go for 18 points and three assists in a win over Colorado out in Vegas. Smart has improved his shot selection a bit this season, but he's still a long way from being a consistent perimeter jump-shooter. According to Synergy, he's shooting 28.1% from the floor on jump shots.
4. Doug McDermott, Creighton: Comparing him to Jabari Parker, here are those same numbers for Dougie McBuckets:

5. Julius Randle, Kentucky: Coming off of a loss at North Carolina where Randle finished with just nine shots while only getting to the line six times, the Wildcats got back to their bread-and-butter, pounding the ball into the paint to Randle. He finished with 29 points and 10 boards in the come-from-behind win over Belmont.
6. Chaz Williams, UMass: Williams had his worst game of the season in a loss to Florida State on Saturday, finishing with 10 points and three assists while committing four turnovers and shooting 4-for-14 from the floor and missing all four of his threes.
7. Russ Smith, Louisville: It may be hard to believe, I know, but according to KenPom, Louisville is the nation's most efficient offensive team. Smith is a huge part of that, as he's become an even more efficient scorer than he was last season as KenPom's Player of the Year.
8. Casey Prather, Florida: Prather's breakout senior season has been the result the fact that he is now embracing his ability as a slasher. Of the 117 field goals that Prather has taken through 11 games, only three have come from beyond the arc. Only six other field goal attempts have been jump shots, according to Synergy's logs. He's thriving as a guy that attacks the rim, in both half court sets and transition.
9. Nick Johnson, Arizona: The versatility of Aaron Gordon and Rondae Hollis-Jefferson is what makes Arizona a national title contender, but Johnson is still their most important player. A lockdown defender, his value only skyrockets with Gabe York's inability to make anything over the course of the last month.
10. Keith Appling, Michigan State: Appling did not play his best game in Michigan State's win over Texas, and while he's been Michigan State's best player for much of the early part of the season, Adreian Payne is making a push as the Spartan's most valuable player.
Others: Jordan Adams, Kyle Anderson, Ron Baker, Cameron Bairstow, Jahii Carson, Jordan Clarkson, Aaron Craft, Joel Embiid, Tyler Ennis, Aaron Gordon, Rodney Hood, Roberto Nelson, Marcus Paige, Lamar Patterson, Elfrid Payton, T.J. Warren, Andrew Wiggins, Joseph Young