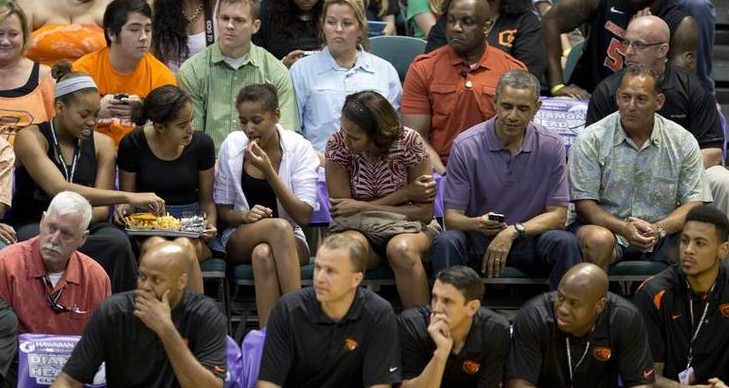 With rumors of President Barack Obama and the first family showing up at the Diamond Head Classic on Sunday evening flying around, it became clear that the matchup between Oregon State and Akron wasn't just any other game. The president had attended four games featuring his brother-in-law's team prior to Sunday, and he was a good luck charm of sorts as the Beavers won each of those contests.
That good fortune came to an end for Oregon State however, as Demetrius Treadwell posted a double-double with 24 points and ten rebounds and Nyles Evans added 17 to lead Akron to the 83-71 victory. What the president and his family observed was a lesson in both toughness and execution, as Akron was the better team in both regards against Oregon State.
Akron rebounded more than 36% of its missed shots, and they also outscored the Beavers in both points off of turnovers (16-8) and second chance points (15-8). And to add insult to injury for Oregon State, center Angus Brandt went town with a right knee injury with his status being undetermined at this point in time. Brandt missed much of last season after tearing the ACL in that knee, and he's an important member of Oregon State's interior rotation.
That's especially been the case this season, with Devon Collier and Eric Moreland both having to deal with suspensions to start the season. Collier's back in the fold but Moreland won't be for another five games, making Brandt's contributions even more important. Brandt played just 12 minutes against Akron, finishing with two points on the night. Roberto Nelson scored 20 points, but he shot 4-for-15 from the field in reaching that point total.
Next up for the Zips is a semifinal matchup with No. 17 Iowa State, and that contest represents a major opportunity for both Akron and the Mid-American conference. And given how tough Keith Dambrot's players play most opponents, the Cyclones will have their hands full with the defending MAC tournament champions.