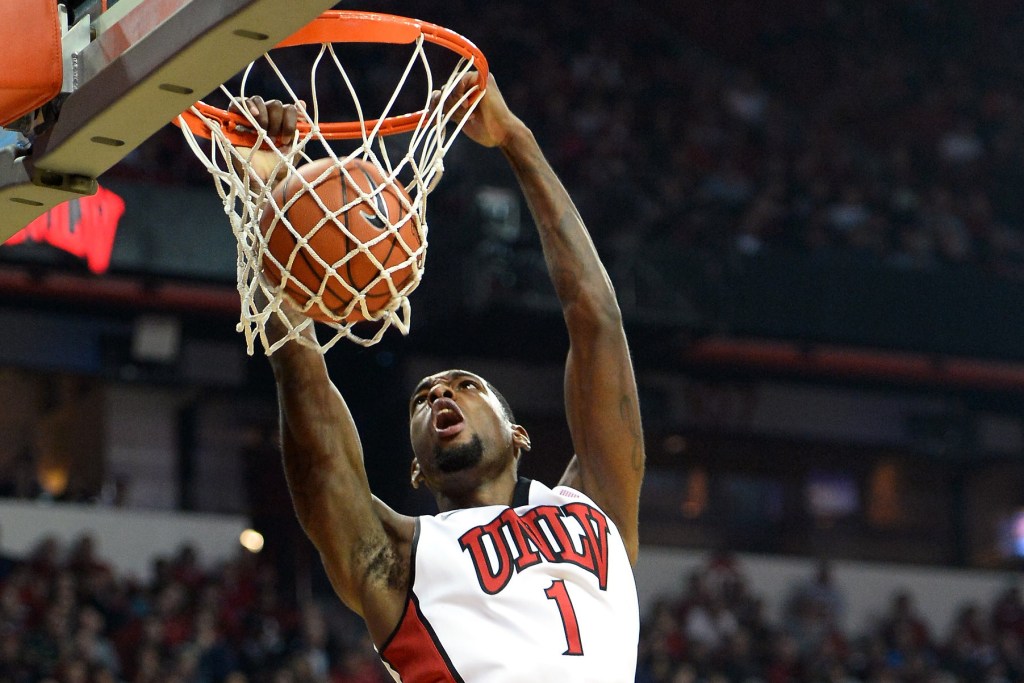 In two seasons at UConn, forward Roscoe Smith was a contributor on two NCAA tournament teams, with his freshman season featuring improbable runs to the Big East and NCAA tournament titles with guard Kemba Walker leading the way. After averaging 6.3 points and 5.2 rebounds per game as a freshman and tallying 4.4 points and 3.4 rebounds per contest as a sophomore, Smith made the decision to transfer with the hope of enjoying a greater role on the floor.
Smith would wind up at UNLV, and after sitting out last season few people expected him to be as productive as he's been through 11 games. The Baltimore native's averaging 12.8 points and 13.2 rebounds per game, with the latter also being the nation's best by nearly a full rebound per game. While the greater number of opportunities that have come in Dave Rice's system can be cited as a reason for the jump, there's also the fact that Smith made good use of his season away from game action.
And while there were physical strides to be made, Smith used the time in which he could only practice with his teammates to become a better player mentally as well.
"In my year off I really just focused on my game mentally," Smith told NBC Sports following the Runnin' Rebels' 82-50 win over Sacred Heart on Friday night. "Nothing too specific physically, I just really worked from a mental standpoint because sitting out is extremely hard.
"Playing college basketball nonstop for two years at UConn and then sitting out," continued Smith. "It was definitely hard, so I really had to come in and be mentally strong and be a leader for the young guys who were on the team as well."
Last season Smith had the chance to compete against players such as Anthony Bennett, Mike Moser and Khem Birch, testing them as a member of the scout team while also honing his craft with an eye towards the 2013-14 campaign. And the results have been remarkable, as a player who tallied just one double-double and three double-digit rebounding performances in his entire UConn career has seven double-doubles this season. He's been aggressive on both ends of the floor, especially when it comes to attacking the boards.
"I think that his experience is huge for us," Rice said of Smith following Friday's win. "He thinks that every loose ball is his, and it just seems as if he gets a double-double every night. To have a guy like that is big."
One question that was asked when Smith made the decision to leave UConn was what position does he play. Was he best utilized as a three or a four? At which position did he hope to be utilized? At UNLV it can be argued that he's played the four primarily, forming a talented and productive partnership with another Big East (at the time) transfer in Khem Birch. But Smith doesn't exactly subscribe to the rigid positions that many have grown accustomed to in basketball.
"I'm a basketball player," Smith said with a smile when asked about his position. "I do anything the team needs in order to win. Whatever coach needs me to do I'll do. I don't go home every day wondering what position I am because that doesn't define me. I'm just trying to do whatever it takes to win basketball games."
Now 7-4 on the season entering Monday night's game against Mississippi State, the majority of UNLV's issues have been on the offensive end of the floor. And given the number of newcomers looking to establish their roles that's to be expected, even with the amount of talent that the Runnin' Rebels possess. Defense hasn't been an issue however, and UNLV has its two transfers to thank for this. UNLV currently ranks sixth nationally in effective defensive field goal percentage, and they're tops in defensive free throw rate.
They may not turn teams over, but with Smith and Birch leading the way the Runnin' Rebels have made life difficult for teams in the half court. And those two have a competition of sorts when it comes to rebounding, and it's one that has benefitted both players to this point in the season.
"It's always a good thing when you have a guy who wants to out-rebound you every night," Birch said of Smith. "Usually guys don't want to go after every rebound, but playing with Roscoe is a blessing because he wants to get every rebound."
UNLV didn't get off to the start that many expected when the season began, but the way in which they've overwhelmed opponents they should beat convincingly is a positive sign for this group moving forward. And for that they've got Smith to thank, as he's been a valuable commodity for UNLV both physically and mentally. With the start of Mountain West play right around the corner, his championship experience will be something the team can draw from as it looks to make a run at a conference title especially when it comes to the development of a young player like Christian Wood.
"I just tell Christian that it's a process," said Smith. "You have to take things one day at a time. I know he wants to run before he walks, so I just tell him to slow down a little bit and let the game come to him."
With the improved production and leadership abilities Smith has found a concrete role in the desert, even if we can't affix a specific label to him in regards to the position he plays. And whether he's a three or a four, Roscoe Smith's been an integral player for UNLV and that will continue to be the case as the season wears on.