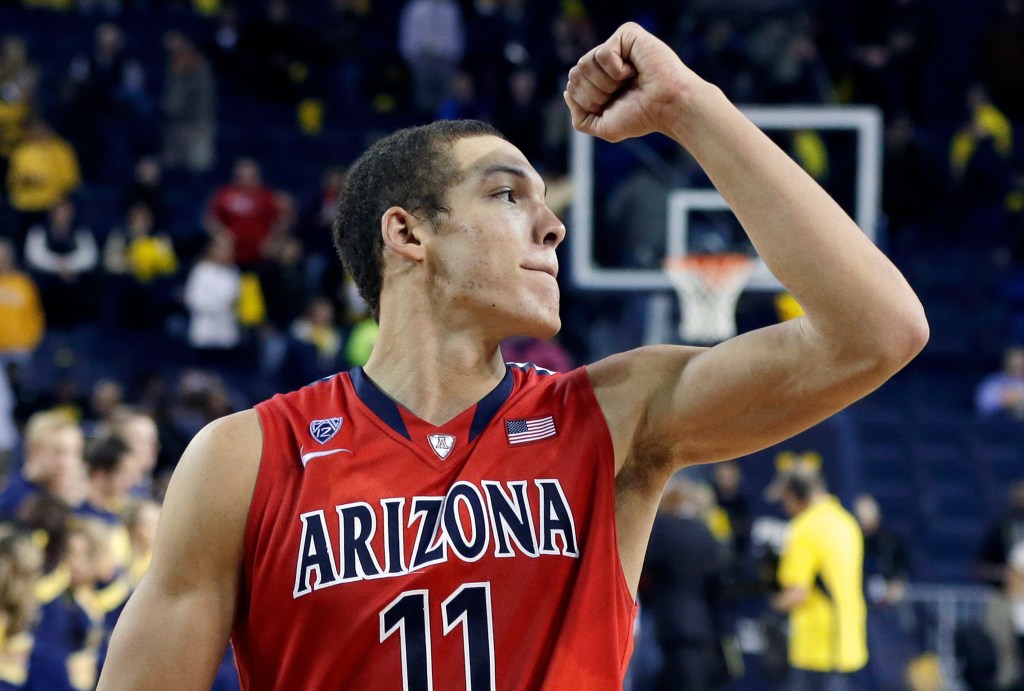 For the second straight week, the top seven teams in the country are exactly the same.
In fact, the only team from last week's top 15 that lost this past week was UConn, who is now No. 15 in the country. That much likely won't change next week, either, as only six teams in the top 25 will be challenged this week. No. 23 Missouri is at N.C. State). No. 18 Iowa State is out in Diamond Head Classic.
There's the whole Syracuse-Villanova and Louisville-Kentucky double-header on Saturday, but those are just two games.
Anyone else ready for conference play to begin?
1. Arizona (12-0, LW: No. 1): Arizona's only game this past week was a blowout win over Southern in the McKale Center. The Wildcats are the most balanced and versatile team in the country, but they need Gabe York to wake up. His last eight games: 4.5 points, 26.8% FG, 8-for-25 3's.
2. Syracuse (11-0, LW: No. 2): Friday's blowout win over High Point isn't going to blow anyone away. I know much has been written about Tyler Ennis this season, but here's something for you: Ennis is the best point guard in the country. Too much? Well, he's averaging 12.1 points, 5.4 assists and 2.8 steals while turning it over 13 times in 11 games and shooting 43.5% from three.
3. Wisconsin (12-0, LW: No. 3): The Badgers didn't play last week, but that doesn't change the fact that Bo Ryan's club is, right now, the best team in the Big Ten.
4. Ohio State (12-0, LW: No. 4): The Buckeyes managed to avoid a loss against Notre Dame on Saturday, but OSU's flaw was exposed. They're not a good team on the offensive end of the floor. Their defense will never let them get blown out, but when you need to rely on the streaky LaQuinton Ross as much as Ohio State does, it makes them primed for an upset.
5. Louisville (11-1, LW: No. 5): Much like they did after losing three in a row last January, the Cardinals are flying under the radar again this season. Russ Smith is a much-improved distributor. They'll get a chance to prove it on Saturday at Kentucky.
6. Michigan State (10-1, LW: No. 6): The Spartans went into Texas and whipped up on the Longhorns in a game where Keith Appling struggled, Gary Harris was hobbled by his ankle injury and Matt Costello didn't play. Adreian Payne was dominant.
7. Duke (9-2, LW: No. 7): The Blue Devils picked up an impressive win over UCLA on Thursday night in the Garden, one highlighted by the return to relevance of sophomore guard Rasheed Sulaimon.
8. Florida (9-2, LW: No. 8): The Gators picked up an impressive win on Tuesday night in Madison Square Garden over Memphis. At full strength, this is one of the nation's best teams.
9. Oklahoma State (11-1, Lw: No. 9): Markel Brown busted out of his mini-slump as the Pokes knocked off Colorado out in Vegas. Brown went for 23 points and 11 boards.
10. Villanova (11-0, LW: No. 10): The Wildcats will square off with Syracuse on Saturday at the Carrier Dome is what could end up being the best game in the month of December. I'm ready.
11. Wichita State (12-0, LW: No. 12)
12. Oregon (11-0, LW: No. 13)
13. Kansas (8-3, LW: No. 15)
14. Baylor (10-1, LW: No. 14)
15. UConn (10-1, LW: No. 11)
16. Kentucky (9-3, LW: No. 17)
17. Memphis (8-2, LW: No. 18)
18. Iowa State (9-0, LW: No. 19)
19. Iowa (11-2, LW: No. 20)
20. North Carolina (8-3, LW: No. 16)
21. San Diego State (9-1, LW: No. 23)
22. Illinois (10-2, LW: NR)
23. Missouri (10-1, LW: NR)
24. Colorado (10-2, LW: No. 24)
25. UMass (10-1, LW: No. 22)