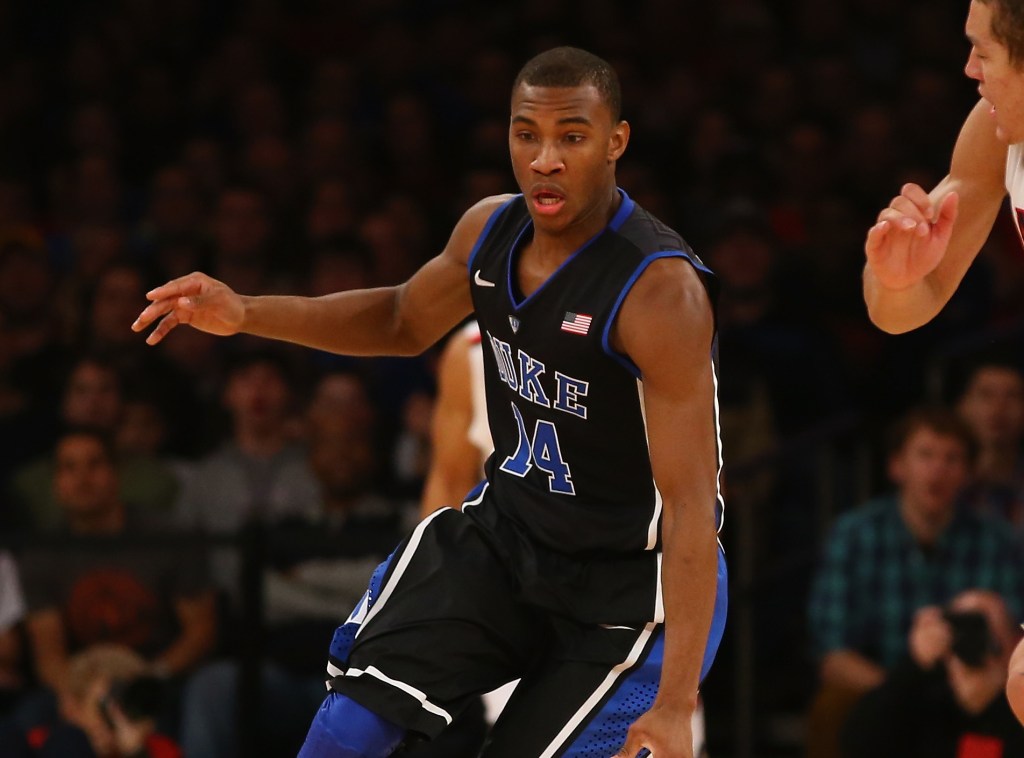 NEW YORK — There was nothing memorable about the shot.
It was one of six threes that No. 8 Duke made and one of 18 that they hoisted up in the first half of their 80-63 win over UCLA on Thursday night in Madison Square Garden. It was the kind of play that gets taught to basketball players the minute they're able to reach the rim from the three-point line, the kind of drive-and-kick action that we've seen out of a Mike Krzyzewski-coached team thousands of times over the years.
As Quinn Cook penetrated to the middle of UCLA's zone, drawing the attention Zach LaVine and Bryce Alford, he got Rasheed Sulaimon all kinds of space on the left wing. As Cook let the pass go, he knew what this shot meant for Sulaimon, what it could potentially mean for the Blue Devils.
Before the ball even reach Sulaimon's hands, Cook knew it was buckets.
"You're back," he said. "You're back."
"Before I even let it go," a beaming Sulaimon said in the locker room after the game. "That kinda helped me a little bit. When I made it, I just looked at him. It was a big weight lifted off my shoulders."
"I was kind of nervous when I took it."
There's no surprise there.
————————————————————————————————-
The doghouse.
A slump.
A bad spell.
For weeks, something had been going on with No. 8 Duke's sophomore shooting guard Rasheed Sulaimon. You can call it whatever you want, but the bottom line is that it's been more than a month since Rasheed Sulaimon was a relevant factor in Duke's lineup. He scored 33 points in the Blue Devils' first two games of the year, but in the eight games between then entering Thursday night's date with UCLA, Sulaimon had averaged 3.0 points. He made just two of his last 16 shots from the floor. He was shooting 20% since the Champions Classic. Against Michigan, he never set foot on the court. Against Gardner-Webb, he played five scoreless minutes.
Like I said, a non-factor. And if it wasn't for Rodney Hood being a step late to try and take a change on Jordan Adams with 9:32 left in the half, picking up his second foul, there's no guarantee that would have changed against UCLA. Duke had already gone through their off-guard rotation. Andre Dawkins came in for Tyler Thornton at the 15:00 mark. Matt Jones got on the floor a couple of minutes later, and both were on the bench when Thornton checked back into the game with 9:57 on the clock.
Hood picked up his second foul 25 seconds later, and 47 seconds after that, Cook found Sulaimon for that three.
The box score won't blow you away. Sulaimon finished with eight points, five boards and four assists. He played 18 minutes and shot 3-for-7 from the floor. He turned the ball over twice. In any other circumstance, this would have been a disappointing performance for a kid that was considered a potential lottery pick entering the season.
It wasn't even a great performance from Sulaimon given the circumstances, but there was a noticeable change in Sulaimon's play. He was more aggressive. He looked more confident. He missed four of his next five shots after knocking down that first jumper, but he didn't stop attacking. He didn't stop shooting when he was open. Eventually, it paid off. Sulaimon hit a three with just over two minutes left to give the Blue Devils a 74-63 lead. He fought off two Bruins to track down a loose ball at the other end of the floor on the ensuing possession, following that up with a beautiful drive-and-dish, getting a layup for Amile Jefferson that put the win on ice.
"It's the best he's played this year," head coach Mike Krzyzewski said after the game, and that's terrific news for the Blue Devils. They don't need Sulaimon to contend for an ACC title. Jabari Parker, Rodney Hood and Quinn Cook is enough to get them into the conversation. With Tyler Thornton, Andre Dawkins and Matt Jones all on the roster, Coach K has enough pieces at that off-guard spot to make things work. If he needs shooting, he's got Dawkins. If he needs a defender, he's got Thornton. If he needs a guy that can do a little bit of both, he's got Jones.
The difference with Sulaimon is that he can shoot and he can defend, but he's by far the most talented off-guard that Duke has. He's the best penetrator on the roster, according to Cook. He brings a different dynamic to the Blue Devil attack. He just needed to be willing to buy into the role that he was given. No one is building an offense around Sulaimon when Parker and Hood are on the roster as well.
Sulaimon needed to see rock bottom, and taking a DNP-CD on national television in Duke's biggest win of the season to date — the Michigan game — is a good way to do that.
"He has been practicing well the last two weeks and it paid off," Coach K said. "I was so happy he hit that big shot to put us up 74-63."
He wasn't alone.
At the next timeout, following Sulaimon's game-clinching sequence, he was mobbed by his teammates at half court. In the locker room after the game, he got a bear hug from assistant coach Jeff Capel. After exiting that embrace, Sulaimon walked straight into the waiting arms of Jon Scheyer, who hugged him and slapped him on the back as he yelled "Yessir!"
"I just want to thank those guys for helping me through the tough times," Sulaimon said.
So much for the doghouse.
"He's out," Rodney Hood said. "He's officially out."