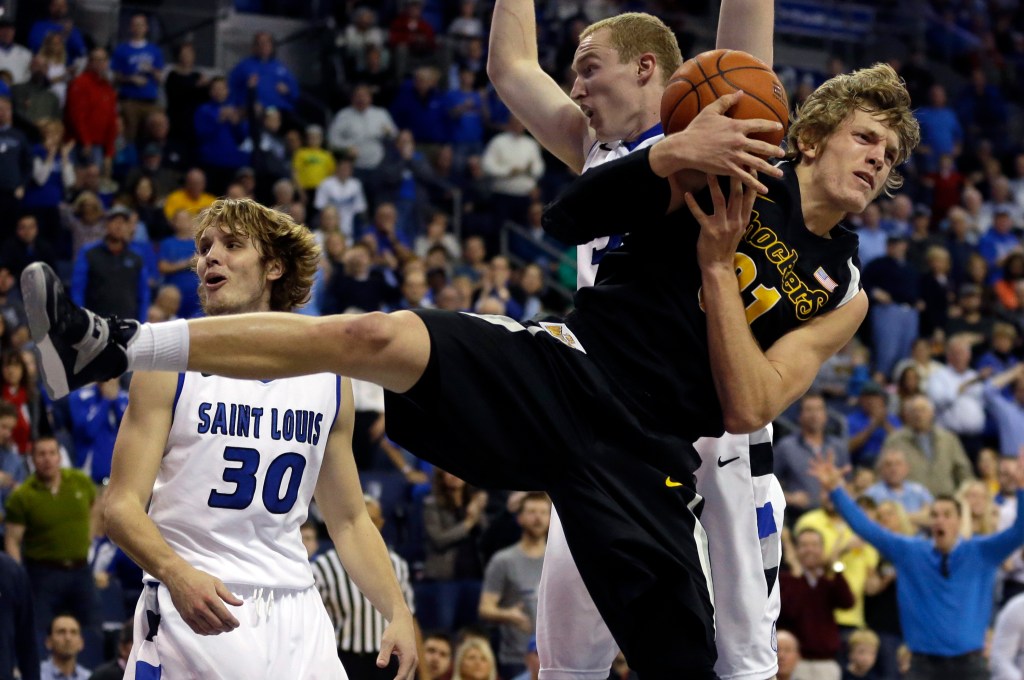 In a new series here on College Basketball Talk, every Thursday we're going to have a discussion about some of the hot topics in college basketball. Today's installment? The 12 teams still left undefeated. Who is the first to lose? Can anyone actually make it to February without a loss? Will we ever see another undefeated team?
Rob Dauster: We are now more than a month into the season. Most of the teams have made it through a third of their regular season schedule, which means that it's now far enough into the season to start discussing who is still undefeated.
After UConn's loss to Stanford on Wednesday night, there are 12 teams without a blemish to their name: Arizona, Syracuse, Ohio State, Wisconsin, Villanova, Wichita State, Oregon, Iowa State, UMass, Missouri, Toledo and St. Mary's.
So I'm going to put you on the spot, Raph: Who will be the nest team from this group to lose?
Raphielle Johnson: Alright. I looked at the schedules of the 12 remaining undefeated teams and two have match-ups that will test them this weekend. UMass visits Florida State, and Missouri takes on rival Illinois in St. Louis. Of these two I think the Minutemen are the ones who go down, because for as athletic as UMass is I think Florida State can match them. Guys like Okaro White and Robert Gilchrist can compete with the likes of Raphiael Putney, Cady Lalanne and Sampson Carter in the front court. Obviously the key player for Florida State to corral is Chaz Williams, and I believe the Seminoles have what it takes to keep him from going wild. FSU ranks 6th nationally in two-point percentage defense, and as long as they challenge UMass' looks on the outside I think they win.
Who's your pick?
RD: I think you're right that Florida State can give UMass a fight. The Seminoles have the size inside to deal with some of Derek Kellogg's big men, and Leonard Hamilton is nothing if not a good defensive coach.
Here's one for you: BYU over Oregon. Look, I'm not sold on the Cougars being anything special. They're essentially a four-man team and they don't play any defense. But I think they actually matchup fairly well with Oregon, they like to run like Oregon does and on the nights when BYU shoots the ball well, they're going to be able to compete with anyone in the country. They just have to hope that the Stanford game wasn't the only time this season that Tyler Haws and Matt Carlino both go crazy.
I think the more interesting discussion is actually who will remain undefeated for the longest, and I think that award will fall into the hands of Wichita State. The Valley is way down this year, and the Shockers are better than they were when they went to the Final Four. They'll enter every game as the favorite the rest of the way. No one is going to make it out of the Valley unscathed, but I wouldn't be surprised if Wichita State made it until February 5th without a loss.
RJ: Wichita State is a good choice. Thought about Toledo, but for as much as I like Rian Pearson, Justin Drummond and Julius "Juice" Brown I can't pick the Rockets to win at Kansas on December 30. But that is a very good team, and they're the favorites to win the MAC at this point in time.
But back to the Shockers. I certainly understand where many are coming from when stating why they've got a shot at being the last undefeated team remaining, but I wouldn't sleep on that Missouri State game on January 11. Paul Lusk's Bears are off to an 8-2 start with Jamar Gulley leading the way, and you don't just waltz into JQH Arena and leave with a win. That being said, Gregg Marshall's got a very good basketball team. Ron Baker, before his ankle injury slowed him down some, was in the running for "180" mention and from an offensive standpoint he may be one of the most improved players in the country. Add in the talented Cleanthony Early, a defensive stopper in Tekele Cotton and the maturing Fred Van Vleet and you've got some guys capable of making another deep run in the NCAA tournament.
But I'll take another team to answer this question: Syracuse. Yes they've got a big home game against No. 8 Villanova on the 28th (the Wildcats are also undefeated), but I really think Jim Boeheim's team has the ability to get to that home game against Duke on February 1 without a blemish. While the ACC has been good (but not up to the expectations of some) I don't think it represents this lethal gauntlet that the Orange will immediately struggle with. Tyler Ennis and Trevor Cooney continue to improve, as does Dajuan Coleman, and we already know how good that Fair/Grant forward combo is. With the talent, weapons and depth on that roster, I'll take Syracuse regardless of the fact that they're in the ACC.
RD: I'll be honest: I don't like much of this 'undefeated' talk, especially when it comes so early in the season. Nobody is going to go undefeated this season. There probably won't be anyone going undefeated in any season, ever again. Unless the NBA decides, for some reason, that every athlete must stay in school for two or three years, I just think that it is too hard for teams built around talented freshmen to win early and often enough to go an entire year without a blemish.
Let's call it like it is: the only teams that are going to be good enough to go undefeated are teams that are freshmen-heavy. That's just the way it is in this day and age. There aren't going to be juniors that are good enough to build a team that talented around because if they're that good, they are probably entering their second season in the NBA by then.
If the last two years have taught us anything, it's that the Kentucky team with Anthony Davis and Michael Kidd-Gilchrist were A) a special, once-in-a-decade (if not more) kind of team that was built are superstar freshmen as role players, and B) not replicable. That group came as close as we've seen anyone get to being undefeated.
It happening.
So lemme ask you this, Raph: Come February, is there anyone in the country that still is without a loss?
RJ: No, and one reason why is what you mentioned above. And another reason, for me at least, is fatigue. Not so much for physical reasons but rather mentally. Why are we discussing it? Because it's a simple and convenient topic to talk about. And the deeper into a season that a team gets without a loss the more they hear about it and the more it weighs on them, I'd imagine.
Does that mean a loss is a good thing? Hell no, and I hate when people try to spin such results that way. If you're a mature team you can learn from wins as well. If this were the days prior to the Internet, and sports media weren't so prevalent, I'd give a team like Syracuse a fair shot at doing it. But I think external "pressure" can be too much to overcome.
The goal is to get better as the season rolls on, with the goal of playing your best ball in March (and hopefully early April). As long as you do that, whatever else comes along is gravy.