Southern Illinois head coach Barry Hinson delivered the press conference of the year after Tuesday night's 73-65 loss to Murray State. Hinson, the second-year coach who is 16-25 with the Salukis, has his team off to a 2-8 start this season and is less than pleased about the state of his team. Fast forward to the 3:00 mark of the video. It kicks off with this:
"I've been telling my wife this for years: size doesn't matter."
A little more than a minute later, he unleashes this gem:
"There was a sniper in the gym. Did you see that? We had guys falling down."
"I would have thought Navy Seal Team 6 was out there."
MORE: Hinson apologizes for rant
At this point, I'm just ruining this for you. Listen here:
[soundcloud url="https://api.soundcloud.com/tracks/125377342″ params="color=29b348″ width="100%" height="166″ iframe="true" /]
We laugh, but Southern Illinois senior Davante Drinkard didn't find it too funny: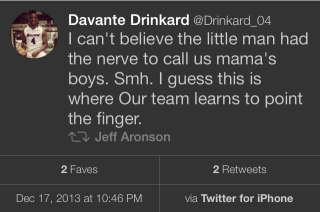 UPDATE: Hinson was on the Yahoo! SportsDash on Wednesday, where he apologized for calling out guard Marcus Fillyaw.
(h/t OVC Ball via Awful Announcing)