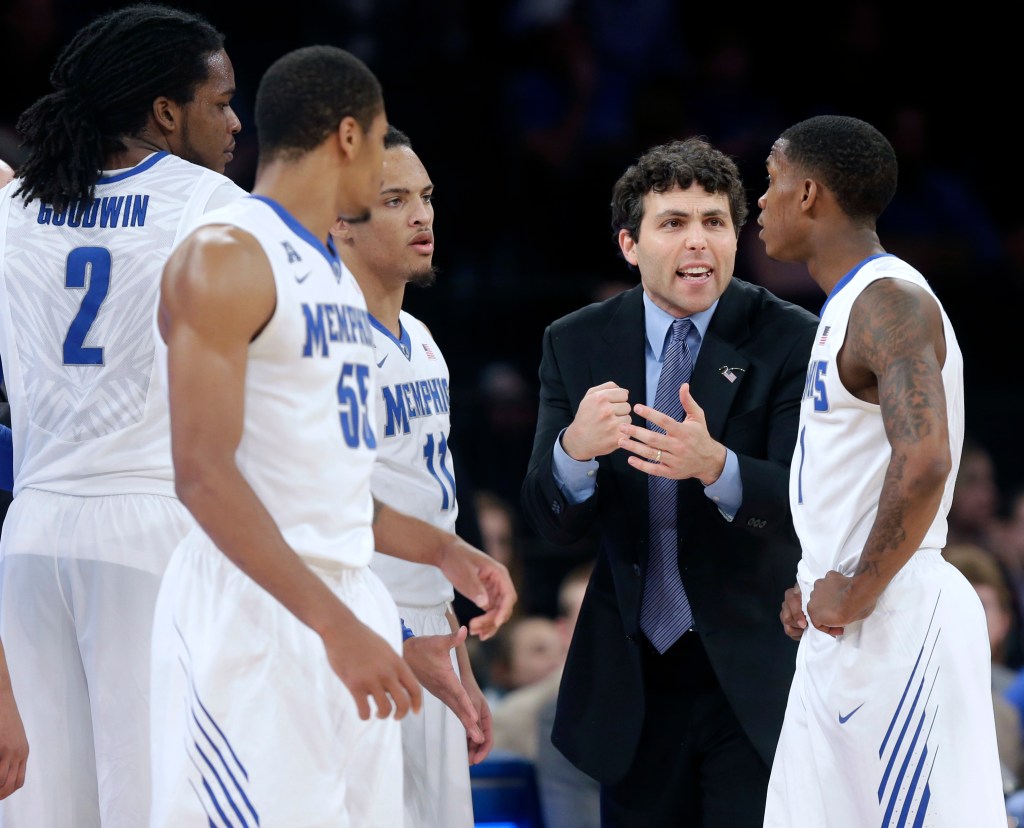 NEW YORK — I'm staying with a couple of college buddies here in New York while I cover the Jimmy V Classic and the Duke-UCLA game. This morning, I was chatting with one of them — I'll call him Rizzo — about the game last night. He's a big sports fan and watches his fair share of college hoops, although his reason for watching the games has a lot more to do with betting lines than it does a full-blown love for the game.
Hey, whatever gets the people into college basketball, right?
Anyway, Rizzo's reaction to the game last night: "I'd never pick Memphis in a big game." Not in the tournament, not against a ranked team, not when they play on national television, and Rizzo is far from alone in echoing that sentiment.
Fair or not, the public perception of the Tigers is that they can't win the big one, that Josh Pastner is not the kind of coach that can lead his guys through adversity when the lights are shining the brightest. A revenge win over Oklahoma State in the Old Spice Classic didn't do much to change his mind.
(MORE: Casey Prather is now a star. How and why.)
Now, I'm not here to quibble with you about the narrative. Not today. And I'm not here to try to explain to you that everything Pastner has done with the program outside of hoops — keeping his players out of trouble, graduating players, etc. — has been somewhere between commendable and remarkable.
What I'm here to tell you is that this Memphis team is different. This team will beat some big names in American play and they'll win some games in the NCAA tournament. I truly believe that for one reason: the Tigers didn't quit on Tuesday night.
It sounds simple, but it's not.
You see, the biggest reason that I was ready to write No. 16 Memphis off after their embarrassing loss to Oklahoma State in Stillwater a month ago was that they rolled over and let themselves get beaten when the Cowboys jumped out on top. They didn't fight back. They took that whooping. They looked like a team that expected to lose. It was tough to watch.
But less than two weeks later, in the finals of the Old Spice Classic, the Tigers erased a double-digit halftime deficit to comeback and beat Marcus Smart and company, the first time in Josh Pastner's tenure that he had knocked off a consensus top 25 team.
Now, if you weren't watching closely, you would probably write off last night's 77-75 loss to No. 15 Florida as Memphis reverting back to their old ways, somehow pinning the Oklahoma State win on a combination of Marcus Smart choking and Memphis getting lucky. It wouldn't be difficult to make a reference to broken clocks being right twice a day.
But, again, you'd be wrong. For two reasons:
1) Florida is a really, really good basketball team. Like, top-five-in-the-country, national-title-contender good. I truly believe that, especially now that they are back to full strength and have Casey Prather playing like an animal. There ain't no shame in losing to the Gators by two points.
2) Florida was ready to pull away from Memphis on a number of different occasions, but Memphis didn't let it happen. The Gators were up double-figures early in the first half, but Michael Dixon pulled the Tigers back to make a game of it at the half. Memphis took the lead at a couple of different points in the second half, but Florida again made a run. Their lead stretched to nine late in the second half, and this time it was Joe Jackson that led the Tigers on a surge to get back into the game.
Just when you thought that Memphis was going to roll over and quit … they didn't.
Memphis played well on Tuesday night. If a couple of breaks had gone their way — David Pellom doesn't get called for a goaltend, Michael Dixon doesn't pick up a phantom fourth foul midway through the second half, Shaq Goodwin doesn't get a technical when he got too close to the rim trying to get a rebound, Joe Jackson's layup at the end drops in instead of bouncing of the rim — this would have been a very different story.
Memphis looked like a team tough and talented enough to make the second weekend of the NCAA tournament.
"All you can ask for is the ball in your hands with a chance to win, and that's what we had," Pastner said after the game.
And if they get it next time, against Louisville or UConn or Gonzaga, more often than not the outcome will be positive.