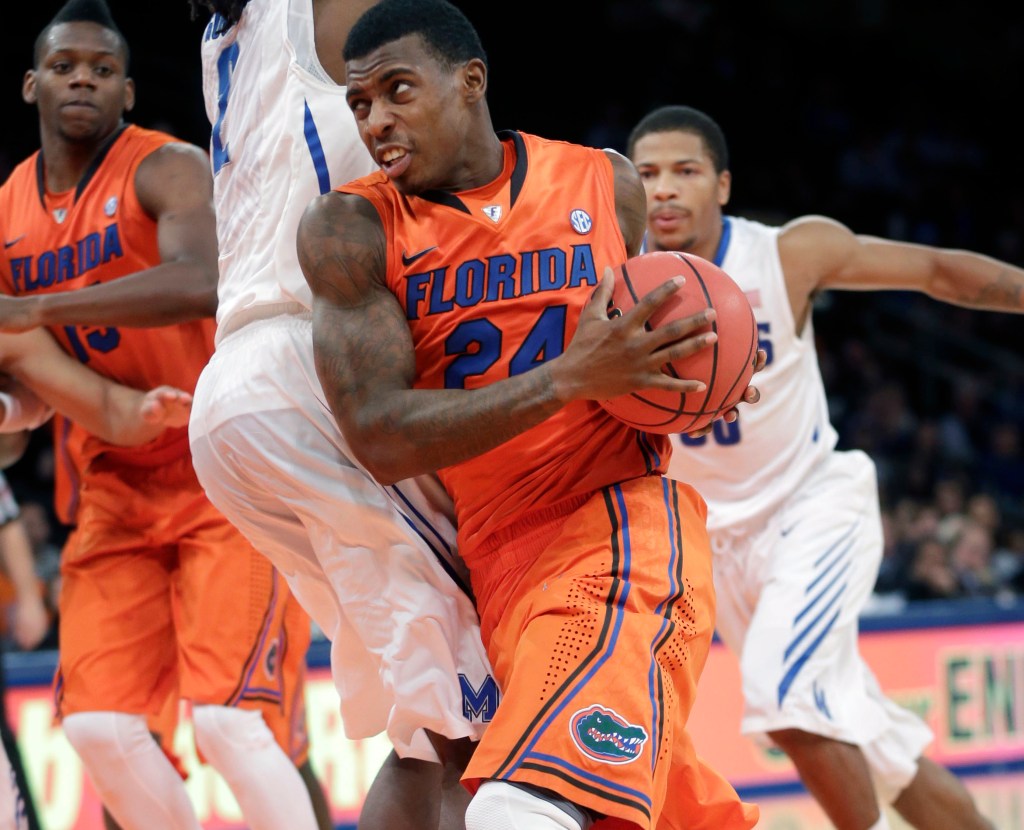 NEW YORK — Billy Donovan said that this season, for his Gators, has been exhausting.
Between the injuries and the suspensions and the academic issues, the status of Florida's roster has been a bigger story to date than their performance against teams like Wisconsin or UConn or Kansas.
"I almost keep looking around to see who is going to be walking through the door that I don't know about," the Florida head coach quipped after his No. 15 Gators held off No. 16 Memphis 77-75 in the nightcap of the Jimmy V Classic at Madison Square Garden on Tuesday night. "It's been a real drain on our team emotionally."
I can imagine. Scottie Wilbekin was suspended for five games, leaving Florida with a freshman, Kasey Hill, starting at the point. Hill sprained his ankle before Wilbekin returned, and when Wilbekin finally did make it back to the court, he sprained his ankle in a game at UConn that Hill was unable to suit up. Michael Frazier had mono. Dorian Finney-Smith was hurt. Eli Carter is redshirting. Chris Walker is just now getting back to practice, something that may never happen with Damontre Harris.
Did I miss anything? Probably.
The irony of it all? All of those off-the-floor issues and all of that time in the training room may have actually been the best thing that could have happened to the Gators this season. You see, while Donovan was busy trying to figure out who will run the point or what his front court rotation will look like or how the heck he is going to be able to scrimmage 5-on-5 in practice, senior Casey Prather has quietly turned into one of the nation's best scorers.
"I am just trying to do what needs to be done for the team," said Prather, a former top 50 recruit that's humble enough to perfect every press conference cliché you can think of.
Prather entered the season having spent the past three seasons filling a role for the Gators (8-2). He was a defensive stopper. He was a finisher in transition. He was glue-guy, a blue-collar scrapper that picked up more floor-burns than he did buckets. As a junior, he averaged career-highs of 6.2 points and 17.1 minutes. He was an afterthought. In previews of Florida's team, he was the guy that was mentioned in passing at the end, with a note about how he'll add to Florida's versatility and depth.
No one saw him becoming a leading candidate for SEC Player of the Year as we head towards the holidays.
Entering Tuesday night, Prather was averaging 18.2 points, 6.1 boards and 2.3 assists while shooting 61.3% from the floor and getting to the charity stripe 7.6 times per game. Against Memphis, Prather finished with 22 points and four boards, hitting 8-of-13 from the floor and 6-of-6 from the charity stripe. He scored the last eight points for the Gators, twice having plays run for him in the half court while knocking down four straight free throws in the final 80 seconds.
Again, no one saw this coming.
And I'm not sure it actually would have happened had the Gators been at full strength entering the season. Florida had a void to begin the year, and Prather simply stepped up and played his part. "I took it upon myself to be a leader," he said, "to hold myself accountable for my mistakes and for my actions that helps us win." The missing players "freed him up to evolve into this position," Donovan said.
The difference in Prather isn't that he has become a totally different player this season. He didn't magically transform into Paul George during the offseason. He isn't the second-coming of Kobe Bryant. No NBA scouts are going to be confusing Prather with Andrew Wiggins or Marcus Smart. It's actually quite the opposite. Prather has learned to trust his ability, to embrace his strengths and take advantage of what he does best.
"Sometimes guys, when they get in there and want to have an opportunity to play at the next level and they're 6-foot-5 or 6-foot-6, people say, 'he's got to shoot the ball better,'" Donovan said. "When he was a freshman and sophomore, he was so consumed with his jumpshot. That's all he wanted to do. It was probably seven or eight things he did better than shoot the basketball. He's not a high-volume three-point shooter. He slashes to the basket. He offensive rebounds. He gets on the break. He can go off the dribble. He can play off the bounce. He's playing to his strengths instead of trying to prove he can overcome his weaknesses."
"It's the first time I feel like he's playing with a clear head and a clear mind. 'Ok, here's who I am as a player. Here's how I can take advantage of it.'"
According to Synergy, Prather had taken just seven jump shots on the season entering Tuesday night, with the rest of his field goals either coming at the rim, on post-ups, runners or in transition. I'd call that playing to his strengths.
And it came at a time where the Gators needed him the most.
Prather didn't remake himself in the offseason. He simply took advantage of an opportunity, and Florida is currently reaping the benefits.
Because with Prather playing this way, the Gators are a legitimate title contender.