The 2013-2014 season is sure to be a thrilling Player of the Year race, so to keep track of it, we will be posting weekly Player of the Year Power Rankings for your reading goodness.
Who'd we miss? Who's ranked too high? We love to overlook your team's best player and overrate your rival's superstar.
1. Shabazz Napier, UConn: Napier's already made countless big shots in big moments this season, shining in UConn's wins over Florida, Indiana and Boston College. His numbers on the season are good — 15.3 points, 7.0 boards, 5.9 assists and shooting 57.1% from three — but in those three wins, Napier's averaged 24.3 points with a usage rate that was at least 30%. He's taken over when UConn needs him to take over, opting to distribute and get his teammates involved at other times.
2. Jabari Parker, Duke: Parker scored 21 points against Gardner-Webb on Monday night, the first time he's gone for 20 in a game since the day before Thanksgiving. The most versatile offensive weapon in college basketball, Parker's still at his best with his back to the basket. Per Synergy, 19.9% of his offensive possessions have come on post-ups, and he's scoring 1.205 PPP.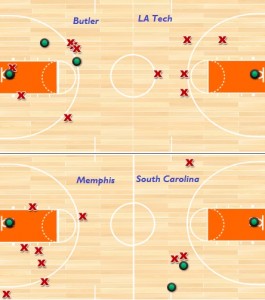 3. Marcus Smart, Oklahoma State: Has Marcus Smart actually changed his game and improved his perimeter stroke? He's missed 16 of his last 19 threes. Take a look at his shot chart (right) from the last four games.
More concerning? During that stretch, Smart has 17 assists and 16 turnovers. Keep in mind this is a small sample size, and that in the three games prior he shot 10-for-21 from three and averaged 31.3 points, scoring at least 23 points in the first half of all three games.
On the season, Smart is shooting 32.1% from three, up from 29.0% last season.
4. Chaz Williams, UMass: Williams has been the best player on one of the nation's most impressive and exciting teams to date. The Minutemen love to get out and run the floor, sitting 11th in the country in tempo, per KenPom. 29.1% of the possessions that Williams has used have come in transition, and UMass is scoring 1.318 PPP on those possessions.
5. Doug McDermott, Creighton: McDermott had seven points on 2-for-12 shooting in Creighton's loss to George Washington. The last time he scored seven or fewer points? November 14th, 2012, when he had five points on six shots in a 17 point win over UAB. The only time he's shot worse than 2-for-12 from the floor was an 0-for-5 performance in a win against St. Joseph's … as a freshman.
6. Julius Randle, Kentucky: Kentucky went away from pounding the ball inside to Randle in their loss to North Carolina over the weekend. He finished with just 11 points and five boards as the Harrison twins spent the entire second half going one-on-one. UK's bread-and-butter needs to be post touches for Randle.
7. Russ Smith, Louisville: With Peyton Siva gone, Smith has been making a concerted effort to play more as a point guard. Rick Pitino has been using his in pick-and-roll actions more often. Here are the Synergy breakdowns of Smith's 2012-2013 pick-and-rolls:

and his 2013-2014 pick-and-rolls:

8. Nick Johnson, Arizona: For my money, Johnson is still the most valuable Arizona Wildcat. With Gabe York struggling, he's really the only player on Arizona that can create his own shot on the perimeter in the half court, and he just so happens to be a tenacious on-ball defender.
9. Keith Appling, Michigan State: At this point, it's difficult to judge Appling based on the last two weeks of basketball. Not only is he dealing with a wrist injury stemming from an ugly fall in Michigan State's loss to North Carolina, but four of Michigan State's starters have missed practice and/or game time with injuries and illnesses. Don't let one injury-impaired game blind you to how good Applng has been.
10. Andrew Wiggins, Kansas: Wiggins gets an awful lot of criticism for a guy averaging 15.9 points and 5.9 boards that just so happens to be the nation's best perimeter defender. Consistency of assertiveness is the name of the game for Wiggins.
Others: Kyle Anderson, Ron Baker, Cameron Bairstow, Jahii Carson, Jordan Clarkson, Aaron Craft, C.J. Fair, Rodney Hood, Roberto Nelson, Marcus Paige, Lamar Patterson, Elfrid Payton, Casey Prather, Juwan Staten, T.J. Warren, Joseph Young