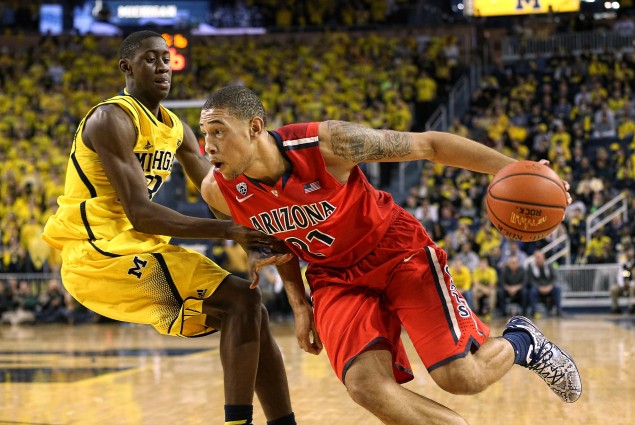 PLAYER OF THE WEEK: Brandon Ashley, Arizona
Aaron Gordon is the guy that gets all the hype for Arizona. Nick Johnson is their leading scorer and their best perimeter defender. T.J. McConnell is the tie the binds everyone together. Rondae Hollis-Jefferson does things like this.
It seems like every Wildcat on Sean Miller's roster get plenty of attention with the exception of Brandon Ashley, which is ironic considering that Ashley is the team's most improved player, if not their best. The 6-foot-9 sophomore is averaging 12.8 points and 6.5 boards while shooting 59.1% from the floor and 53.8% from three. In his last five games, he's averaging 15.4 points while hitting six of his last eight threes, which includes the 33 points he scored in wins over New Mexico State and Michigan this week.
Ashley's got enough of a back-to-the-basket game to take advantage of smaller defender and he's strong enough to finish around the bucket after getting an offensive rebound. But what makes him dangerous is that he's stepping out and burying threes of late. That creates space for Kaleb Tarczewski in the paint.
They were good, too:
Tyler Ennis, Syracuse: Ennis finished with 21 points and six assists as Syracuse remained undefeated with a 68-63 win over St. John's at the Garden.
James Michael McAdoo, North Carolina: McAdoo was awesome in North Carolina's win over Kentucky, finishing with 20 points and finally playing up to his potential in a marquee game.
Le'Bryan Nash, Oklahoma State: The Pokes will be at their best when Nash is embracing his role as an interior presence and a No. 3 option. He did that on Saturday, posting 22 points and 10 boards against Louisiana Tech.
Georges Niang, Iowa State: Niang is such a skilled offensive basketball player. He had 24 points and five assists as the Cyclones beat Iowa on Friday night.
Scottie Wilbekin, Florida: Wilbekin was just terrific in Florida's win over Kansas, finishing with 18 points, six assists, four steals and about five momentum-altering buckets.
TEAM OF THE WEEK: Princeton Tigers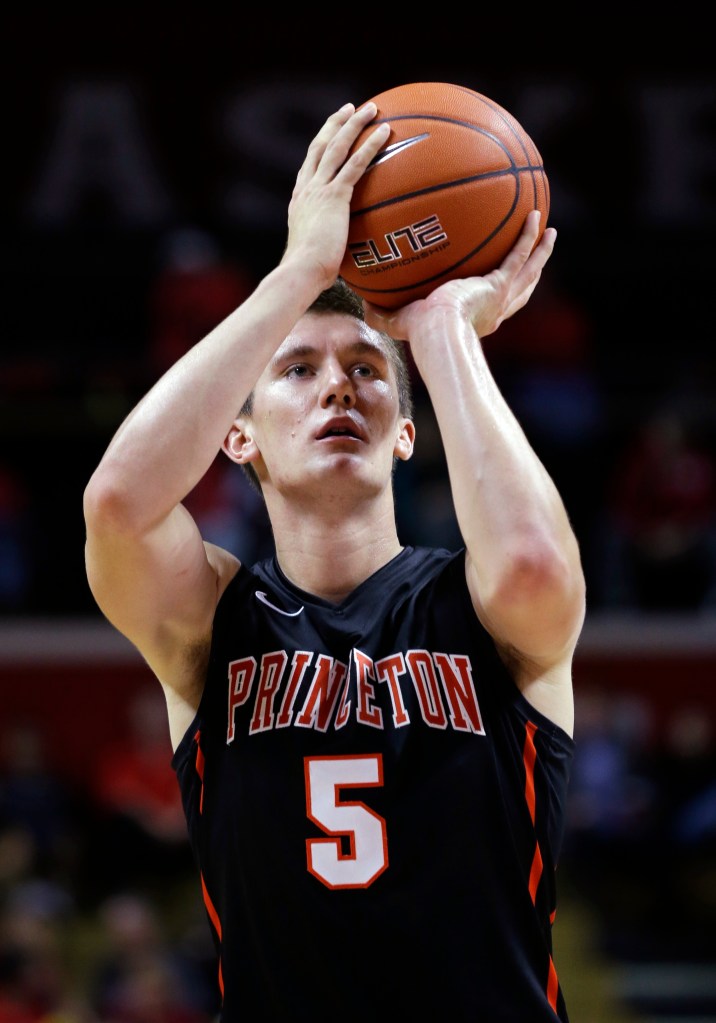 Princeton is doing everything that they can to prove to the nation that the Ivy League isn't a one-horse race. The Tigers went into Rutgers on Tuesday night and knocked off the Scarlet Knights, a win that could easily be written off a Rutgers being terrible. They are. But Mitch Henderson's crew followed that up by going into State College and erasing an 18-point deficit in the final 6:34 as they knocked off Tim Frazier and Penn State in overtime.
Again, I know, Penn State? You'll have to trust me here, but the Nittany Lions are better in real life than they are on paper, and Princeton's two road wins over high-major opponents are a statement. They aren't going to be rolling over and giving the Ivy League to the Crimson.
It begs the question: Can the Ivy League end up being a two-bid league? Well, that's doubtful. Harvard blew a lead to Colorado earlier this season, which could have been huge, and if they don't win at UConn, there is no chance that they'll get an at-large bid. Princeton isn't in position to do that either. But don't let that fool you. The two Harvard-Princeton battles will be must-see TV.
They were good, too:
Arizona: The Wildcats ran over New Mexico State at the McKale Center and followed that up with a road win over Michigan in a game played at 9:00 a.m. PT. That's impressive.
Denver: The Pioneers were supposed to be one of the best mid-majors in the country. They looked like it this week, winning at Colorado State and beating Wyoming despite 38 points from Larry Nance Jr.
Florida: The Gators are right back in the conversation for a national title, and they may even be the favorite to win the SEC right now. That's how good they looked against Kansas.
North Carolina: North Carolina picked up their third impressive win of the season as they knocked off Kentucky at home on Saturday. The Tar Heels now have wins over UK, Louisville and Michigan State.
St. Mary's: Winning at Boise State is not an easy thing to do. The Gaels did that even after blowing a 16 point lead.
Utah: Utah has a pretty record without much substance at this point, but they systematically beat down BYU on Saturday night in a rivalry game. Time to start paying some attention to the Utes.