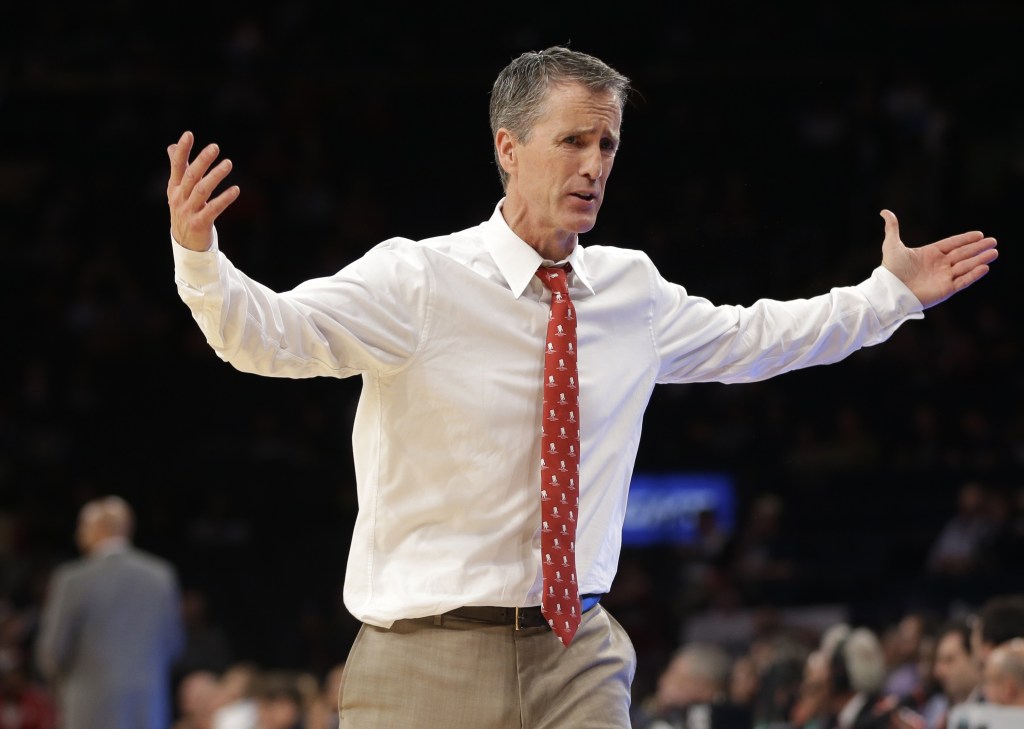 Boston College: For my money, Boston College has been the most disappointing team in the country this season. The Eagles have the talent to be a factor in the NCAA tournament discussion with Olivier Hanlan and Ryan Anderson surrounded by a solid group of role players. But they aren't tough enough and they don't defend. The same issues they had last season. A 3-6 start for this group is disappointing.
Georgia State: The Panthers might have the best perimeter attack at the mid-major level with Ryan Harrow joining R.J. Hunter, Devonta White and Manny Atkins. But more than a month into the season, Georgia State has just a single Division I win, and that came against McNeese State.
La Salle: The Explorers were supposed to compete in the Atlantic 10 this season, but with UMass, St. Louis and George Washington looking like they belong in the same conversation as VCU, the Explorers have been left behind. Dr. John Giannini is still looking for that third perimeter weapon.
Marquette: I'm not ready to disregard Marquette just yet, but this team really needs to figure out a way to get some production out of their perimeter. Right now, they're relying on Todd Mayo, which is not going to inspire confidence in Marquette fans. They're leading perimeter scorer not related to O.J. Mayo? Jake Thomas, a fifth-year senior that transferred in from South Dakota. The Golden Eagles have lost their four marquee games this season.
Maryland: To be fair, the Terps are currently trying to play with starting point guard Seth Allen out. But that doesn't change the fact that Maryland has already lost four games this season, including games against George Washington and Oregon State, the latter of which came at home. With the amount of talent the Terps have on their roster, that shouldn't happen.
Michigan: This is understandable. We knew Michigan was going to be in for a slow start as Derrick Walton learned the position. That became clearer when Mitch McGary missed the preseason with a back injury. But that doesn't change the fact that the Wolverines were expected to be a top ten team and are now outside the top 25.
UNLV: The Rebels looked much better on Saturday in a five-point loss at Arizona, but this is still a team with talent coming out the wazoo that is sitting at 3-4 on the season. They also don't have anything else on their non-conference schedule, which means that they'll need to hope that wins they can pick up in MWC play will be enough for an at-large bid. With a front court producing as much as Khem Birch and Roscoe Smith are, that shouldn't be heading to the NIT. Who helps Bryce Dejean-Jones?
VCU: The Rams are 8-2 on the season and have a win at Virginia. So in the grand scheme of things, they're just fine. But they haven't been as good as most expected them to be this season, and the biggest issue is their lack of half court offense. They don't have any "bucket-getters".
Virginia: Where has Joe Harris been? What is Akil Mitchell doing? To be frank, nothing Virginia has done this season is unforgivable. They lost by three to VCU in their second game with a freshman point guard. They lost to Wisconsin, something everyone is doing. They lost at Green Bay, which is a good team. But here's the thing: the 'Hoos look like regular old Virginia, not a team that can compete for the ACC.
Xavier: The Musketeers lost three straight in the Bahamas. They got taken to overtime by Bowling Green. They had to stage a late comeback to knock off Evansville at home. This team is in a bad way, and they can't simply rely on Semaj Christon to get them through it.