In a new series here on College Basketball Talk, every Friday we're going to have a discussion about some of the hot topics in college basketball. The inaugural installment focuses on the ACC, the now 15-team conference that some stated was the greatest conference ever assembled before a game had been played. Now that we've seen the teams in action, who's the favorite to win the regular season crown? And who else can make a run at challenging for the title? 
Rob Dauster: Rankings are a tricky thing this early in the season. Are you ranking based on how good you think the team will be in the future? How good you think they are right now? How strong their resume of wins is? It's an inexact science, especially when you're dealing with some people that haven't seen every team play.
That's why Raph and I are here. We watch way too much hoops, and I know I can speak for both of us when I say that we both have a good feel for just about every team that deserves a spot in or around the top 25.
So, Raph, as of this very moment, these are who I believe are the top five teams in the country, in order: Arizona, Syracuse, Wisconsin, Louisville, and Florida. Tell me why I'm wrong.
Raphielle Johnson: I'd be happy to tell you why you're wrong, and it starts with the fact that you don't have Ohio State on this list. Now the Buckeyes may not have a "signature" win at this point in time, but how can you ignore their balance and work on the defensive end of the floor? While LaQuinton Ross still needs to show that he can consistently provide scoring for this group, the fact of the matter is that they have multiple options capable of leading the team in scoring on any particular night. There's Ross, Lenzelle Smith Jr., Aaron Craft and Shannon Scott right now, and they've received a nice boost off the bench from Amedeo Della Valle and Marc Loving at various points of the season.
And I don't think we can overlook the strides that Amir Williams has made either. He's no world-beater by any stretch of the imagination, but he's played much better basketball of late than at any point in his Ohio State career to date. Since your question stated "at this very moment" I'd take Ohio State over Florida, even with the Gators's showing against Kansas and the fact that they're some Shabazz Napier heroics away from being undefeated. Until they get Chris Walker (if that happens) Florida's about as "complete" as they'll be this season, and they're going to be very good. But I'd take Ohio State over them at this point in time.
RD: No one over here is overlooking Ohio State. Trust me on that. I know how good they can be defensively.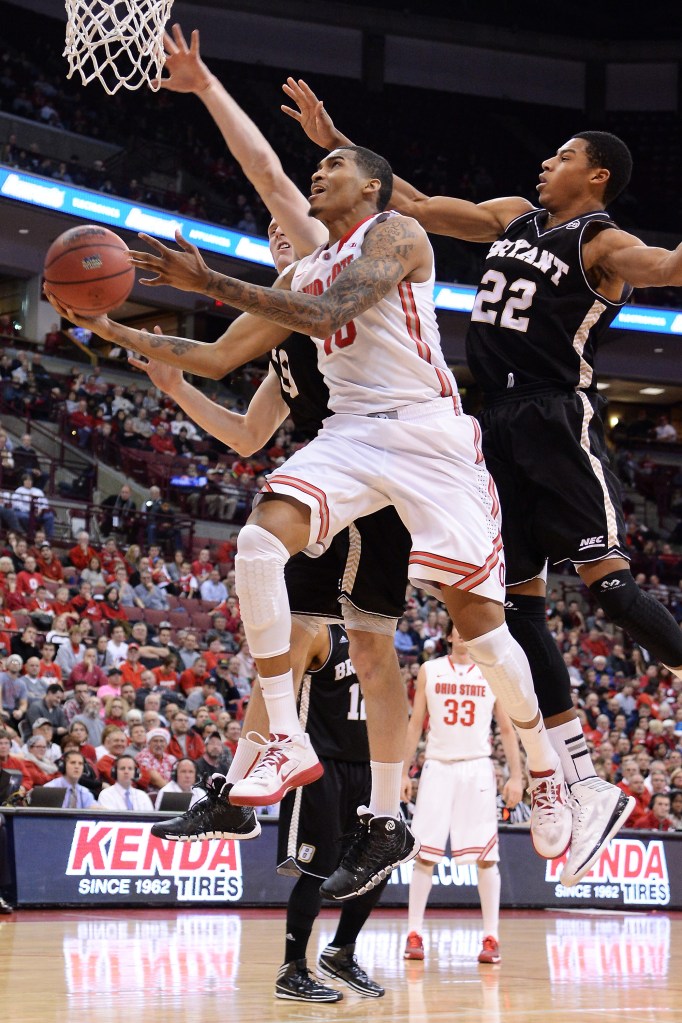 That said, I need you to keep something in mind: the team you're talking touting is going to be relying on LaQuinton Ross to be their difference maker. Ross has played the last couple of weeks. He played well during the NCAA tournament, too. But you're really rolling with a team that is going to have to trust LaQuinton Ross to be a consistent offensive weapon over a team that just put a 29-4 run on Kansas?
Bottom line is this: Ohio State might be the best defensive team in the country. But Florida, given their length, athleticism and versatility, ain't all that far behind, mainly because they can give a number of different looks on that end of the floor. That extended 1-3-1 looked pretty damn impressive. The difference, in my opinion, comes offensively. Scottie Wilbekin, Kasey Hill, Michael Frazier and new and improved Casey Prather and Dorian Finney-Smith is quite formidable.
Here's my question: Would you rank Ohio State over Wisconsin?
RJ: In regards to Florida, I'd like to see a little more from them as the group is "currently" constituted. They looked phenomenal at times against Kansas the other night, but once again their time on the floor as a unit has been limited. With that being the case, we could very well be back here at some point wondering if they're the best team in the country. That wouldn't surprise me one bit. But you asked who I'd take right now, and that would be Ohio State.
As for whether I'd take the Buckeyes over Wisconsin, that answer would be "no." A big reason why: who guards Frank Kaminsky? That's a question many teams will struggle with given Kaminsky's performance to this point in the season, as he's very comfortable stepping out beyond the arc and firing away (connecting at a good rate to boot). It's one thing to defend a big on the block, because that's where they're "supposed" to be in theory. But when faced with a big who can score inside and out, the task becomes all the more difficult. And there's also the Josh Gasser factor, as his return has given the Badgers a piece they really needed last season. If they need scoring he'll give them that, and the same goes for defense, distributing the ball to open teammates and leadership. Right now I'm taking Wisconsin, who may be sold short by those who simply say "oh, they'll finish top four in the Big Ten again because that's what Bo Ryan does."
This group's better than that, and they're capable of accomplishing more. Where do you stand on the Ohio State/Wisconsin question?
RD: #TeamWisky. I don't know what it is about this group, but they look like so much more than just another good Wisconsin team. Is it Sam Dekker? He's been awesome this season. Is it the three-guard look they've been using? Is it the emergence of Kaminsky?
I'll tell you what it's not: Wisconsin becoming some uptempo, fast-breaking team. I'm going to go on a bit of a rant here, so forgive me. Wisconsin is still the same old Wisconsin on the overwhelming majority of their possessions. They didn't turn into Loyola Marymount in the Hank Gathers and Bo Kimble days, not even close, and I really wish people would stop saying that. According to Synergy, 8.7% of Wisconsin's possessions come in transition, up from 6.4% last season. By comparison, 28.4% of BYU's possessions come in transition. They are a fast-breaking team. Wisconsin, who ranks 312th in tempo and 346th in average length of offensive possession, is unequivocally not. One or two more fast breaks per game is not a shift in identity.
So let's just go ahead and put that theory to bed.
This is the same old Wisconsin doing the same old Wisconsin things, only they're doing them better now.
So you're good with Arizona and Syracuse as the nation's two best teams right now?
RJ: Agree completely on your Wisconsin point. Trotting a little more often doesn't mean that you're a running team, and you know what? There's absolutely nothing wrong with that. They do what's best for them, and it works.
Now on to your question. Right now I'd say that Arizona and Syracuse are the two best teams in the country. And the good thing for both is that there's still room for improvement. Arizona can still use a shooter, and whether that comes from a source safely within the rotation or one whose spot seems to fluctuate (Gabe York played just six minutes vs. UNLV) remains to be seen. But they have the length and athleticism to be an elite defensive team, and there's plenty of skill at Sean Miller's disposal.
As for the Orange, I see a team that may only get better (barring injury, of course) with Tyler Ennis gaining experience and Trevor Cooney adjusting to a far more prominent role than the one he had last season. Add in the consistent C.J. Fair and a reserve in Jerami Grant who may be on the "Dion Waiters Plan" (from 6th man to the draft lottery) and you've got a very good quartet to start with. Add in the big men and Mike Gbinije and Syracuse has the look of a team capable of winning it all.
Your thoughts?
RD: The question that we all had with Syracuse heading into the season had to do with their back court. Were their guards actually going to be good enough to lead them to the top of the ACC?
Well … that question looks dumb at this point, because I think that there is a valid argument to make that Tyler Ennis and Trevor Cooney have been the best back court in the country this season. With Cooney draining threes like he's the second-coming of Gerry McNamara and Ennis notching these kind of numbers — 11.2 ppg, 4.9 apg, 1.0 t/o's, 42.9% 3PT — the Orange look scary-good.