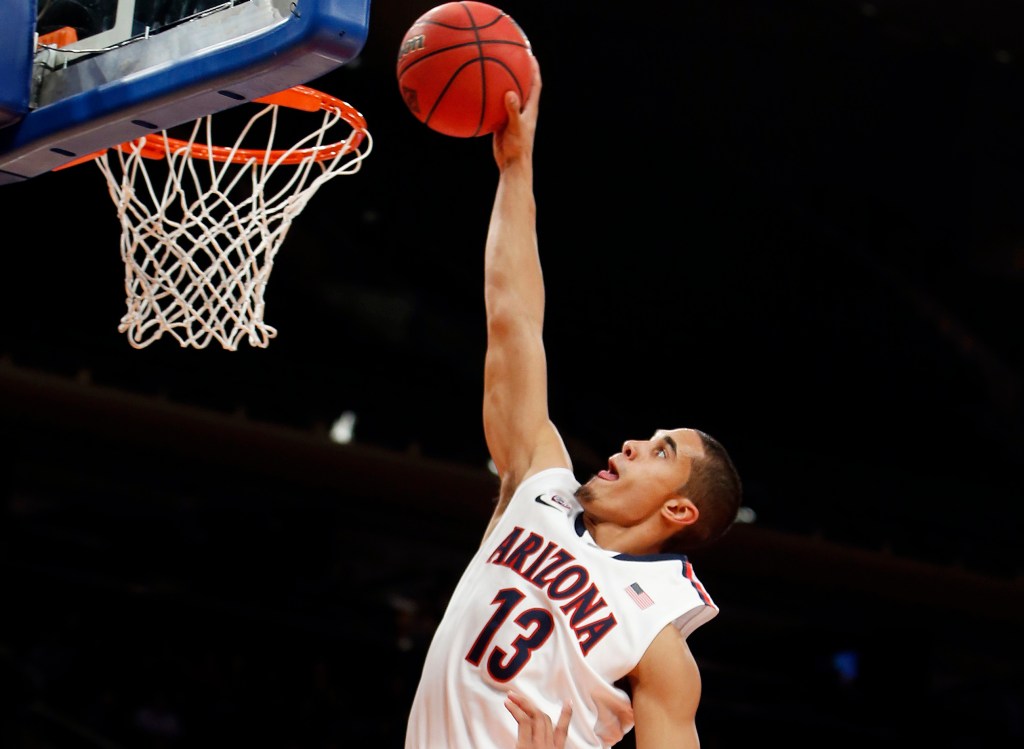 Entering the season, there seemed to be a consensus top five among pundits: Michigan State, Duke, Louisville, Kentucky and Kansas. A month into the season, all five of those teams have lost at least one game. Four teams have jumped all five in our top 25 rankings: Arizona, Syracuse, Wisconsin and Ohio State.
1. Arizona (9-0, LW: No. 2): The Wildcats have been the best team in the country this season. I think that's inarguable at this point. They solidified their standing with wins over Texas Tech and UNLV this week.
2. Syracuse (9-0, LW: No. 4): Coming off of a win in the Maui Invitational, the Orange put a whooping on Indiana in the Big Ten/ACC Challenge. Trevor Cooney and Tyler Ennis look like they may be the best back court in the country.
3. Wisconsin (10-0, LW: No. 9): By March, I don't think Wisconsin will be the No. 3 team in the country. But they've beaten good opponents over and over again this season. It's time to recognize that.
4. Ohio State (8-0, LW: No. 5): The Buckeyes have been dominant defensively. Offensively, LaQuinton Ross has woken up. He's averaging 20.0 points in his last three games.
5. Louisville (8-1, LW: No. 6): Louisville put up 113 points on Louisiana-Lafayette on Saturday, but we're still waiting for the Cardinals to notch an elite win.
6. Michigan State (7-1, LW: No. 1): The Spartans saw their No. 1 ranking disappear with a 14-point loss to North Carolina at home. The Spartans need to get healthy in a hurry.
7. Duke (7-2, LW: No. 7): The Blue Devils beat Michigan on Tuesday in the Big Ten/ACC Challenge. It remains to be seen whether that will be considered a good win by the end of the season.
8. Kentucky (7-2, LW: No. 3): The Wildcats may still end up being the best team in the country come March, but they're going to have to find a way to shore up their defense if they want to make that happen.
9. Oklahoma State (8-1, LW: No. 10): The Pokes bounced back from a loss to Memphis by smacking around South Carolina on Friday night.
10. Kansas (6-2, LW: No. 8): The Jayhawks lost at the buzzer to Colorado, but Andrew Wiggins finally looked like "Andrew Wiggins".
11. UConn (9-0, LW: No. 11)
12. Wichita State (9-0, LW: No. 12)
13. Oregon (8-0, LW: No. 13)
14. Villanova (9-0, LW: No. 14)
15. Baylor (7-1, LW: 18)
16. Memphis (6-1, LW: No. 15)
17. Florida (6-2, LW: No. 17)
18. Iowa State (7-0, LW: No. 20)
19. Gonzaga (8-1, No. 21)
20. Iowa (9-1, No. 22)
21. UMass (8-0, No. 24)
22. San Diego State (7-1, No. 25)
23. Colorado (9-1, UR)
24. North Carolina (6-2, UR)
25. Pitt (8-0, UR)