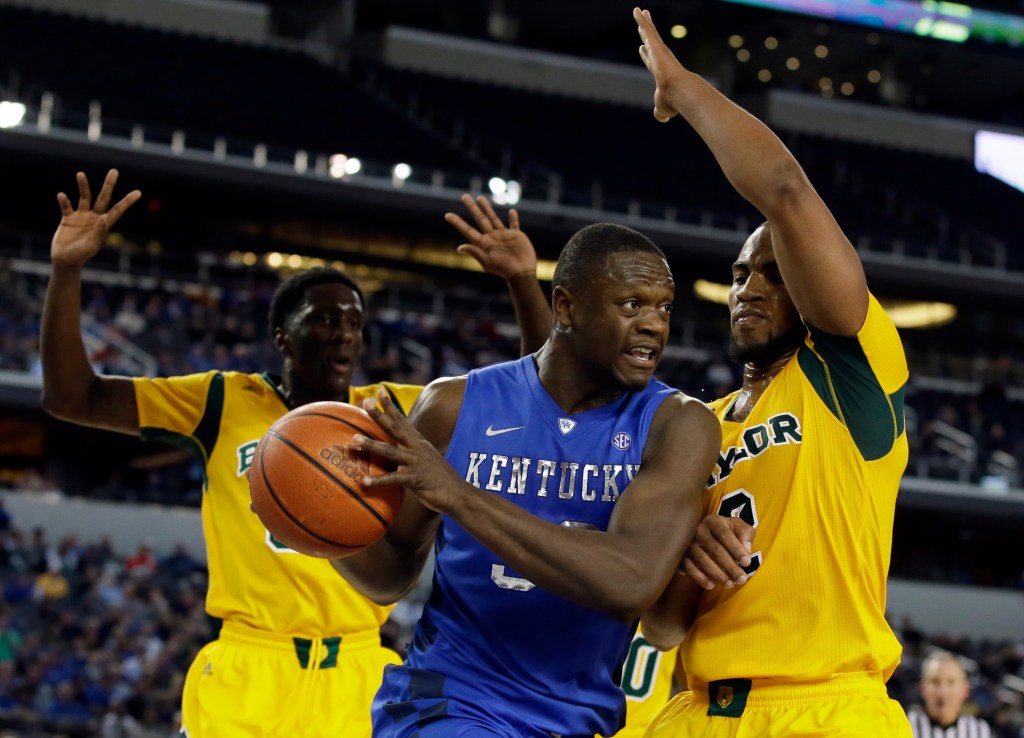 Last weekend, when John Calipari brought his team up to the Barclays Center to take on Providence, he made it a point to talk about how much he team has to learn defensively.
In fact, in both the press conference he gave prior to the game and his postgame chat with reporters, Coach Cal used the exact same anecdote when describing how little his team knew about defense. He tried to run a simple, fundamental drill where his team does defensive slides with their hands behind their back — it forces you to move your feet and not play defense with your hands — and his kids had never done it before.
They had never been drilled on the basics, the fundamentals, of playing man-to-man defense, according to Cal, and while some of that is just Kentucky's head coach doing and saying the things he does in the media, there is some truth to it.
The only team that Coach Cal has had in the KenPom era that was worse defensively than this group has been through a month of the season was (you guessed it) last year's team. Generally speaking, Kentucky has been awesome because Cal has gotten great athletes to play great defense, and that just hasn't been the case this year.
Friday's loss to Baylor was just about their worst effort yet.
The No. 3 Wildcats allowed No. 20 Baylor to grab 54.5% of the available offensive rebounds — if Baylor missed a shot, they got the rebound more than half the time — and they notched not a single steal in a 67-62 loss to the Bears.
Those weren't the only problems that Kentucky had on display. For starters, they were shredded by Baylor's pick-and-roll action, which is becoming more and more common in the collegiate game. Baylor got a number of wide-open dunks for Cory Jefferson and rhythm, 15-foot pull-ups for Kenny Chery using the pick-and-roll. That's what those two guys do. That's what's on the scouting report, and Kentucky looked like they had never seen it before.
The Wildcats also did the kind of things that freshmen do. They missed critical free throws. They blew box out assignments. Their offensive execution down the stretch was pitiful. In the final 13 minutes, Kentucky made all of two field goals. Those are the mental lapses that will turn John Calipari's hair the color of Dave Thomas' by the end of the season.
But Kentucky's struggles on the defensive glass given all of their size and their issues forcing turnovers given all of their athleticism are the two biggest red flags for this group. The Wildcats are 203rd in defensive rebounding percentage, they are 269th in defensive turnover percentage and they are 330th in steal percentage.
It's quite simple, really. Kentucky isn't ending possessions, either by corralling a rebound or forcing a turnover. That not only means that they are giving their opponents too many opportunities to score, they are costing themselves a chance getting easy buckets in transition. That's not a recipe for winning games.
Think about it like this: Kentucky just shot 8-for-17 from three, had 19 assists on 21 field goals and just nine turnovers.
And they lost.
But they lost playing their worst defensive game of the season to a top 15-20 in what was more-or-less a road game. That's saying nothing of the ice storm that crippled the Dallas area and kept quite a few Kentucky fans in Kentucky.
This wasn't exactly a step forward for Kentucky. But it certainly wasn't a sign that the Wildcats are destined for the NIT again.