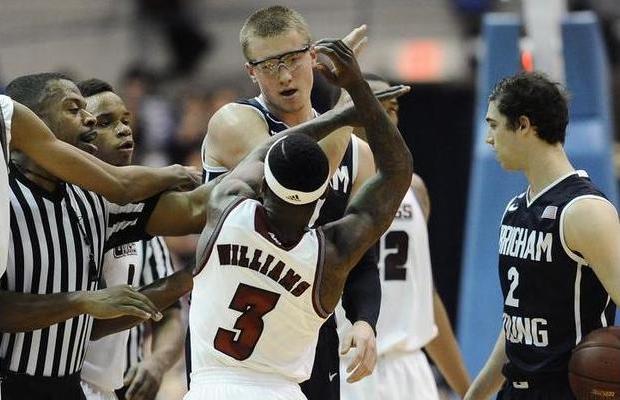 SPRINGFIELD, Mass. –  The game had been over for nearly 20 minutes, though, UMass senior point guard Chaz Williams clearly was not done dishing out the assists. He was the last to be seated at the postgame press conference, as he ventured over towards the table of Poland Spring water bottles, grabbed three extra ones and handed them to Sampson Carter, Maxie Esho and his head coach Derek Kellogg before he sat down and faced the rows of reporters and cameras.
Moments earlier, Williams had exited the floor to a standing ovation from the 7,331 fans in attendance after he poured in 32 points and recorded 15 assists, both career highs — with only one, yes, one turnover — in the Minutemen's 105-96 win over BYU on Saturday afternoon at the MassMutual Center in Springfield, Mass.
He accounted for 66 points on the day.
"My teammates made the shots," Williams. "Fifteen assists, I credit them guys. They were open and they always tell me, 'If I'm open, I'm going to make it for you.' And that's what they did tonight."
Williams made plenty of his own shots on the afternoon. In the first half alone he had 16 shots, off a perfect 5-for-5 (3-for-3 on threes) shooting. He ended the game 9-of-14 from the field with a career-high five triples on the evening. And although the talented BYU back court of Tyler Haws and Matt Carlino went for 25 and 23 respectively, the Cougars 2-3 zone defense was no match for the Minutemen's offensive attack.
The Minutemen and Cougars played at a rapid pace with UMass winning the shootout, knocking down 56 percent of its attempts. In the halfcourt set, UMass was able to beat the BYU zone, with not only 3-pointer shooting, but also getting the ball into the paint.
The Minutemen took an 11-point lead into the locker room, and after BYU tried to climb back into the game early in the second half, it quickly became the Chaz Williams Show, a showcase of drives, dimes and threes.
UMass is No. 21 in the latest AP poll — ranked for the first time since 1998 — and will likely see  a bump when the new ones come out next week. Starting the season 8-0, with wins over then No. 19 New Mexico, LSU and now BYU, the Minutemen have a good early season resume that should help them reach postseason expectations.
"The guys around us, they're hungry for more," Williams added. "Every day can be a loss, so we need to keep our foot on the gas. We say there's a target on our back, but we still have a target on everybody else's back because we are chasing one thing and that's making it to the NCAA tournament."
Williams is the key piece to that potential tournament run. He's a two-time Atlantic 10 first team selection, and currently listed on the Bob Cousy Award watch list. But more importantly, the Brooklyn native is the Minutemen's fearless leader. If you needed any proof of that, go ahead and rewind to nine minutes remaining in the first half.
Raphiael Putney was whistled for a foul, as Haws hit the deck. A scuffle began after Haws pushed aside Putney, who was trying to avoid stepping on Haws. Players from both sides surrounded the scene, with Williams and BYU center Eric Mika, going toe-to-toe. A tale of the tape would show that Mika stands 6-foot-10, 230-pounds while Williams checks in at an exaggerated 5-foot-9, and weighs 175.
"I expected that," Carter said. "I've been with him everyday for three years now. That's our point guard. He's got some fire in his heart and I know he's not going to back down. His energy is so contagious, just seeing that, that automatically fires us up."
Williams' dazzling performance cements his place as one of the more exciting players to watch this season. UMass has 10 more televised games this year, and if Williams and UMass continue its early season play, games on TV will extend into March.