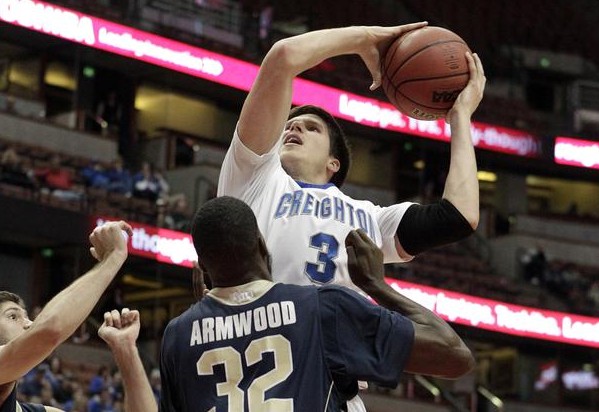 Who is the best shooter in the country?
It's a tough question to answer, isn't it? Does being a "shooter" simply mean merely being a high-level marksman from beyond the arc? Can a player who thrives in the mid-range but rarely ventures out into three-point land be eligible? How heavily should we be valuing stats like efficiency and effective field goal percentage when taking all of this into account?
One number that we like to use is "180″. How do you become a 180 shooter? By shooting 50% or better from the field overall, 40% or better from three and at least 90% from the charity stripe. From this point forward we'll track this until the end of the regular season, providing weekly updates as well as a look into how some of the nation's best find (and connect on) their quality looks. 
As noted in the first edition of this series in early November, Creighton senior forward Doug McDermott has been one of the nation's best all-around shooters throughout his career. As a junior the national Player of the Year candidate shot 54.8% from the field, 49.0% from beyond the arc and 87.5% from the foul line, and he's within striking distance of each number as a senior.
Despite seeing his shot percentage (the percentage of a team's shots that a player attempts) increase from 28.4% as a freshman to 35.2% as a senior, McDermott's maintained a true shooting percentage of over 60% (over 67% in his sophomore and junior seasons) throughout his career. To say the least, the 6-foot-8 McDermott can shoot the basketball. Those numbers are what made Sunday's outing, a 2-for-12 (seven points) night in a 60-53 loss to George Washington in the third-place game of the Wooden Legacy, so surprising.
The Colonials were able to use their length and various defensive looks to make things difficult for the All-American, with his two makes being right at the rim. With players such as Isaiah Armwood capable of making life uncomfortable, many of the 12 shots McDermott attempted were of the challenged variety. Five of McDermott's ten misses were in the painted area, with the other five coming from beyond the arc (four of those were at the top of the key).
One of McDermott's greatest strengths is his ability to make shots from anywhere on the floor, with Creighton's offense placing him in advantageous positions, and George Washington was able to essentially limit him to shooting from two areas of the floor*. By comparison, in Creighton's 86-80 loss to San Diego State two nights prior McDermott shot 11-for-18 from the field (30 points) with those 18 attempts coming from all over the floor. Like George Washington, San Diego State has multiple players with the length needed to distract shooters.
But unlike the Colonials the Aztecs weren't particularly successful in limiting where McDermott attempted his shots, and for a shooter where their shots are taken is of high importance. How will this affect "Dougie McBuckets" going forward, especially once the Bluejays begin conference play in their inaugural season in the Big East? Opponents will look to keep him from moving freely about the floor, but as McDermott (with the help of his teammates, of course) has shown throughout his career that's an objective easier said than done.
* – info found thanks to CBSSports.com shot charts
This Week's Top Ten (note: players must be eligible to be ranked in all three shooting categories)
1) G Austin Tillotson (Colgate)
2013-14 percentages: 66.0% FG, 64.3% 3PT, 88.0% FT
True shooting %: 76.8%
Shot %: 18.6%
Playing his first season at Colgate after sitting out the 2012-13 season due to NCAA transfer rules (he began his career at Monmouth), Tillotson's been a valuable piece for the 4-2 Raiders. While he isn't a primary scoring option if looking at shot percentage (Ethan Jacobs and Murphy Burnatowsky are the leaders in this area), Tillotson's made the most of his opportunities.
2) G Austin Hamilton (Elon)
63.8%, 61.1%, 77.3%
True shooting %: 76.6
Shot %: 16.0
Like Tillotson, Hamilton's made up for quantity (sixth on the team in shot percentage) with quality, as he's currently the clear team leader in both true shooting and effective field goal (75.5%) percentages. But based upon his numbers in those categories during his freshman (52.3%; 48.7%) and sophomore (44.3, 40.8) you have to wonder if those percentages will drop as the season wears on.
3) G Anthony Brown (Stanford)
57.1%, 59.4%, 80.6%
True shooting %: 72.0
Shot %: 19.7
With Andy Brown forced to return due to a fourth major knee injury, the Cardinal needed someone to step up in his absence. Enter Anthony Brown (no relation), who missed all of last season due to a hip injury. Brown averaged just over eight points per game in each of his first two seasons on The Farm; he's up to 16.5 ppg as a redshirt junior.
4) Seth Hinrichs (Lafayette)
54.8%, 50.0%, 91.7%
True shooting %: 70.2%
Shot %: 32.6%
Of the players on this list Hinrichs is third in scoring with an average of 22.3 points per game. After seeing his true shooting percentage drop nearly five percentage points from his freshman to sophomore season Hinrichs is up over the 70-percent mark in that category, and he's the only player on this list above each of the 50/40/90 benchmarks.
5) F Rodney Hood (Duke)
58.9%, 53.6%, 82.5%
True shooting %: 74.0
Shot %: 22.3
There were some who questioned just how much of an impact Hood could have based upon his one season at Mississippi State. There's no further need to do so, as Hood's proven himself to be a much-improved offensive player. Of course, it helps to play alongside Jabari Parker with head coach Mike Krzyzewski devising strategies that lead to quality scoring opportunities.
6) Nic Moore (SMU)
56.0%, 60.0%, 77.8%
True shooting %: 74.8
Shot %: 19.7
Moore was expected to be an immediate impact transfer for the Mustangs, as he provides them with the lead guard they were missing in 2012-13. And in comparing his start to this season with his freshman campaign at Illinois State, Moore's true shooting and effective FG% (74.0) numbers have increased dramatically (56.3% and 50.4% as a freshman).
7) G Zach LaVine (UCLA)
62.3%, 55.9%, 71.4%
True shooting %: 77.9
Shot %: 21.9
One of two freshmen on the list, LaVine's proven to be one of the nation's best bench scorers due to his ability to score from just about anywhere on the floor. And with Kyle Anderson entrusted with running the show, LaVine can focus primarily on hunting looks within Steve Alford's offense. But much of the early success has come against an underwhelming slate, so we'll learn more about LaVine on Saturday when the Bruins visit Missouri.
8) G Shabazz Napier (UConn)
50.6%, 60.0%, 76.9%
True shooting %: 63.3
Shot %: 22.7
Given how much the Huskies rely on Napier, it's a bit surprising to see that he's shooting the ball so well thus far. He's ranked third on the team in shot percentage (behind DeAndre Daniels and Omar Calhoun), and Napier's true shooting and effective field goal (59.4%) percentages are the best of his career by a decent margin.
9) F Cleveland Melvin (DePaul)
53.7%, 57.1%, 75.0%
True shooting %: 65.3
Shot %: 27.0
The Blue Demons have struggled to break through in the wins department, but in the senior forward Melvin they've got a player who may be a bit undervalued. Melvin's shot percentage is three points lower than in any of his three seasons prior, but that's worked to his advantage as he's taking better shots and making them at a higher clip. Will that continue when Big East play begins?
10) F Doug McDermott (Creighton)
50.0%, 44.2%, 85.7%
True shooting %: 62.4
Shot %: 35.2
See above.
Five shooters who rarely attempt shots inside of the three-point line 
1) F Scott King (Stony Brook): Of the 17 field goals King has attempted, 14 have been three pointers with the sophomore making nine.
2) G Jeff Elorriaga (Boise State): 30 of Elorriaga's 35 field goal attempts have come from beyond the arc, and he's made 19 of those shots.
3) Jack Flournoy (Northern Kentucky): Flournoy is shooting 60% from three and just 4-for-11 (36.4%) inside of the arc.
4) G Naz Long (Iowa State): Long's been a revelation for the Cyclones after playing sparingly last season, with 32 of his 37 shot attempts (18 makes) being three-pointers.
5) Riley Grabau (Wyoming): Second in the nation in three-point percentage (64.9%), Grabau's made just 38.9% of his two-point shot attempts.