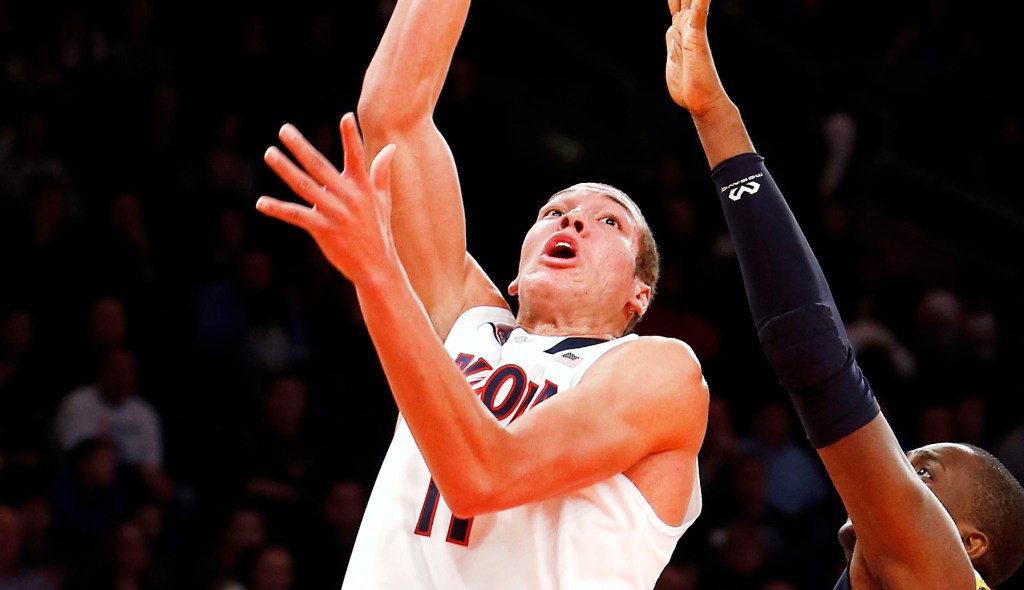 From Nov. 20th thru Dec. 1st, I'll be on the road, hitting 21 games in 11 days. To follow along and read my stories from the road, click here.
NEW YORK — The headlines this season have been dominated by talk of 'The Big Three'.
Andrew Wiggins, Jabari Parker and Julius Randle. Which freshmen is the best player in the country? Who do you take No. 1 in the draft? Who will be the best player five years down the road? Is Wiggins T-Mac or Scottie Pippen? Is Parker Paul Pierce or Carmelo? Is Randle Chris Webber or Zach Randolph? Who wins a game of horse? If locked in a room for three hours with nothing but an X-Box 1 and FIFA 14, who leaves that room with the best record?
OK, those last two may not be real, but you get my point. The coverage that those three have received over the first three weeks of the season has been exhaustive, to the point that the average fan may not realize that those three are far from the only potentially great players in college basketball this season, let alone the only great freshmen.
On Friday night in Madison Square Garden, No. 4 Arizona's freshman phenom got his first chance to showcase his ability on national television, as the Wildcats took on No. 6 Duke in the finals of the Preseason NIT on national television. Arizona won, 72-66, and a quick glance at the box score will make it seem as if Gordon blew his chance.
10 points on 4-for-6 shooting to go along with seven boards?
(MORE: Duke's lack of size should not an excuse any longer)
That's good. It's certainly not head-turning. He may get his name put on Sportscenter's graphic at the end of the highlights. He may not. "We as a group have to find ways to use his offensive talent even more," head coach Sean Miller said.
But that stat-line doesn't do his performance on Friday justice, because Gordon was arguably the most important player on the floor for Arizona.
Think about it like this: Jabari Parker has been the best scorer in the country this season. He entered the game averaging 23.6 points and shooting 60.9% from three in games. Those comparisons to Melo and Pierce? Well, they're valid, at least in they're ability to score the ball. He can overpower a smaller opponent in the post and make a bigger defender look silly on the perimeter. I'm not sure there is a better all-around offensive talent that's not currently getting an NBA paycheck.
And Gordon locked him down. For the first time this season, Parker didn't score 20 points. He did finish with 19, but he was 7-for-21 from the field and 0-for-5 from three. The most important stat? Gordon picked up his second foul with 6:58 left in the first half and didn't get off the bench afterwards. In that time, Parker was 4-for-6 from the floor and scored of those 19 points. With Gordon on the floor, Parker was 3-for-15 from the field.
Gordon has the potential to be a game-changer on the defensive end of the floor because of his athleticism and versatility. There aren't many players out there that he can't guard.
But that's not the only place he effects the game for the Wildcats.
"Aaron Gordon isn't going to score 30," Miller said. "He's not a volume shooter. He's a basketball player. He guarded Hood and Parker. He finished with seven boards. He made a couple of the best passes on offense. He made a big three point shot."
Most importantly, Gordon in unselfish. He doesn't care if he doesn't score 30 points. He doesn't force offense. It seems, at least from my view court side, that Gordon is solely concerned with one stat: the final score. "He's a great teammate and everything flows better when he's out there," Miller said. It's worth noting here that Gordon also added four assists and two blocks.
What become evident on Wednesday night was that Arizona is an elite defensive team. They have size inside, they have guards than can really hawk the ball on the perimeter and they have two of the most versatile players in the country in Gordon and Rondae Hollis-Jefferson. It's incredible, when you think about it. The Wildcats were able to matchup with Duke when they played five perimeter players, but they can also matchup with Baylor's biggest lineup.
There aren't many teams in the country that are capable of doing that.
Arizona is, and Gordon is the biggest reason why.
So he may not put up the same numbers as the likes of Parker, Randle or Wiggins and his ability may not be readily apparent in a box score, but rest assured, his value to this Arizona team cannot be under-stated.