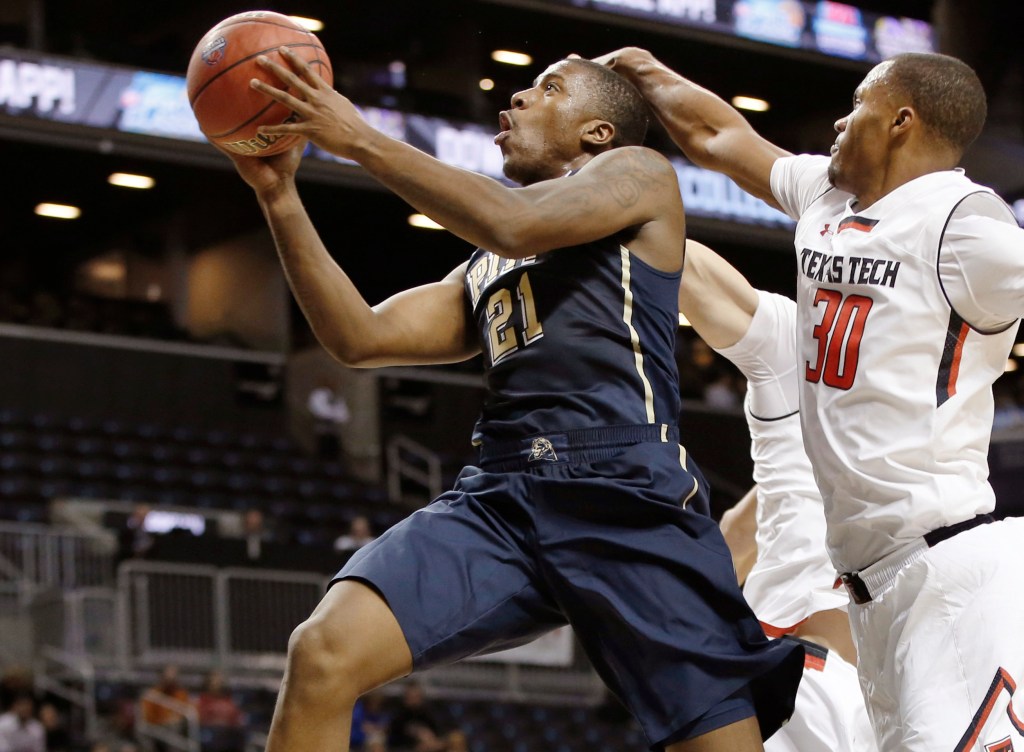 BROOKLYN — On Monday, after watching Pitt put a 23 point beatdown on Texas Tech, I wrote that the Panthers looked like they will be the team that takes advantage of some of the struggles the powers in the ACC have had this season.
On Tuesday, Jamie Dixon's  club made me look smart. In their first real test of the season, the Panthers methodically took control against Stanford in the first half, leading 43-28 heading into halftime, before closing out an 88-67 win. Every time the Cardinal looked like they were on the verge of a run to get back into the game, Pitt had an answer, and more often than not, it was Lamar Patterson that provided that answer.
Patterson is a guy that you've probably heard of before. A fifth-year senior, Patterson is one of those guys that feels like he has been in college forever. But he's always been a role player, a piece in the Panther machine. He's been a glue guy, a skilled-but-inconsistent wing that has tantalized with his versatility just as much as he's underwhelmed with his play at times.
But he's the key to the Panthers this year.
This Pitt team lacks star power. Jamie Dixon has never been a guy that goes after players based on where they rank on top 100 lists, opting to instead pursue guys that are willing to wait for their time to shine while spending two or three, and sometimes four, years to get their chance. And while that's worked for him, it creates a scenario where it's tough to peg exactly where the production is going to come from.
Now we know. In two games in Brooklyn this week, Patterson averaged 23.5 points, 5.0 assists, 3.0 boards and 3.5 blocks. On the season, he's now averaging 17.0 points, 5.3 assists, 4.3 boards and 1.5 steals while shooting 46.7% from three and 50.0% from the floor.
"He's a big time player," Stanford head coach Johnny Dawkins said of Patterson. "I always look at big time players and what they do on big stages. Tonight, playing for a championship, he showed who he is. He wasn't rattled, he played with poise all game. It just tells you who he is. He's a winner."
That's who Patterson is. He's not Andrew Wiggins and he's not Jabari Parker. He's got a well-rounded skill-set, but he's not a guy that is going to be shooting up NBA draft boards because of his overwhelming physical tools or an supernatural ability to put the ball in the basket. He's smart, he's fundamentally sound, he knows the game and he knows his game.
Most importantly, he knows what his role is on this team. He's waited his turn, and now it's his time to lead.
According to Dixon, one of the biggest reasons that Patterson is playing so well is that he put in the work this summer to get himself into better shape.
"He always ahd skills, he could pass and shoot, but he's a better athlete. He's in better shape right now," Dixon said. "That comes from physical maturity and also mental maturity. He's taken that challenge. We set a goal for him, and he reached it. It's been a battle, but he got to it. That's why he's quicker, stronger, jumps better."
"Now we call him an athlete, it's been our running joke."
Pitt wasn't thought of as a contender for the ACC title in the preseason, and while they've been arguably the most impressive team in the conference through the season's first three weeks, the Panthers are still playing with a chip on their shoulder. They still consider themselves the underdog, and they won't be quick to forget all the people that had them in the bottom half of the league prior to the start of the season.
"A lot of people have written us off. We see those things," Patterson said. "I'd be ignorant if I said we didn't [pay attention to preseason rankings]. It's obvious. It's out there. Coach talks about it in the locker room. It's extra motivation."
"We just want to go out there and show people what we can do."
It's only six games into the season, but those people have taken notice of Pitt.
And of Lamar Patterson.