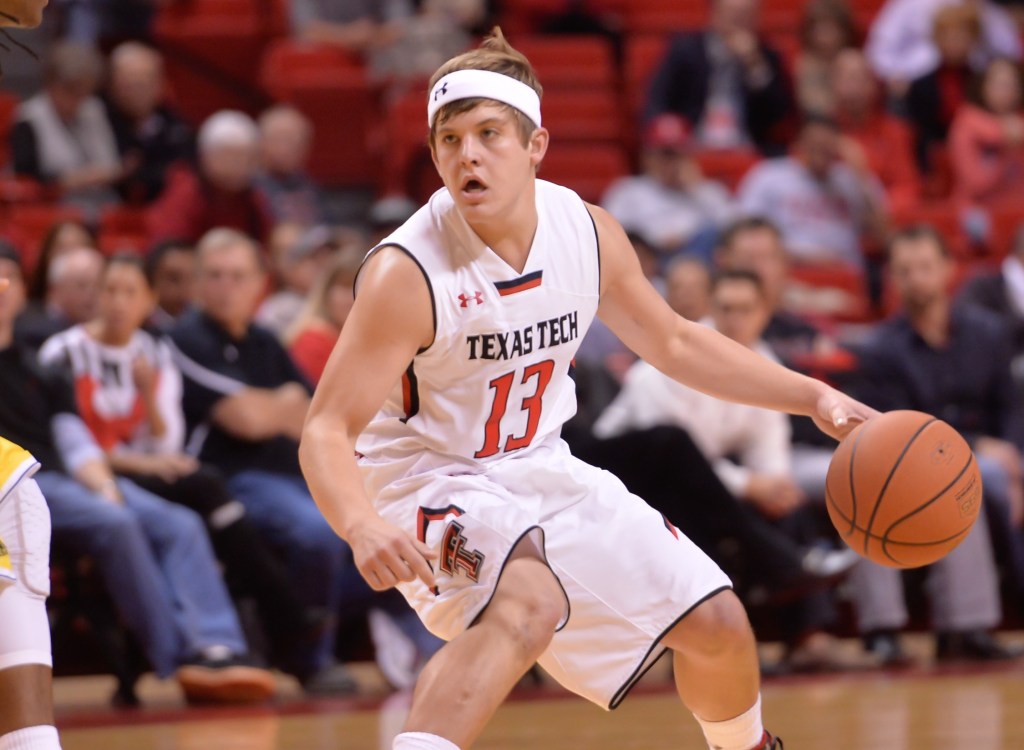 BROOKLYN — Every walk-on for every team in the country has a story.
They aren't supposed to be playing high-major basketball. They are, essentially, paying for the right to go through insane preseason workouts and to get whipped up on in practice on a daily basis just to be a glorified cheerleader at the end of the bench. They are fan favorites that get a court side seat and a shot at glory during the end of a blow out wins in exchange for the student loans.
Texas Tech's Luke Adams is one of those kids. He's listed at 5-foot-9 but probably stands closer to 5-foot-7 on a good day, his build more reminiscent of a computer programmer than a Big 12 athlete. Yet Adams has managed to carve out a role for himself with the Red Raiders. He averaged 19.4 minutes as a freshman, but as Tech has gotten better, he's seen some of those minutes cut. This season, he's played 20 minutes in seven games.
But that's still impressive coming from Adams.
Because what I haven't told you about him yet is that he was born deaf.
————————————————————————————————
Luke Adams' defining characteristic as a player isn't his height and it's not his hearing impairment.
According to head coach Tubby Smith, it's his passion, his work ethic. He cares about basketball, he cares about Texas Tech, and he cares about his future in basketball. That's not something that can be taught.
"Seeing how tough he is. He's a very committed young man to deal with what he has to deal with with his hearing impairment," Smith, who took the Tech job this spring, told NBCSports.com when asked what has impressed him the most about Adams.
There's a reason that Adams has such resolve. Adams' parents didn't learn he was deaf until he was two years old. His parents were told by doctors as a child that he would never be able to read or write past the second grade level. They were told to enroll him in a deaf school, to teach him sign language and to prepare for a life with a child that would not be able to hear or speak normally.
Well, Adams' parents decided they weren't going to accept that. (Adams' father is the Director of Basketball Operations for the Texas Tech basketball program, but he's declined every interview request regarding his son since he took the position.)
"They said no, we're going to try to teach him and do our best to give him [a regular life] and make the most of the opportunity," Adams said. They got him a speech therapist and sent him to a regular school. He got a hearing aid for his left ear and, when he was 11, he received a cochlear implant in his right ear.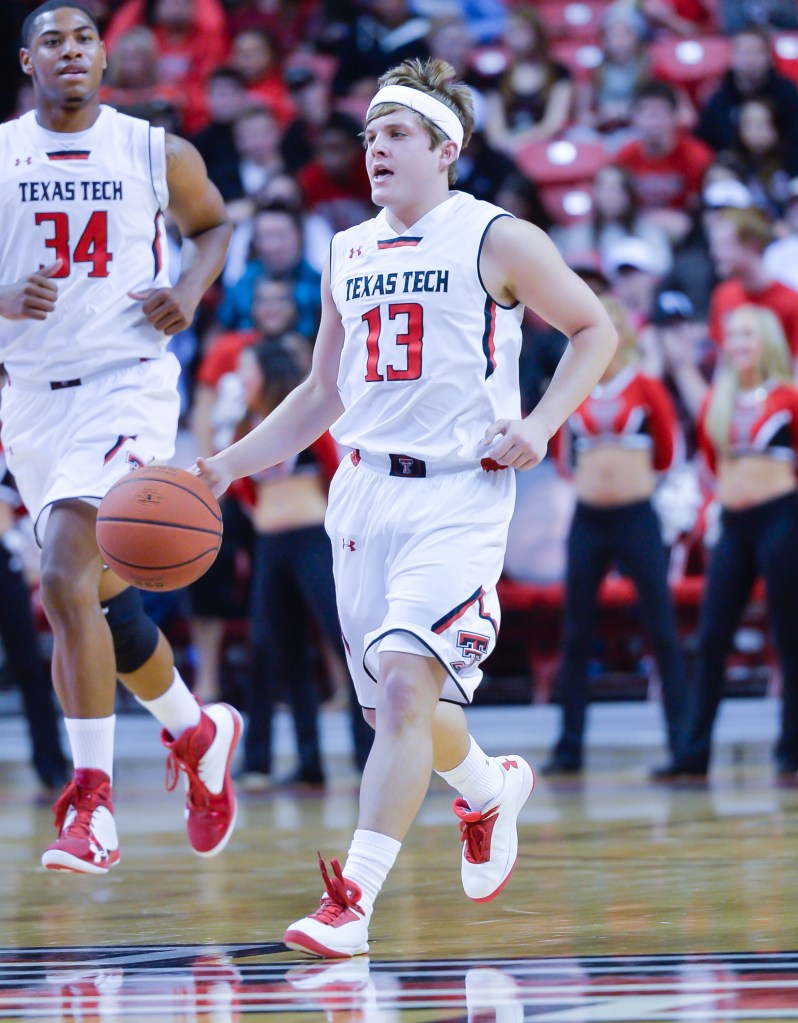 It was tough to deal with being the deaf kid, although Adams got through it despite being held back in first and second grade. All of the work paid off, as Adams doesn't have a noticeable speech impediment today.
When you can make it through all of that as a kid, battling for a roster spot as a 5-foot-nothin' walk-on with Bama Bangs and a head band that holds hearing aids in place doesn't seem all that daunting.
And to Adams' credit, he makes an effort to give back. He'll visit deaf schools and talk to kids that are currently going through what he's been through. He's walking, talking, hearing proof that being deaf is not a deterrent to following your dreams if you don't allow it to be. Don't believe me? Adams is now on scholarship at Texas Tech.
"A lot of people ask me to go out there and speak," Adams said. "Anything that I can do to give back. When you're growing up, all you want is hope, so anything I can do for those kids, I'm willing to do. I spoke to these fifth graders, and the first thing I said was 'Don't take no for an answer.'"
Adams may have the kind of stubborn, dogged work ethic that will allow him to accomplish just about anything that he wants out of life, but he's also smart enough to be a realist. He could spend every waking hour for the next two years of his life in the gym, but he'll never be an NBA player. There are certain physical limitations that an NBA prospect cannot overcome. Scouts wouldn't give a second thought to his hearing aids if he was a foot taller.
So Adams has dedicated his life to pursuing another goal: becoming a Division I basketball coach. That's part of the reason that he decided to go to Texas Tech. He could have gone the JuCo route and, as the leading scorer in Texas 3A high school basketball as a senior, there were assuredly programs at lower levels — North Texas and UT-Arlington, among others, according to Adams — that had offered him a scholarship.
But he wanted to learn from the best. He wanted to build a network at the highest level of the sport. And while Texas Tech basketball is, quite frankly, only Texas Tech basketball, it's important to remember that he's played for three different coaches in his three seasons in Lubbock. Two — Smith and Billy Gillispie — are former head coaches at Kentucky. One — Chris Walker — played at Villanova and was previously an assistant with Jay Wright.
Adams has done everything he can to absorb every bit of information available from each coach.
"He knows the game extremely well, he's a coach on the bench," Smith said. "He's always asking questions, always in my ear on the sideline, 'Coach, why are we running this? What do you think of this? What do you think of that?'"
Ironically enough, being deaf has helped Adams in that regard. It's natural, he says, for people with hearing problems to be more observant of their surroundings, to rely more on visual cues than people that have never had to live without the ability to hear. This summer, he traveled to the Deaflympics in Bulgaria with Team USA, an event where he had to play deaf. He couldn't use hearing aids or implants.
"Being able to play hearing and then play without hearing ability makes me appreciate being able to hear and communicate," Adams said. "You have to use your eyes a lot more than your ears on the court. I think it worked to my advantage because I kind of see more."
————————————————————————————————
Adams gets heckled quite often on the road.
There are fans that make fun of his Justin Bieber haircut and students that get on him about his headband. On Monday night, when he took the court for Tech in a loss to Pitt, the Panther fans in attendance started chanting 'Rudy' at him, a reference to the walk-on football player at Notre Dame immortalized in the movie named after him.
It's not uncommon.
But Adams doesn't have a problem with it.
Because, after all, he can hear the taunts.