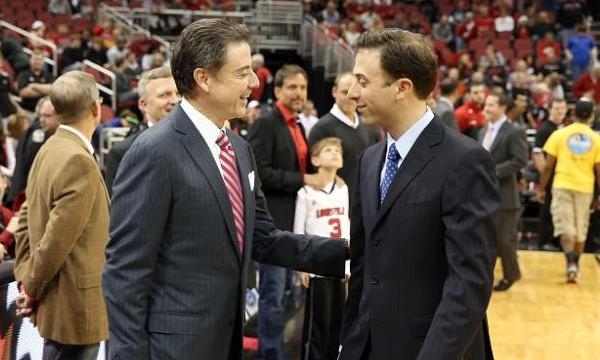 Rick Pitino really wants to coach against his son Richard again. The father and son meet last season when Rick's eventual national champion cruised past Richard's Florida International team.
The younger Pitino is now at Minnesota, which sets up a potential Big Ten-ACC clash beginning next season when Louisville leaves the American after a one-year stint. According to WDRB.com, the elder Pitino wants the 2014-2015 campaign to open against his son's Golden Gophers on a neutral site.
"I will let you guys in on the scoop of the year," Pitino said in an interview with me (Rick Bozich), Eric Crawford and Steve Andress of WDRB Sports.

"If everything goes according to Hoyle, we will open up on a military base with Minnesota on national television next season."

Where?

"We're working on that now, but it could be Puerto Rico if it all works," Pitino said. "We haven't signed contracts. It's a long way from done. But it could be on a military base opening the season next year."
Rick first stated he wanted to go head-to-head with his son again in early September during a press conference at the Naismith Memorial Basketball Hall of Fame in Springfield. Though back then, he wanted Louisville to get paired with Minnesota as part of the Big Ten/ACC Challenge.
"I'm hoping, that the Big Ten/ACC Challenge … I'm hoping that we get matched up them because it terms of a home and home, I'm not playing him," Pitino said. "I think it would be fun. I played him at FIU and he was totally mismatched, and at least we can play on more equal terms."
The next game between the two coaches may be on more equal terms, but father and son don't seem to be on the same page. Several weeks after his father's comments at Hall of Fame, Richard cooled the talks of the potential matchup.