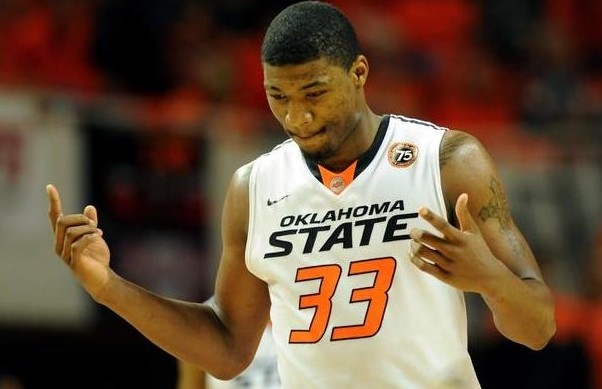 The 2013-2014 season is sure to be a thrilling Player of the Year race, so to keep track of it, we will be posting weekly Player of the Year Power Rankings for your reading goodness.
Who'd we miss? Who's ranked too high? We love to overlook your team's best player and overrate your rival's superstar.
1) Marcus Smart (Oklahoma State): Smart followed up his dominant performance against Memphis with 23 first half points in a win over South Florida. He's averaging 21.0 points, 3.6 assists, 4.0 boards, 4.2 steals and shooting 35.5% from three.
2) Jahii Carson (Arizona State): Arizona State has now notched wins over UNLV (on the road) and Marquette (at home). Carson is averaging 31.5 points and 6.0 assists in those two games.
3) Shabazz Napier (UConn): Napier made every big play down the stretch against Indiana, finishing with 27 points on 10-for-14 shooting from the floor.
4) Marcus Paige (North Carolina): Three times this season, Paige has set a career-high for himself. The latest came on Sunday, when he went for 32 points in a win over Louisville.
5) Jabari Parker (Duke): Parker has scored at least 20 in his first six games as a collegian, shooting 68.8% from three in that time. He's been great, but I'm waiting for him to be great in a huge win for the Blue Devils. It'll come soon enough.
6) Doug McDermott (Creighton): His numbers — 27.5 ppg, 8.0 rpg, 55.1% FG, 50.0% 3PT — are awesome. The competition hasn't been. Creighton gets Arizona State on Thursday.
7) Julius Randle (Kentucky): Six straight double-doubles, and 19.8 points and 13.7 boards. The turnovers need to come down, but Randle's numbers will keep going up.
8) Perry Ellis (Kansas): Even with all those talented freshmen on the roster, the best player for the Jayhawks through the first three weeks? Perry Ellis.
9) Keith Appling (Michigan State): Appling has been terrific this season, and put on a show late against Oklahoma, when he finished with 27 points and made every big shot down the stretch.
10) Tyler Haws (BYU): Haws is averaging 26.0 points for the Cougars, but struggled a bit in their loss to Iowa State at home.
Others: Aaron Craft, Aaron Gordon, Rodney Hood, Nick Johnson, Roberto Nelson, Russ Smith, Andrew Wiggins, Joseph Young