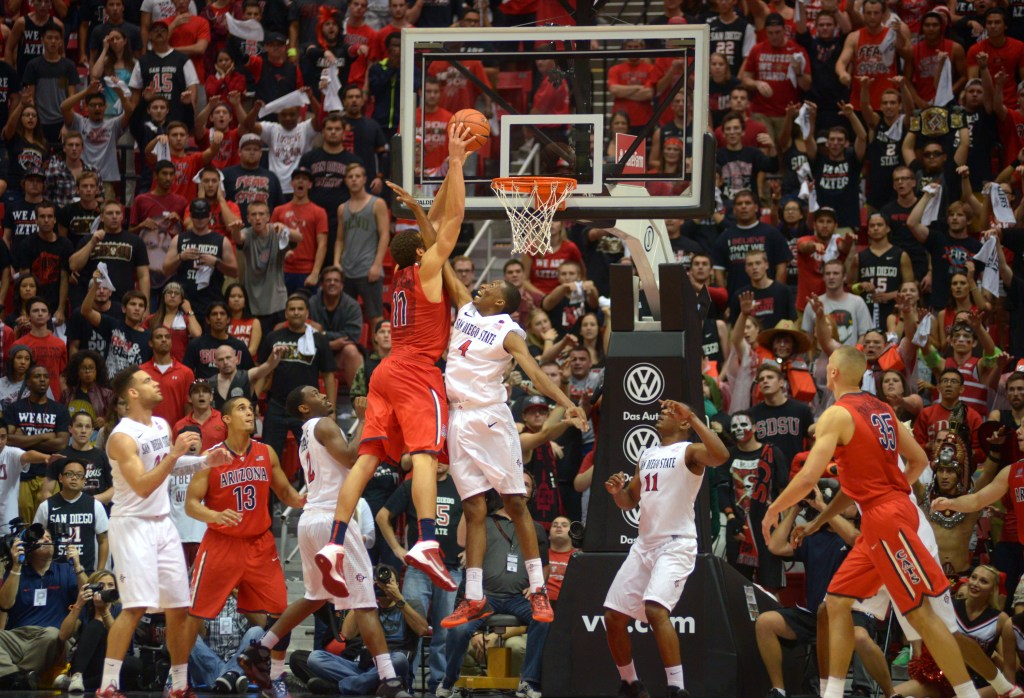 Michigan State is still the No. 1 team in the country, because I don't think you can replace the No. 1 team in the country if they don't lose or if the No. 2 team doesn't mess around and do something ridiculous, like beat the other three top five teams in the span of a week.
We did have some movement, however, as Duke moved down despite winning every game they played.
Any questions? Concerns? Commentary on why I hate your team and love your rival? Get at me in the comments below.
1. Michigan State (6-0): The Spartans remained at the top of the rankings thanks to wins over Portland, Virginia Tech and Oklahoma. They should be fine as long as Tom Izzo doesn't blow a gasket with the new foul rules.
2. Kansas (4-0): Kansas stayed No. 2 after wins over Towson and Iona this week. They're at the Battle 4 Atlantis this week.
3. Kentucky (4-1): Like Kansas, Kentucky had another quiet week. They'll get a good test against undefeated Providence at the Barclays Center on Sunday night.
4. Arizona (5-0): I love Arizona. They got the bump up from No. 6 thanks to their versatility. They can play big, with Aaron Gordon at the two and Rondae Hollis-Jefferson at the three, or they can put Gordon at the four with Brandon Ashley at the five and three guards on the court. Also worth noting just how good Nick Johnson and Gabe York have been.
5. Oklahoma State (4-0): The Pokes look like the real deal after embarrassing Memphis. Marcus Smart is OK. They were No. 8 last week.
6. Ohio State (4-0): An uninspiring win over American won't change my opinion of the Buckeyes all that much. I'm putting an APB out on LaQuinton Ross.
7. Duke (5-1): I dropped the Blue Devils from No. 5 this week because I'm getting really concerned about their ability to defend. Vermont dropped 90 on them and had a chance to win at the buzzer last night. East Carolina shredded them with dribble penetration. They don't have a rim protector and they cannot keep anyone out of the lane. Rasheed Sulaimon belongs on the same APB as LaQuinton Ross.
8. Louisville (5-1): If you ask be why Louisville is ranked ahead of No. 15 North Carolina, you better be ready to tell me why Belmont is a top ten team. So don't do it. That said, I think this group is going to figure out their issues — this was their first loss since the five-overtime game against Notre Dame, their season isn't over — and I'm still not convinced North Carolina is truly as good as they were yesterday.
9. Syracuse (4-0): The Orange are still riding high on their preseason hype, but they really haven't done much yet to back it up. They're in Maui this week, so we'll see if this top ten rankings is truly deserved.
10. Wisconsin (6-0): The Badgers keep rolling along. Frank Kaminsky popped off for 43 points as Wisconsin dropped 100 this week.
11. UConn (6-0)
12. Oregon (4-0)
13. Wichita State (4-0)
14. Gonzaga (4-0)
15. North Carolina (4-1)
16. Florida (4-1)
17. Baylor (4-0)
18. UCLA (5-0)
19.  Virginia (4-1)
20. Iowa State (4-0)
21. Iowa (5-0)
22. Creighton (4-0)
23. Indiana (5-1)
24. UMass (6-0)
25. Michigan (4-2)