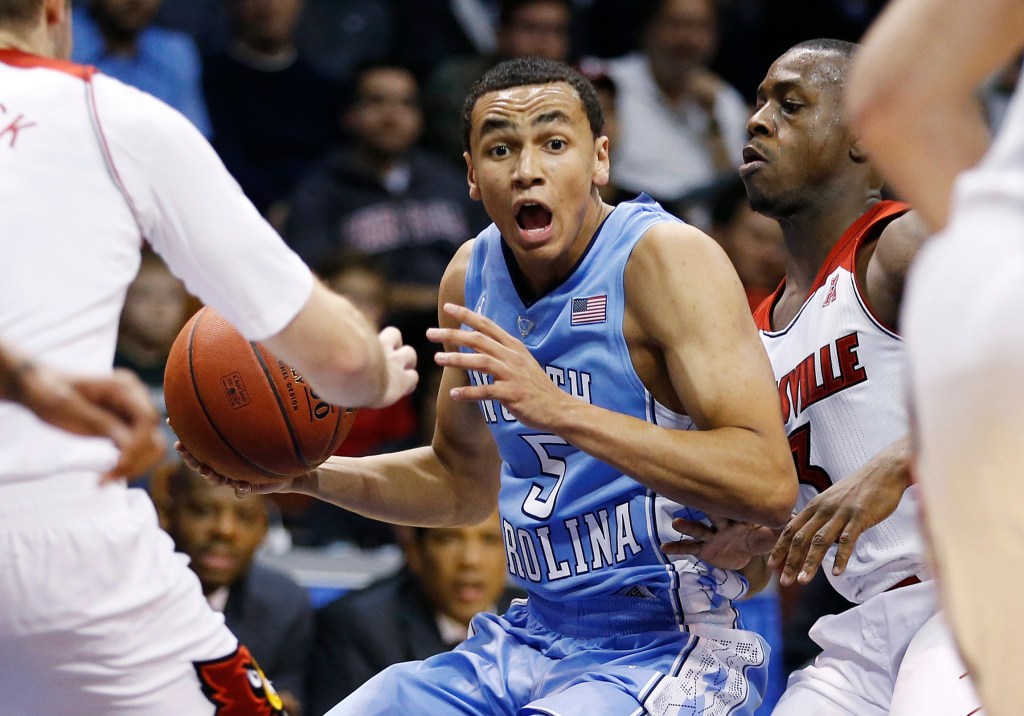 From Nov. 20th thru Dec. 1st, I'll be on the road, hitting 21 games in 11 days. To follow along and read my stories from the road, click here.
UNCASVILLE, CT — North Carolina was done. This wasn't a top 25 team. This was a group that would have to fight and scrap just to get a chance to play in the NCAA tournament, especially now that every source for every writer seems to think that P.J. Hairston's career as a Tar Heel may be over.
That's what happens when you barely hang on against teams like Holy Cross or Richmond. It's what happens when you lose to Belmont at home.
It's also now inaccurate.
Seven days after getting dropped by the Bruins in the Dean Dome, North Carolina put together one of the most impressive performances that we've seen from any team this season, as they ran No. 3 Louisville off the court, 93-84, to win the Hall of Fame Tip-Off at Mohegan Sun Arena.
Seriously.
Marcus Paige led the way with a career-high 32 points, giving him 58 points on the weekend. More impressive, however, is the fact that the Heels beat the Cardinals by nine while getting next to nothing from James Michael McAdoo. He finished with nine points and three boards on 3-for-11 shooting, but those numbers vastly overestimate his impact on this game. Two of those buckets were wide-open dunks that came off of a press break. McAdoo was a non-factor.
And it didn't matter.
So what was the difference?
North Carolina's front court. All those young guys that everyone has called overrated and under-talented and not-good-enough-for-UNC? They dominated Louisville. There's no two ways about it. Kennedy Meeks was sensational, finishing with 13 points, 12 boards and seven assists, single-handily shredding Louisville's press with his ability to pass over the defense. Crazier still is that this came one night after Meeks finished with one point and three boards in five minutes against Richmond, a performance that Roy Williams was not impressed with.
"College basketball is what Kennedy Meeks did," Williams said after the game. "Yesterday he was one of the worst players on the planet. Today he was unbelievable. I told him last night he wasn't ready to play, he didn't have any intensity. This is big time college basketball."
"I don't know what was wrong with me, honestly," Meeks said, " But I do know that last night, Coach told me I was playing like the worst player on the planet. That's enough to boost me up right there."
And what'd he say after this afternoon?
"Helluva game."
Meeks wasn't alone, either. Brice Johnson added 13 points, six boards and three blocks, Joel James chipped in with five points and six boards, and even Jackson Simmons played key minutes down the stretch, scoring a couple baskets and picking up the charge that fouled out Montrezl Harrell.
That's huge for North Carolina for a couple of reasons.
First, the obvious: the Tar Heels perimeter depth has been gutted by the suspensions of Leslie McDonald and P.J. Hairston. Their depth is non-existent, forcing guys to play out of position. We've been over this time and again. It's not exactly classified information.
More importantly, North Carolina's offense relies on having quality big men, and the lack of their starting wings is only going to increase how much the Tar Heels rely on their big guys.
"It makes a huge difference. Having an inside presence is the biggest part of Coach Williams' offense," Paige said. "Having a couple of different guys that can be that guy for the night is huge for us. We kind of went away from our throw-it-inside mentality last year."
No one is going to confuse Meeks or James or Johnson with the likes of Tyler Zeller, Tyler Hansbrough or Sean May, at least not yet, but no one is expecting them to be. They don't even need those three to be all-conference players. they just need them to be productive, to be a threat to score when they get the ball on the block and to be able to hold position, whether it's on the glass or defensively.
And they proved themselves more than capable of doing that tonight, but the bigs weren't the only players with something to prove.
Paige was supposed to be this team's starting point guard, but he's been forced into playing primarily off the ball thanks to UNC lacking wings. That means that freshman Nate Britt has been forced into the role, something he has not looked ready for. In four games entering Sunday, Britt had 12 points and six assists, total. On Sunday, he had nine points and five assists, playing with an aggressiveness and a confidence that we've yet to see from him.
"I'm starting to figure it out, playing at this level," Britt said. "There's been a lot of new things to learn for me, and I just feel like at the start of the season, we just want to incorporate all the things we learn in practice. It's been hard for me to just think about relaxing and playing. Over time, it's starting to come to me a little more."
The bottom-line is this: Marcus Paige isn't always going to play this well and James Michael McAdoo isn't always going to play this poorly. And at some point, the Heels will get Leslie McDonald back, maybe Hairston as well. In a worst-case scenario, the Heels will have a group of wings that are better than most teams across the country.
But the key to this group competing and contending in the ACC was at the point and in the paint.
At that, more than anything, is why North Carolina's win was so important.