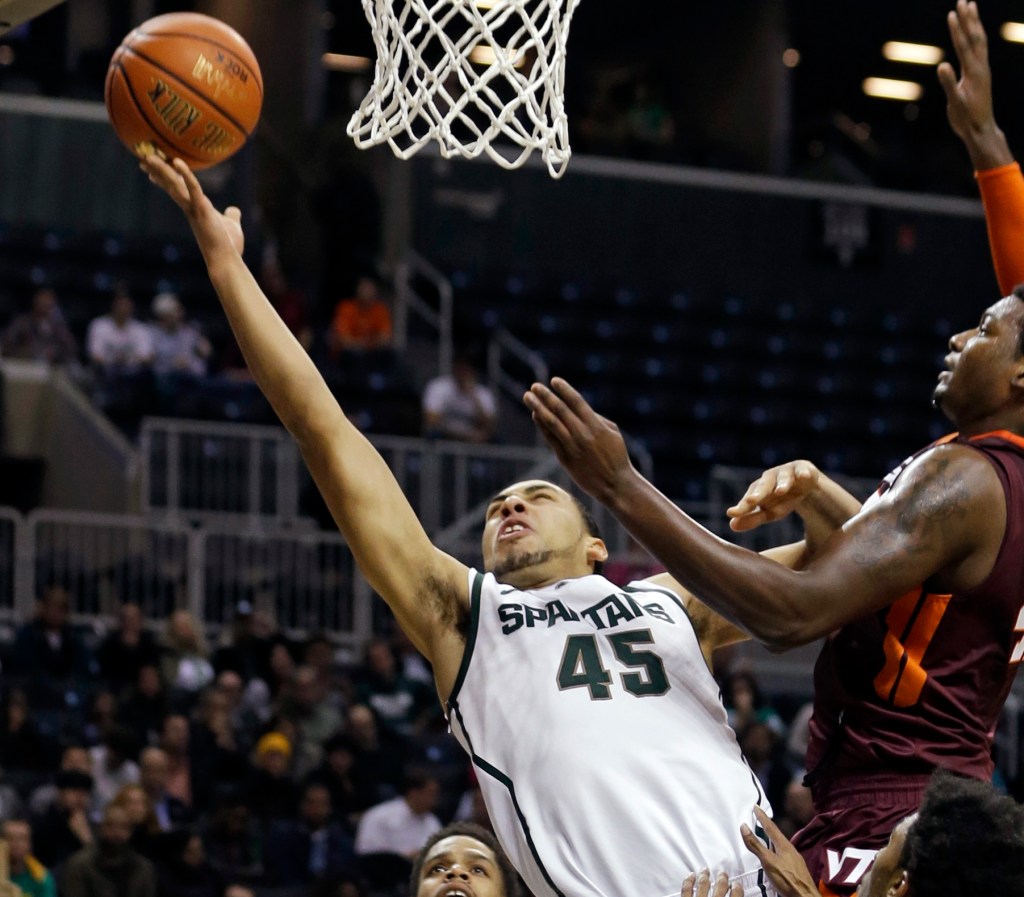 From Nov. 20th thru Dec. 1st, I'll be on the road, hitting 21 games in 11 days. To follow along and read my stories from the road, click here.
NEW YORK — All of No. 1 Michigan State's stars were on display this weekend in the Coaches vs. Cancer Classic at the Barclays Center this weekend.
In an 87-76 win over Oklahoma on Saturday night, Keith Appling did his best Shabazz Napier impression, going for 27 points on 10-14 shooting while hitting every big shot down the stretch for the Spartans. If Appling was the closer, Gary Harris was the starter, scoring 14 of his 21 points in the first half to help Michigan State build a lead that grew to 18 points early in the second half. Branden Dawson had his best game of the season, finishing with 18 points and 10 boards, and while Adreian Payne struggled Saturday, he was coming off of a truly dominant performance on Friday night.
Those guys are Tom Izzo's horses. They are the stars that are going to carry the Spartans through Big Ten play and into the postseason.
But the key to this Michigan State team? The piece that brings it all together? Sophomore Denzel Valentine.
(MORE: Tom Izzo is NOT happy about the new officiating rules)
"He makes things happen," assistant coach Dane Fife said after the game. "He stirs the pot, he's a tremendous talent, he guarded 1-through-4 tonight for us. He's so versatile."
Valentine is truly one of those guys without a position. He stands about 6-foot-5, with the ability to handle the ball and range out to the three-point line. But he's also got long arms and huge hands, which, when combined with his lower-body strength, allow him to defend power forwards and rebound with anyone in the country.
Does that remind you of someone? Draymond Green maybe? That's the role he fills on this team. Green was an all-american, however, and Valentine is more of a glue guy, but his importance to the team should not be underrated.
Perhaps Valentine's most valuable trait is his ability to distribute the basketball. He finished with five assists, to go along with seven points and six boards on Saturday, and he's now got 18 assists in five games this season. What that does is take some of the pressure off of Keith Appling, who has never been a pure point guard. It allows him to worry less about creating for his teammates and focus a bit more on what he does best: scoring.
"I think it takes the heat off Keith," Fife said of Valentine's passing ability. "It prevents the defense from totally focusing from a guard perspective on Keith. [Denzel's] one of the best at getting guys easy shots."
"I just try to come in and do all the little things," Valentine said. "Get rebounds, score when the opportunity is needed, pass the ball, distribute to teammates. That's what I can do."
If there is a concern, it's that Valentine can get a bit wild offensively. He has a tendency to force some passes and get a little loose with where he's throwing the ball, but according to Fife, that's not something the coaching staff wants to take away. A turnover is tolerable when it means that he'll stay aggressive.
On Saturday, he was plenty aggressive. In fact, he was the guy that changed the course of the game. Oklahoma jumped all over the Spartans to start the game. Midway through the first half, the Sooners had taken a 22-11 lead, as it took the Spartans a few minutes to wake up on a chilly Brooklyn night.
"They came out and just punched us. It was great. I loved it," Izzo said. "You gotta give us some credit for responding, but we're a little too much pretty boy right now. That's the one thing, you start winning shooting a bunch of threes and you start scoring in the 90s, you forget that you're going to win championships by getting your nose bloodied."
Valentine, and backup point guard Travis Trice, were the guys that started bloodying noses when they entered the game, sparking a 34-9 run to close the half. Michigan State pushed that lead to 18 points early in the second half, and while Oklahoma made their run in the second half, throwing a press at Michigan State that got the lead down to four at one point, the Spartans were too much.
Valentine won't get the credit, Appling will.
But the role he played, the one he will play all season long, was just as important.
He's not perfect, however.
"He's the worst dancer I've ever seen," Fife said.