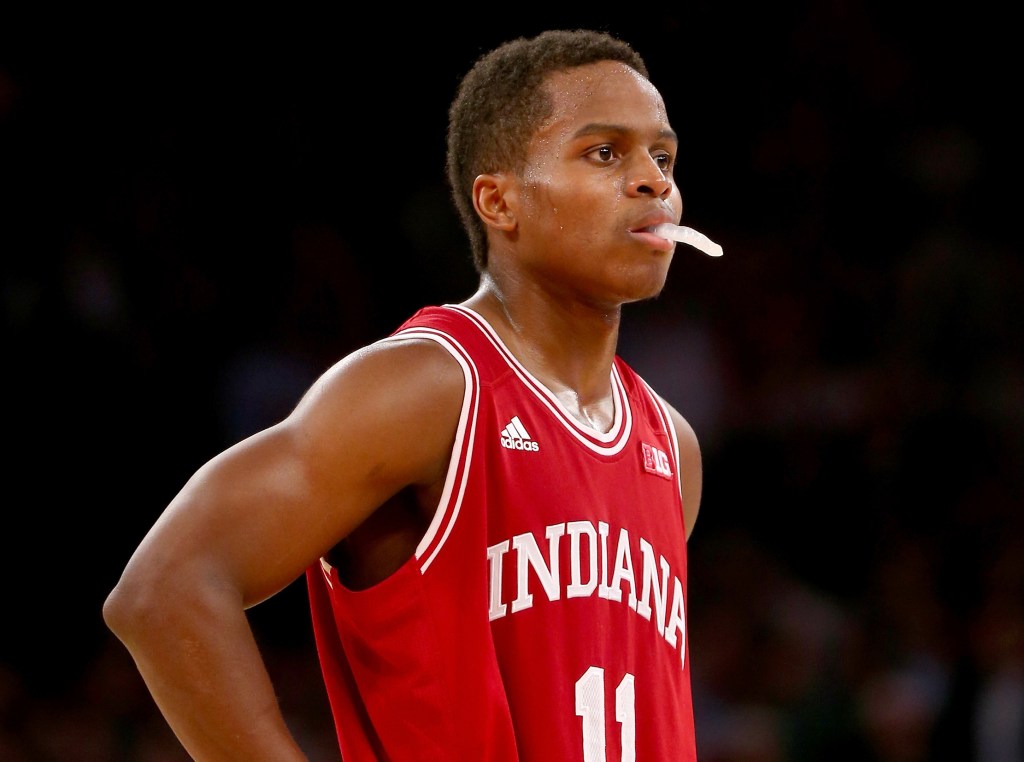 From Nov. 20th thru Dec. 1st, I'll be on the road, hitting 21 games in 11 days. To follow along and read my stories from the road, click here.
NEW YORK — There is no such thing as a good loss.
There are no moral victories in college basketball, not when top 25 rankings and RPI scores are on the line.
Not when the success of entire seasons are judged on results that come in March, and certainly not when so much of that March success depends on the matchups a team lucks into in the field of 68. A couple of close wins over top 25 teams this time of year could be the difference between a three seed and a five seed, and that could be the difference between a Sweet 16 and an opening round exit.
And that?
That could be the difference between a contract extension and the hot seat, the difference between a guaranteed contract as a late-first round pick and the stress of a training camp as a second round selection.
OK, I know. I'm reaching here.
But you see my point, right?
(MORE: Shabazz Napier's path to a leadership role)
As a competitor, as a player or a coach with as much on the line as a member of the Indiana Hoosiers has on a nightly basis, there are no quality losses. A loss is a loss, and losing sucks.
"I don't think you can look at it like that, because when you study the film, there's always places where we could have played better in the game," Indiana head coach Tom Crean said when asked if he thought his team's thrilling, 59-58 loss to No. 18 UConn was a good loss for his team. "I don't want to rationalize losing, so I would never do that."
You can understand where Crean is coming from. But for outsiders, for the Indiana fans that made their way to Manhattan, there is plenty of reason to leave the Garden feeling good about their team. Let me explain.
When it comes down to it, Indiana did not play all that well on the offensive end of the floor. They shot 40.8% from the floor and 3-for-12 from three. They turned the ball over 19 times, many of which led to leak outs for the Huskies.
But that's understandable.
For starters, this is an entirely new Indiana team. Two four-year starters graduated last season, the same time that two all-americans decided to leave school early to enter the NBA Draft. What that means is that Indiana's rotation includes a number of freshmen, two of whom start, and a group of returnees that have to take over entirely new roles this season. Friday night was the first time that this group played a top 25 team, and it just so happened to be the first time that they played in a hostile environment as well.
Now add in the fact that their best player, freshman big man Noah Vonleh, managed to see the floor for all of 10 minutes, where he produced more turnovers (four) than points and rebounds combined (two). Vonleh was the mismatch that Indiana could take advantage of. He was the guy that UConn, on paper, didn't have an answer for. And he was a non-entity on Friday, so it only makes sense that the Hoosiers would look out of whack offensively. It only makes sense that, as Crean put it, they had some "freshmen moments from freshmen."
It happens. They'll learn. They'll grow. It'll take some time, but this group is good enough defensively that the ceiling for the Hoosiers is high. I don't think it's out of the question that this group can compete for the Big Ten title this season.
But the key to reaching that ceiling will be Ferrell. Yogi is as quick and explosive as any point guard in the country. His first step, his change of direction, his leaping ability and his strength to absorb contact around the rim, it's all at an elite level. Where he needs to learn, where he needs to grow, is in his decision-making. Ferrell has a tendency to get a bit out of control. Too often, ill-advised drives to the rim result in turnovers and forced shots. He needs to pick his spots better, knowing when to try to get all the way to the bucket and when to simply pull the ball back out and run another set.
The Hoosiers are young, they don't have another go-to scorer and their perimeter shooting has taken a hit from last season, all of which means that Ferrell has a ton of responsibility on this team. Add in the lack of a backup point guard, and I don't think it's crazy to say that Ferrell is the most important player in the country.
None of this is a surprise.
We knew this group would be a work-in-progress, a team that could look much different in February than they do in November.
And while Friday's loss is disappointing, I think Crean's team showed us that they are farther along right now than anyone expected them to be.
"I like our upside," Crean said. "We'll learn how to win low-scoring close games like this, but I think it says a lot about where we are already."