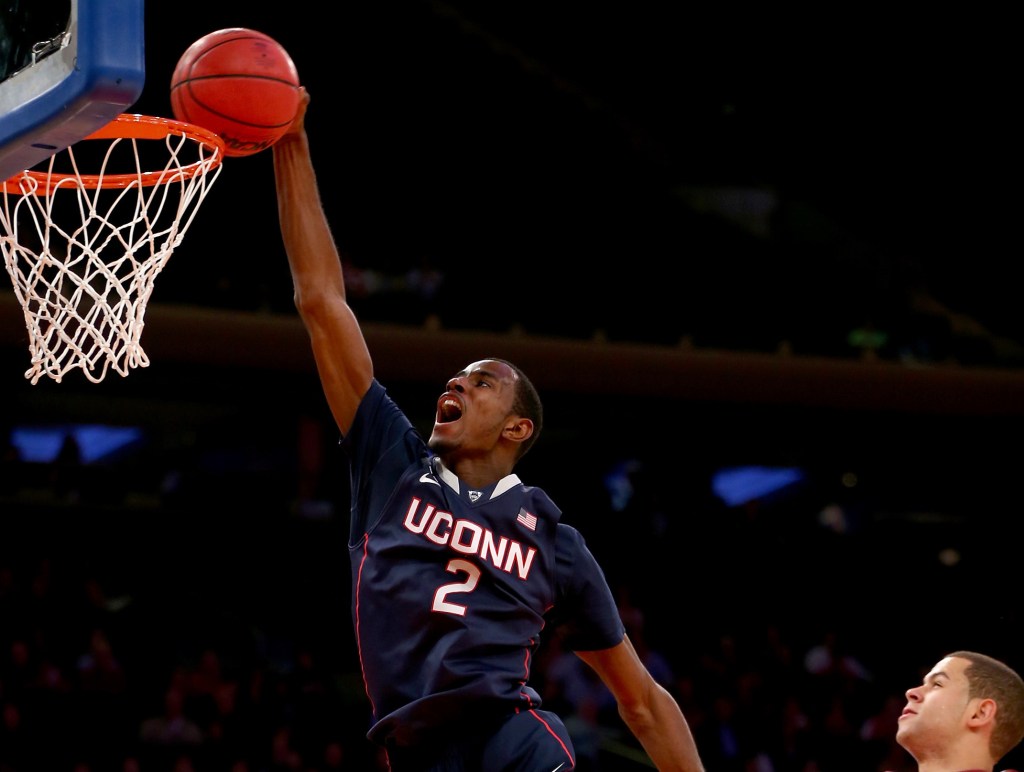 From Nov. 20th thru Dec. 1st, I'll be on the road, hitting 21 games in 11 days. To follow along and read my stories from the road, click here.
NEW YORK — Boston College has two of the best players in the ACC this season in Olivier Hanlan and Ryan Anderson, but they entered Thursday night's opener in the 2K Sports Classic 1-3. One of the biggest reasons for their struggles? Perimeter defense. The Eagles were shredded by the likes of UMass, Toledo and Providence, so it only stood to reason that, going up against one of the best back courts in the country, the Eagles would spend most of the night trying to contain the likes of Shabazz Napier and Ryan Boatright.
And they did.
Well, too.
The Bazz and Boat Show combined to go 8-for-25 from the floor and 0-for-5 from three, so it shouldn't surprise you that the Huskies, who entered the game 4-0 and ranked 18th in the country, had their worst offensive game of the young season.
Midway through the second half, as the Eagles were slowly but surely chipping away at what was once an 11 point UConn lead, Boatright had sprinted his way up the floor and was calling for the ball in the corner loud enough that everyone in a mostly-empty Madison Square Garden could hear him.
Napier's response?
"CHILL!!!"
Napier is UConn's unquestioned leader, which is a good thing coming from a talented point guard. He knows he needs to score for UConn to win games, but he also knows when he needs to get his teammates involved. There's a maturity to his game that we haven't seen in season's past. He's a better decision-maker. His shot selection has improved. There's a reason that most pundits consider Napier in the same conversation with Marcus Smart and Jahii Carson when it comes to the best point guard in the country.
He's their best player. He may be their most valuable player, the most irreplaceable.
But he's not their most important player.
That designation falls squarely on the shoulders of Deandre Daniels, UConn's 6-foot-9 junior forward. Daniels scored 12 points in a five minute stretch during the first half, finishing with 23 on 8-for-15 shooting. That came days after Daniels went for 24 points in a win over Boston University that was much closer than the 77-60 final indicated. UConn trailed at one point during the second half.
"I wanted to stay aggressive on offense," Daniels said. "My teammates were looking for me, and I knocked down my shots tonight." He hadn't been hitting those shots early in the season, as he combined for just 19 points in his first three games, hitting just 8-for-24 from the floor and 1-for-7 from three.
"He just stayed in the gym. He could have made excuses," Ollie said of what changed for Daniels. "We have a saying, 'We don't look out the window, we look in the mirror.' We stayed focused. He had to be aggressive, stay in the gym, stay in the lab, and keep working on your game. I'm proud of him."
What makes Daniels so dangerous is his versatility. He's long and athletic, which allows him to finish around the rim, but he's got a nice handle and a perimeter jumper. He plays the four for the Huskies — at times on Thursday, he played the five — which makes him a matchup nightmare. How many power forwards will UConn face that have the footspeed on the perimeter to stay with Daniels when he wants to penetrate?
The answer is simple: not many.
"The thing that makes him hard to guard is that he moves really well for a guy his size," Boston College head coach Steve Donahue said. "With their guards being so good, he's an after thought at times. If you do that, he's an extremely talented one on one player."
UConn is not a big basketball team. They have some height, but most of their big men are going to be spending a lot of time in the gym and in the cafeteria during their career in Storrs. The Huskies are so bad on the glass that Napier and Boatright are not only the team's two leading scorers, but they entered Thursday night as the team's two leading rebounders. Both of them are shorter than me.
When Daniels is playing like he has in the past two games, it forces UConn's opponent to make a decision: bring in a smaller, quicker defender to slow down Daniels, or risk having a legitimate NBA prospect get hot against a guy that cannot defend him. More often than not, coaches will go small, which helps nullifies their advantage on the glass.
Daniels is the difference maker for UConn, as he not only takes the pressure of UConn's back court, but he makes them that much more difficult to guard.