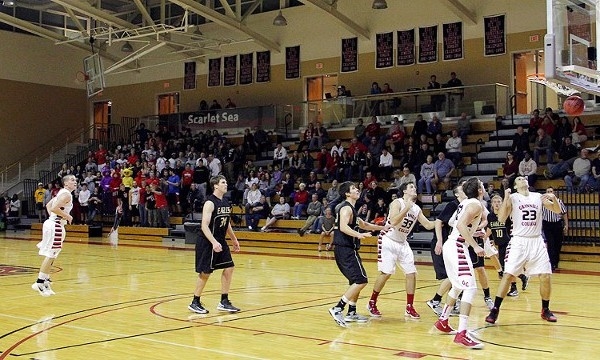 He was on the phone, on live television, when it finally hit him. Jonathan Coachman was introducing him on to the late edition of SportsCenter and as the first question was asked, he took it all in and reflected on what he had just accomplished.
All the previous events in his life – the injury, the transfer, the newfound faith, the highs, the lows, the missed shots and the made 3-pointers – had all blended together in this one moment.
It was November 20, 2012 and Jack Taylor had scored 138 points that night for Grinnell College – a Division III program in Iowa – and shattered the NCAA single-game scoring record.
Taylor has reemerged in the national spotlight this weekend after scoring 71 points in Pioneers' opener and then went over the century mark once again with a 109-point performance two days later.
Taylor, a second-year transfer from Wisconsin-La Crosse, is averaging 90.0 points per game this season, a slight bump up from the 23.5 points he averaged through two games last season, entering the team's home opener against Faith Baptist Bible College.
"His shooting performance in those first two games was pathetic," Grinnell associate coach David N. Arsenault said. "I actually asked him, 'Hey Jack, the shots that you're taking in the game, can you make those? I don't know. Either you start making them or we'll have to find better looks for you.'"
Taylor, who refers to himself as a streaky shooter, entered that record-breaking game in a slump, having converted on only 11-of-44 (6-of-37 3-point) field goal attempts.
"Before the game, I just remember being pretty nervous because I kind of knew going into the game that I was going to get up more shots than usually to try and break me out of that slump that I was in," Taylor told NBCSports.com "I'd say it was pretty much an all-day thing."
The all-day nerves became nightlong fame. Word of Taylor's 52-for-108 (27-of-71 3-point) shooting performance quickly spread and soon after he was trending on Twitter, with the likes of Kobe Bryant, Kevin Durant and LeBron James in awe of what they had heard happened in a 1,200-seat gymnasium on a small liberal arts college campus in Iowa.
"When I woke up in the morning, my friends had texted me, and said, 'Kobe's talking about you. Carmelo is talking about you. LeBron. Kevin Durant,'" Taylor said. "And that's when I noticed that people across the world are finding out about this."
Taylor wanted to be a fixture on the national college basketball landscape, hoping to land a Division I offer while at Black River Falls High (Wisc.) and then again in a post-graduate season at Mercersburg Academy (Pa.).
"At that time basketball was what I was living for," Taylor said. "It was something that I worshiped. It was kind of like my God."
It was during his prep school year when Taylor would have a turning point in his life. He tore his ACL, MCL and lateral meniscus, putting his basketball career on hold. That is when he devoted his attention to his faith and became a born-again Christian.
"All of the college coaches kind of stopped calling," he added. "I was really down in the dumps because the most important thing in my life had been taken away from me. It was kind of soul-searching. I was living for a game and in those hard times I started taking Jesus seriously and what He was saying seriously and I ended up giving my life to Jesus."
That newfound faith would shape Taylor as a person and as a player, helping him not get overwhelmed by the record-breaking performance, the media hype or the criticism that came along with the 138 points.
"That really helped me stay humble, giving God the glory and not trying to get it all for myself," Taylor said.
Fifty days after the Faith Baptist game, Taylor was put in a familiar position. Basketball was taken away again. Taylor attacked the basket and when he elevated he was met with a Cornell College defender looking to draw a charge. He put his hand down to brace his fall and when he hit the deck immediately knew his wrist was broken.
"Him being injured before, and his faith, helped him keep level head throughout this injury," Arsenault said. "He managed to keep his emotions in check and not show anything to the team and still encourage them."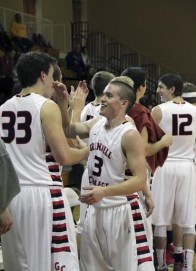 Taylor returned from injury and has scored 180 points in a total of 61 minutes this season. The point total is impressive, but part of the reason for the high-scoring start, is the same reason why people are critical of Grinnell's style, and Taylor's records.
It was a gimmick offense when it was first put into place at Grinnell more than 20 years ago, and it's continued to be a spectacle since. The program gains criticism for feeding one player the ball repeatedly, in an effort to post an outrageous individual scoring number, usually against a team overmatched by the Pioneers' press and depth.
And then there's the question of why. Why does Grinnell schedule a team they have no business playing then do everything they can to run up the score and put up huge scoring numbers? Is it for attention? Is it for publicity? Does that attention and publicity have anything to do with the book that head coach David Arsenault is selling about "The System"?
There are a lot of people that hate that system and that hate the way Grinnell plays. And that's fine. They bring it on themselves. And while you can hate "The System" and you can hate the program's attempts to draw national acclaim through a "competition" that's more on par with the Harlem Globetrotters than with Division I basketball, but should you hate Jack Taylor?
Yes, he takes the majority of the shots. Yes, he'll likely take the scoring title this season (and probably again next season). But no, he won't solely take the credit. That he'll gladly dish off.
"Being a part of a team that supports you and is just so unselfish … it's such an awesome experience to be part of a team like that," Taylor said. "A team that isn't out for themselves, but is committed to doing something great even if it only reflects on one player."
A year ago tonight, the coaching staff walked into the locker room at halftime and told the team that Taylor had 58 points. The place erupted, with a decision made to keep giving Taylor the rock.
"I look over and one of our other point guards is diagraming how he was going to get Jack the ball on a backdoor cut if the defense keeps over playing," Arsenault recalls.
Taylor isn't caught up in the hysteria or criticism surrounding his scoring average or records. It's mainly due to his faith, but also because Taylor, 23, is older than the typical college junior.
He doesn't want to reminisce on his past performances, maybe he will once his playing career has concluded. He even had to be reminded that Wednesday night's game against Wartburg College falls on the one-year anniversary of his milestone.
"Oh is that the 20th?" Taylor asks.
He may not look back to 138-point night, but is he eyeing 139?
"I'm not," Taylor said. "I just want to win basketball games. If I get hot I'm going to keep shooting. And in 'The System' anything can happen.
"I'm the kind of the guy, where you think things happen not by chance. If I wouldn't have torn my ACL, maybe I get a scholarship and average eight points per game as a senior point guard on a D1 team. I sure wouldn't have ended up at Grinnell."