GAME OF THE DAY: Syracuse escaped with a 56-50 win over St. Francis (NY) as they scored the go-ahead bucket in the final minute thanks to Michael Gbinije. The No. 9 team in the country moved to 4-0 as they prepare for the Maui Invitational. Our Rob Dauster took a longer look on the game here.
IMPORTANT OUTCOMES:
1. No. 6 Duke 91, UNC Asheville 55: Jabari Parker became the first Duke freshman to score 20 points in his first for games, finishing with 21 points and 10 boards.
2.  No. 16 Florida 67, Southern 53: The No. 16 Gators lost Kasey Hill to an ankle injury but held on to win at home. They'll be without a point guard in the near future.
3. Providence 70, Vermont 49: The final score wasn't as important as who showed up in the box score: Kris Dunn. He only played 21 minutes coming off the bench, but he finished with eight assists and three steals. Dunn adds another dimension to the Friar attack and allows Bryce Cotton to spend more time playing off the ball.
STARRED:
1. Keith Appling: Appling went for 25 points and seven assists as No. 1 Michigan State beat Portland 82-67, but the Spartans needed every bit of that performance from him. Portland was down one midway through the second half, a game after MSU barely hung on to beat Columbia.
2. Nick Johnson and Gabe York: The question mark with Arizona this season: outside shooting. York and Johnson tonight: 36 points, 13-for-18 from the floor, 7-for-10 from three.
3. R.J. Hunter, Ryan Harrow and Devonta White: Georgia State's three-headed back court combined for 48 points and 11 assists in a win over McNeese State. They'll get Alabama tomorrow with a chance to play in Madison Square Garden on the line.
STRUGGLED:
1. C.J. Fair: Seven points on 2-for-13 shooting on a night when Syracuse needed someone to step up? Not a good sign.
2. Rhode Island: The Rams trailed Division II Metro State 40-30 at halftime of the Preseason NIT opener before rallying for a 66-63 win.
3. UCLA's crowd: That's not a lot of people: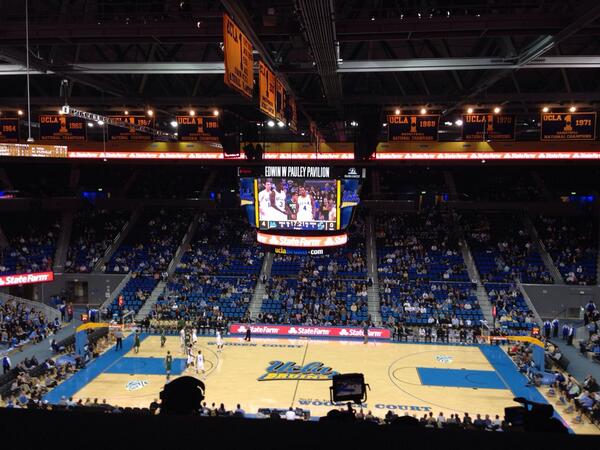 NOTABLES:
The best win of the night may belong to Southern Miss, who went into Fargo and knocked off North Dakota State.
Virginia Tech junior forward C.J. Barksdale and is back from suspension and scored 16 points and  grabbed six rebounds in a 105-92 win over VMI.
Wally Judge and Kadeem Jack each had double-doubles in Rutgers win over Canisius.
SMU struggled to defend the three-point line as they allowed a mediocre shooting Arkansas team to go 11-for-22 from behind the three-point line in a 89-78 road loss.
Tennessee got 20 points from Jordan McRae in a win over The Citadel.
All the good that the Mercer did by knocking off Seton Hall on Saturday was erased when they lost at Evansville on Monday.
Cal cruised past Southern Utah 75-47, with Tyrone Wallace going for 15 points.
Nevada lost to Cal State-Bakersfield.
Colorado's Josh Scott scored 20 points in a win over Arkansas State.
Jaye Crockett went for 21 points and seven boards in a win over Texas Southern.