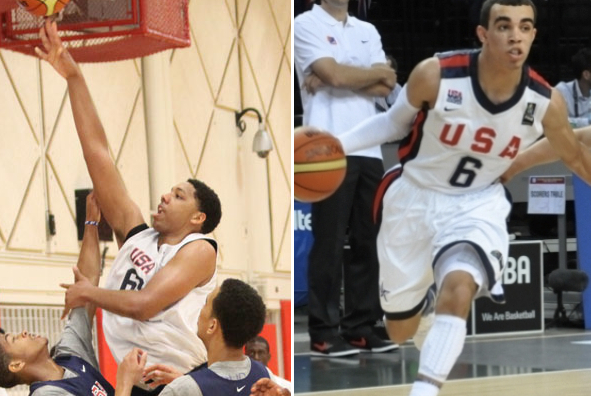 The single biggest recruiting haul in the Class of 2014 finally made the decision about where they are headed to play their college ball.
Jahlil Okafor and Tyus Jones are headed to Duke.
The story of the friendship between Jones and Okafor has been told over and over again. They met playing for Team USA's U16 squad. They became became close off the court, which only made them play that much better together on the court. They decided they wanted to play their college ball together, eventually deciding on the school that was long considered their leader. 
Jones is a 6-foot point guard that is the definition of a "true" point guard. He's got an uncanny ability to throw pinpoint passes regardless of their difficult, not only getting the ball to his teammates, but hitting them in the shooting pocket in a spot on the court that they can score. Jones also is terrific leading the screen and roll. He's a throwback.
And so is Okafor, only he plays a very, very different position.
Okafor is a massive low-post scorer. He stands 6-foot-11 and checks in at about 270 pounds, but he's nimble on his feet and can really score on the block. He's a real, honest-to-goodness center, and that's something you don't see at any level these days, especially one this big and this polished at this young of an age.
Combined, these two are enough to make the Blue Devils a favorite to win the 2015 National Title.
Think about it like this: Duke just added a guy that will be one of the best big men in the country. They also happened to add a guy that may be the best distributor in the country. Now, if I had to make an assumption at this point, it would be that Duke loses two of Jabari Parker, Rodney Hood and Rasheed Sulaimon, with Hood and Parker the most likely duo to head to the league.
But that still means that Coach K will have Sulaimon, Matt Jones and Duke's third freshmen, Grayson Allen, on the wins. And he'll likely still have Amile Jefferson and Semi Ojeleye to play at the four alongside Okafor. That team would be good enough to compete for the ACC title right now, let alone in 12 months.
Okafor is the No. 1 recruit in the country, according to Rivals, and Jones is No. 5. Allen checks in at No. 34, which means that these commitments should slide Duke up to the No. 1 recruiting class in the country.
Here is Rivals lead scout Eric Bossi's take on Okafor: "Jahlil Okafor is one of the most skilled and poised back to the basket centers to come along in some time. He establishes and holds positions, finishes with either hand and is a great rebounder. Okafor isn't a high flyer but fully understands how to use his skill and size advantage."
And Jones: "Jones is a heady floor general and a tough competitor. He runs the show and is in total control of what is happening while he has the ball. He doesn't make a lot of mistakes and shoots with accuracy. Jones isn't the biggest or most explosive athlete but he has great body control and balance."